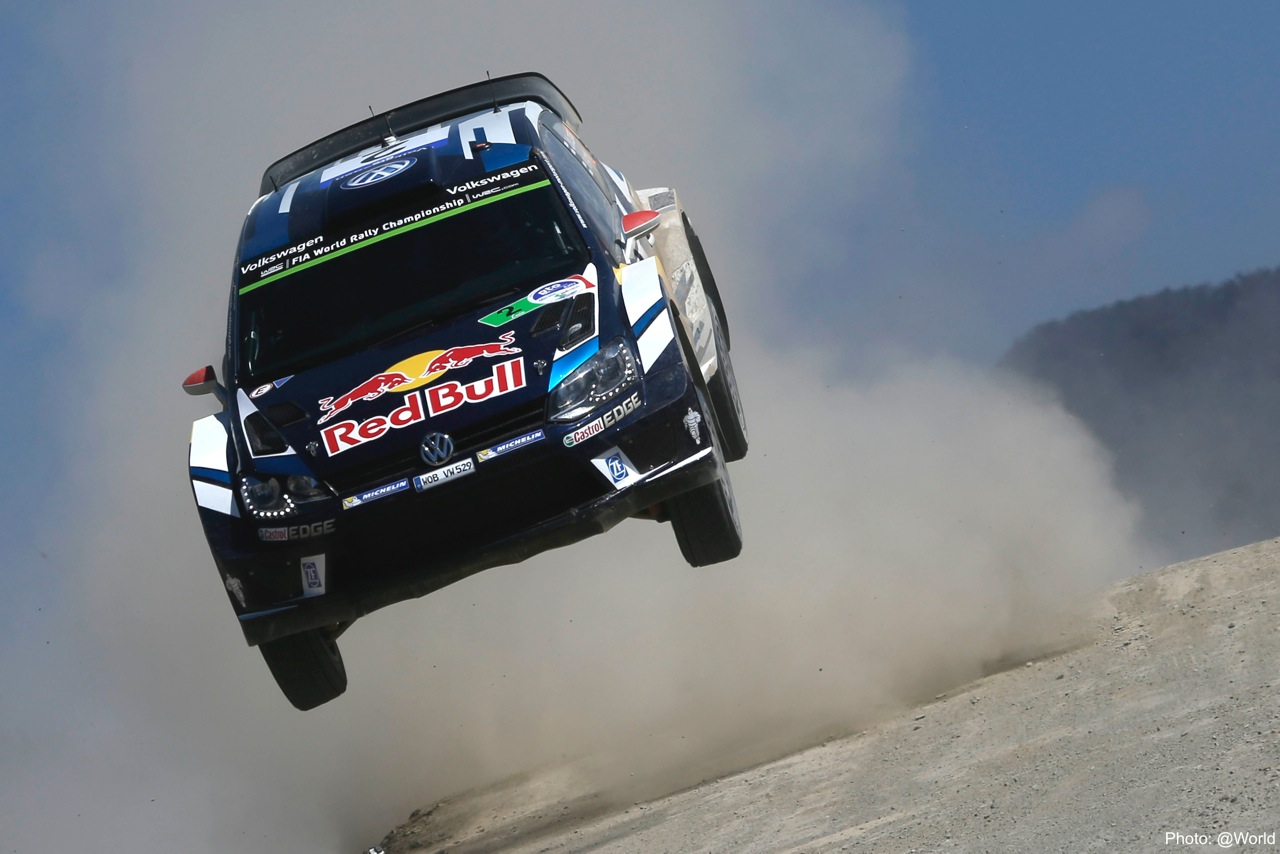 Six of a possible nine best times go to Latvala/Anttila and they lead by 1.35 minutes
Ogier/Ingrassia consolidate second place thanks to an outstanding performance
Heading into the finale of the Rally Mexico with a one-two lead: Volkswagen significantly extended their lead at the third event of the FIA World Rally Championship (WRC) season going into the final 96.47 kilometres and two special stages. Jari-Matti Latvala/Miikka Anttila (FIN/FIN) clinched six of the nine possible best times of the day, including all of those on the crucial, long stages – thereby making use of their advantageous starting position at the back of the field. Sébastien Ogier/Julien Ingrassia (F/F), who opened the route, also delivered a flawless performance and built up a comfortable lead over third-placed duo Dani Sordo/Marc Martí (E/E, Hyundai).
However, the Rally Mexico came to an early end for Andreas Mikkelsen and Anders Jæger. In an attempt to oust Dani Sordo/Marc Martí (E/E, Hyundai) from third place in the overall standings, they slid into a buttress on the second pass of the "Otates" special stage, came off the track and were forced to retire from the rally. The damage to the Polo R WRC cannot be repaired on site – which means it is all over for Mikkelsen/Jæger in Mexico.
The longest special stage of the year awaits the competitors on the final day: "Guanajuato", which is exactly 80 kilometres long. The last time that there was a longer stage was back in 1986 – which was on the asphalt of Corsica. After the marathon with the maximum length currently permitted comes the closing 16.47-kilometre Power Stage "Agua Zarca" on Sunday afternoon, before the winners and other podium finishers are determined.
Quotes, day 02 Rally Mexico
Jari-Matti Latvala, Volkswagen Polo R WRC #2
"When you extend your lead to over one and a half minutes by the end of the evening, you cannot be anything but happy. My starting position obviously still gave me an advantage. Despite this, the long stages and high temperatures made the day a real challenge. Like yesterday, it was all about finding the right mixture of risk and caution, in order to open up a decent lead ahead of tomorrow. That worked perfectly. However, when you still have an 80-kilometre stage to tackle, as we do tomorrow, it is still far from over."
Jost Capito, Volkswagen Motorsport Director
"Two outstanding drives from Jari-Matti Latvala and Sébastien Ogier, and we have strengthened our grip on a one-two – it was a good day for Volkswagen. Jari-Matti cleverly took full advantage of his late starting position and has opened a good lead over Sébastien. And Sébastien fought tooth and nail to stem the loss of time that comes with opening the route. Neither performance can be praised highly enough. It would have been a perfect day for Volkswagen if Andreas Mikkelsen had been rewarded for fighting his way back towards third place. However, a minor mistake with major consequences put paid to that. We have another very tough day ahead of us tomorrow. But we are well prepared for it and start the day in an excellent position."
And then there were …
… "repdigits". In terms of podium results, all three Volkswagen drivers, Sébastien Ogier, Jari-Matti Latvala and Andreas Mikkelsen have repeated instances of the same digit in their statistics. For example, Sébastien Ogier has 33 podium results to his name in his career with Volkswagen. Jari-Matti Latvala has made it onto the podium a total of 55 times, 22 of which were with the Polo R WRC. And Andreas Mikkelsen? He has a rate of 22 percent – namely 15 podium positions in 67 starts – all of them with the Polo R WRC.