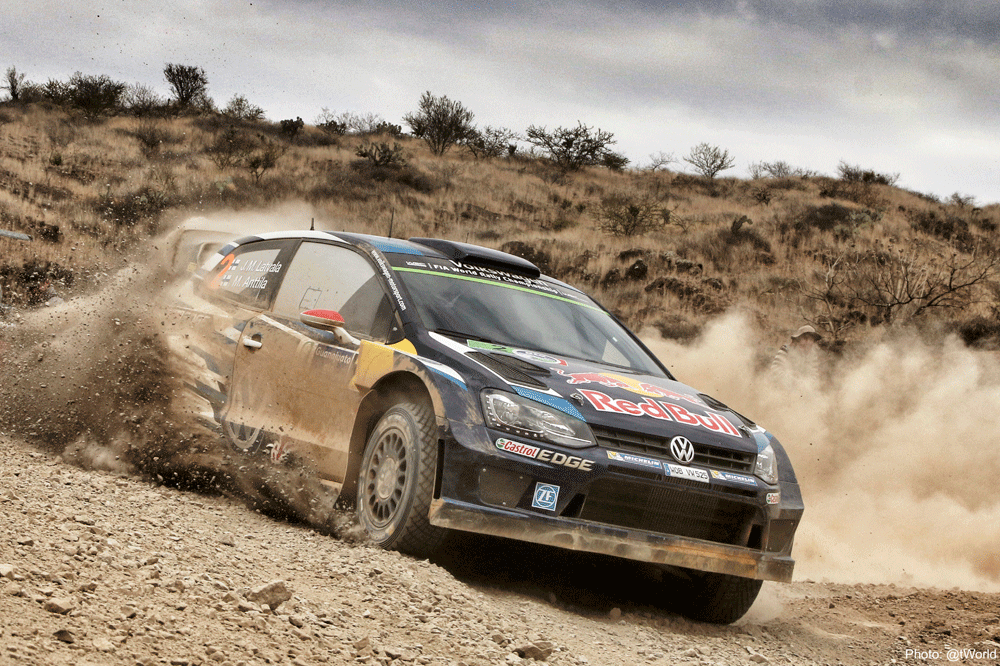 Round four of the Volkswagen duel: double world champion Ogier against youngster Mikkelsen
A question of honour: France or Finland
Typical Argentina: sun and fog, narrow roads and flat-out sections
The fastest drifters in the world are back in business after a 38-day break: Volkswagen kicks off the second quarter of the 2015 FIA World Rally Championship (WRC) at the Rally Argentina (23–26 April). After three back-to-back victories, double world champions Sébastien Ogier/Julien Ingrassia (F/F) have opened up a commanding lead in the World Championship in their Polo R WRC. Their closest rivals: team-mates Andreas Mikkelsen/Ola Fløene (N/N), who find themselves second overall after three rounds. Last year's winners in Argentina, Jari-Matti Latvala/Miikka Anttila (FIN/FIN), are looking to bounce back from the disappointment of the last two rallies. All three Volkswagen duos face a unique and diversified rally route. The 345.70 kilometres against the clock consists of twelve special stages, including four stages of over 50 kilometres in length and the downhill classic "El Cóndor" with its characteristic fog.
"Volkswagen can look back on a successful motorsport tradition in Argentina," said Jost Capito, Volkswagen Motorsport Director. "This is where our company enjoyed its first major successes in top-class racing – and we are virtually unbeaten here. There is no doubt about it: we enjoy coming to Argentina – a country that is also a key market for Volkswagen. We also have big plans from a sporting point of view. We travel to Argentina leading the World Championship and will do everything in our power to win the Rally Argentina again. As Motorsport Director, it is a real luxury to be able to turn to three duos who are all capable of winning: Sébastien Ogier can look back on some fierce duels here with his team-mates Jari-Matti Latvala and Andreas Mikkelsen. They have all shown that the Rally Argentina suits them. However, we must always keep a wary eye on our rivals at Hyundai, M-Sport and Citroën – they all want to win and are capable of doing so. It will certainly not be boring for the fantastic Argentinean fans."
Ogier versus Latvala – or: France vs. Finland
 Ogier against Latvala – the duel that kept fans on the edge of their seat during the 2014 Rally Argentina, and indeed throughout the entire season. Twelve months ago, Jari-Matti Latvala/Miikka Anttila produced an immaculate drive to finish ahead of their Volkswagen team-mates. A potential reprise of this duel would be of even greater importance in 2015. Victory for Sébastien Ogier/Julien Ingrassia at the Rally Mexico saw France draw level with Finland in the all-time best list in the World Rally Championship. Both countries now have 172 triumphs to their name. The next winner of the duel between Ogier and Latvala – they are the only competitors representing their respective nations in the top category of the WRC – will put their country ahead.
 Pentti Airikkala (1x), Markku Alén (19x), Marcus Grönholm (30x), Kyosti Hamalainen (1x), Mikko Hirvonen (15x), Juha Kankkunen (23x), Jari-Matti Latvala (12x), Timo Mäkinen (4x), Tommi Mäkinen (24x), Hannu Mikkola (18x), Harri Rovanperä (1x), Timo Salonen (11x), Henri Toivonen (3x) and Ari Vatanen (10x) have been victorious for Finland – that is 14 different drivers. For France, Alain Ambrosino (1x), Jean-Claude Andruet (3x), Didier Auriol (20x), Bernard Beguin (1x), Philippe Bugalski (2x), Bernard Darniche (7x), François Delecour (4x), Guy Frequelin (1x), Sébastien Loeb (78x), Michèle Mouton (4x), Jean-Pierre Nicolas (5x), Sébastien Ogier (27x), Alain Oreille (1x), Gilles Panizzi (7x), Jean Ragnotti (3x), Bruno Saby (2x), Patrick Tauziac (1x) and Jean-Luc Therier (5x) have all tasted success – 18 different drivers.
A dozen stages – from classic to innovative
From 2.68 to 56.77 kilometres in length, in sun or through fog, on spectacular city routes and barren lunar landscapes – the Rally Argentina features a wide range of conditions and demands a great degree of versatility from the drivers and co-drivers. The itinerary consists of just seven different special stages – but they are all demanding in their own way. On Thursday, a special stage will be held for the first time in Merlo in the province of San Luis, the epicentre of Argentinean motorsport. And new challenges await the competitors on Friday too: two of the special stages are new, the third – the classic Agua de Oro–Ascochinga – will be held in the reverse direction this year. Saturday is all about the rapid roads in the Punilla valley. The "Capilla del Monte–San Marcos" and "San Marcos–Characato" special stages offer the drivers two opportunities to show off their skills at top speed. On Sunday, the iconic "El Cóndor–Copina" forms the closing Power Stage, on which bonus points are up for grabs for the top three. And there is every chance that fog will once again play a role: the "El-Cóndor" stage slaloms over a lunar landscape from an altitude of 2,138 metres down to 1,389 metres above sea level.
 A 1,497-metre difference in altitude: an ever-increasing challenge
While the Rally Mexico provided the highest point of the season at 2,752 metres above sea level – the "roof of the WRC" – the Rally Argentina features the greatest difference in altitude in this year's World Rally Championship. The route ranges from 641 to 2,138 metres above sea level. The difference in altitude is 1,497 metres in Argentina, as opposed to 952 metres at the Rally Mexico. This requires the engine specialists to come up with a clever engine management system, which will stand the test in any extremes. The higher you get, the lower the air pressure and with it the oxygen content of the air – the result is less efficient combustion and thus less engine performance.
Quotes ahead of the Rally Argentina
Jari-Matti Latvala, Volkswagen Polo R WRC #2
"I am really looking forward to the Rally Argentina. It is a gravel rally, but very different to the Rally Mexico. The surface in Argentina is far sandier, not as hard, and there is far more grip. My favourite special stage is 'El Cóndor', which forms the Power Stage, as it did in 2014. Miikka and I won here last year. We'll have to wait and see whether we can repeat that feat – Sébastien Ogier is very strong at the moment. I have had a bit of time to relax and switch off since the Rally Mexico. I spent two weeks in the USA, where my girlfriend and I took a road trip through California and Nevada. I also had cause to celebrate: I reached the big 'three-oh', so we threw a small party. Small, because we had a fitness test in Lapland afterwards, in order to ensure we are as well prepared as possible for the Rally Argentina."
News from the Volkswagen team
+++ The Volkswagen drivers took advantage of the unusually long break from the World Rally Championship to go on well-deserved holidays: for example, Jari-Matti Latvala and girlfriend Kaisa spent some of the 38 days between the Rally Mexico and the Rally Argentina on a road trip in the USA. Andreas Mikkelsen enjoyed a few relaxing days in Florida – with his partner Margrethe. Sébastien Ogier and his wife Andrea Kaiser went skiing in Kitzbühel and climbing. Ogier also made an appearance on the "Markus Lanz" talk show on German television and visited the Volkswagen Open Days in Wolfsburg.
+++ All of the Volkswagen drivers also spent time testing with the Polo R WRC: Sébastien Ogier/Julien Ingrassia and Jari-Matti Latvala/Miikka Anttila were in action for three days in Spain, while Andreas Mikkelsen/Ola Fløene tested in Lausitz.