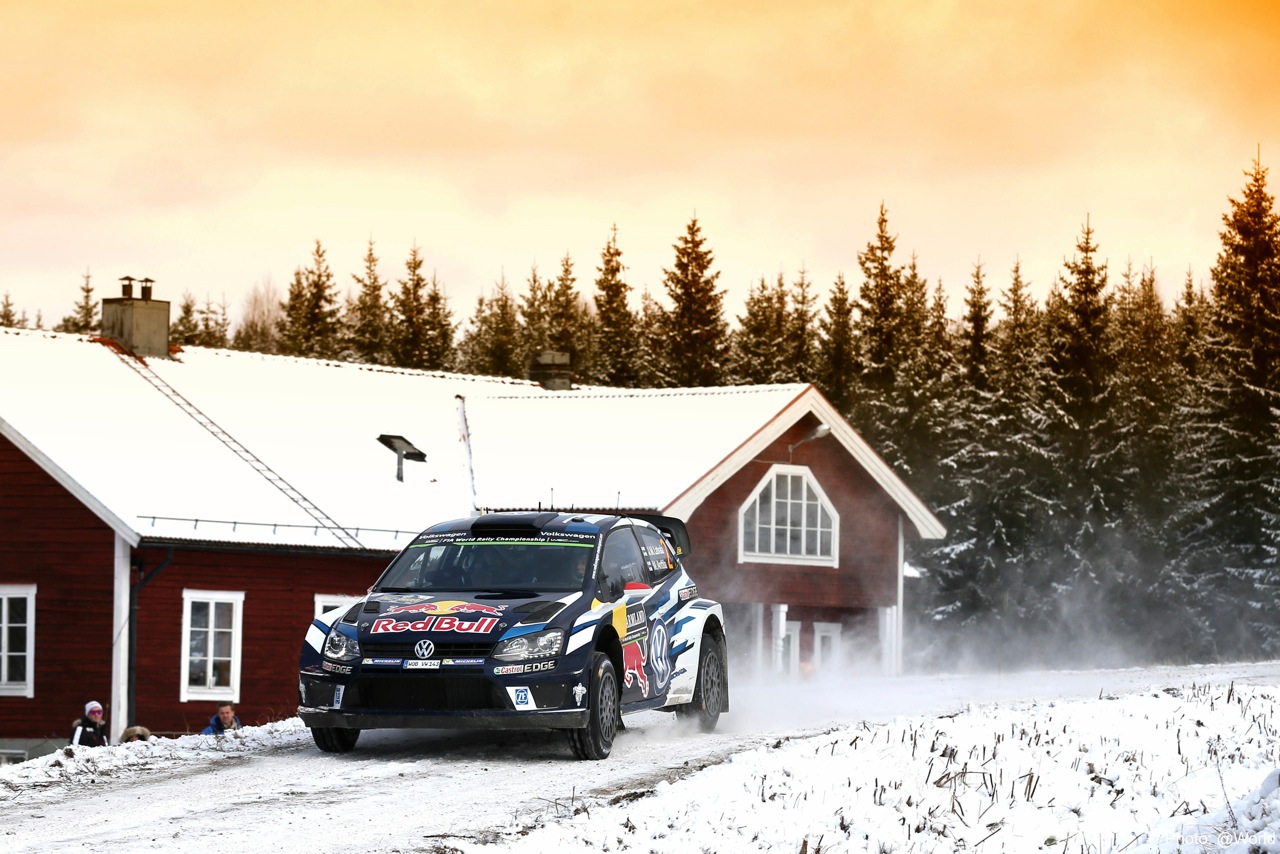 Jari-Matti Latvala/Miikka Anttila had to abandon any hope of a fourth victory at the Rally Sweden on Friday, when they suffered a broken drive shaft.
Winter arrives right on schedule – #WinterThunderland in Sweden
Temperatures above zero and persistent rain before the rally, heavy snowfall and frost during it: the competitors at the 2016 Rally Sweden had to battle changing and difficult conditions. During the Recce on Wednesday and Thursday, the special stages were dominated by soft loamy ground and mud. Once the rally started, and the cars hit full speed, they were faced with ice and fresh snow. Thanks to the huge commitment shown by the organiser and the many volunteers who worked tirelessly overnight to prepare the route, 68.37 per cent of the timed kilometres originally scheduled were completed. Full points are awarded if more than half of the route is completed.
Eventful weekend for Latvala/Anttila
Jari-Matti Latvala/Miikka Anttila suffered a number of set-backs. They were hampered by a broken drive shaft as early as the first special stage of the rally, "Torsby". Handicapped by having to drive solely with rear-wheel drive, they battled their way through the Friday before eventually having to call time on the final stage of the opening day with a broken suspension. Day two began with a puncture. Only then were Latvala/Anttila able to show the potential that had produced three victories at the Rally Sweden in the past. They won three of the four special stages on Saturday, clocking the second fastest time on the remaining stage.
Three full years at the top of the World Rally Championship
On top of the Driver and Co-Driver Championship continuously since 10 February 2013: the Volkswagen drivers. Back then, Sébastien Ogier/Julien Ingrassia moved to the top of the world championship courtesy of the Polo R WRC's first victory in its rookie year. Since then, they have only surrendered top spot once – to team-mates Jari-Matti Latvala/Miikka Anttila. Victory at the 2016 Rally Sweden saw the reigning champions pull further clear of their team-mates Andreas Mikkelsen/Anders Jæger, who are currently second in the World Championship. Their lead after two rallies is now 23 points. Victory is rewarded with 25 points, with a maximum three more points available for winning the Power Stage. Volkswagen's lead over Hyundai in the Manufacturers World Championship is now five points.
Impressive winning run: eleven victories in a row
Following the latest triumph at the Rally Sweden, Volkswagen can look back on another impressive winning run. Eleven triumphs in a row marks the second longest series of victories in the history of the World Rally Championship – the longest run, of twelve wins, also belongs to Volkswagen. Ogier, Latvala, Mikkelsen and the Polo R WRC are undefeated since the 2015 Rally Portugal. As such, Volkswagen has the opportunity to equal its own record at the coming Rally Mexico.
Quotes after day three of the Rally Sweden
Jari-Matti Latvala, Volkswagen Polo R WRC #2
" Naturally, my second home rally, the Rally Sweden, didn't go at all according to plan. It is always a bitter pill to swallow when a competition is over so early from a sporting perspective. However, it is also important to reflect on the positive aspects of the weekend. The car felt fantastic, we were totally competitive and we proved that with best times on some stages. Unfortunately, I had to take to the track first on the closing power stage, which meant that I wasn't really in with a chance of picking up any points. We have a good starting position for the next event in Mexico, and we have to make use of it. Hopefully the conditions will be on our side, and I wouldn't be averse to a little more luck than in the first two events of the season."
Jost Capito, Volkswagen Motorsport Director
"Jari-Matti Latvala and Miikka Anttila missed out on fighting for the win early on, but despite the setbacks at the start, they delivered a good performance. We are definitely pleased with the performances of our drivers and the entire team."