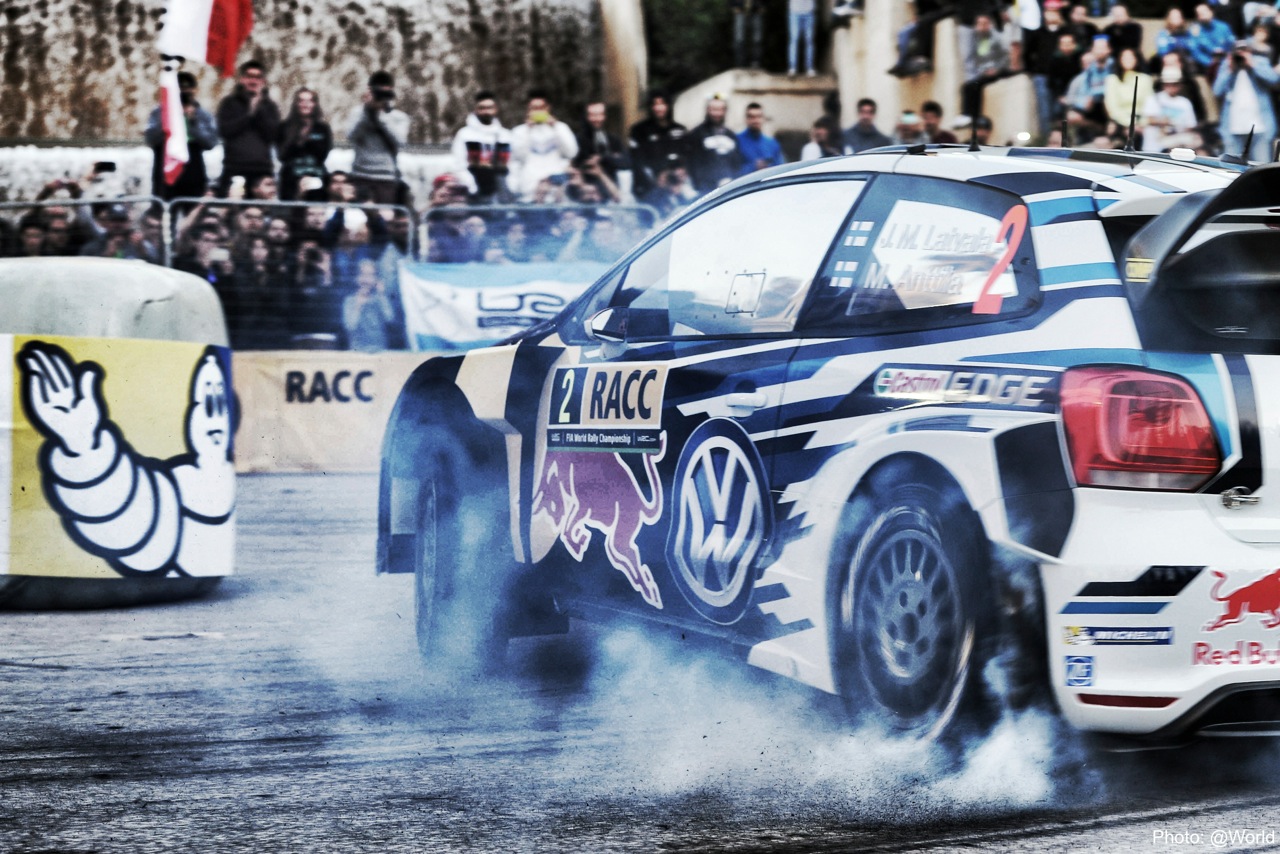 Impressive backdrop for impressive racing as Rally Spain opens in Barcelona
Ogier fastest at penultimate round of 2015 FIA World Rally Championship (WRC)
Mikkelsen third, Latvala seventh after day one's sprint
Wolfsburg (22 October 2015). Goosebumps at the Rally Spain: the twelfth and penultimate round of the FIA World Rally Championship (WRC) kicked off with the popular opening stage in the heart of Barcelona. Roared on by thousands of spectators at the foot of Montjuïc, the site of the 1992 Summer Olympics, three-time world champions* Sébastien Ogier/Julien Ingrassia (F/F) were fastest in their Polo R WRC on the first stage of the rally. Their Volkswagen team-mates Andreas Mikkelsen/Ola Fløene (N/N) were third on the short asphalt sprint, with Jari-Matti Latvala/Miikka Anttila (FIN/FIN) seventh.
The short, 3.20-kilometre special stage led past the world-famous German Pavilion, designed by architect Mies van der Rohe, over a stepped section and across the famous Plaça de Carles Buïgas. The Rally Spain's first asphalt stage is followed by eight stages held almost exclusively on gravel on Friday – and without the usual interim service at midday. In the evening, the mechanics will face a race against the clock to convert the World Rally Cars from gravel to asphalt mode, before Saturday and Sunday see them tackle stages more akin to circuit racing on asphalt. This mixture of surfaces is unique to the Rally Spain on the WRC calendar.
* Subject to the official publication of the results by the FIA.
Quotes after the start of the Rally Spain
Jari-Matti Latvala, Volkswagen Polo R WRC #2
"Others focussed more on getting their tyres up to temperature before the short special stage at the start of the Rally Spain than we did. That is probably why we lost a bit of time compared to the leaders. However, the serious business does not begin until tomorrow, with eight special stages scheduled. That is what we are concentrating on."
Jost Capito, Volkswagen Motorsport Director
"The backdrop was spot on, the reception given by the spectators was spot on, the result was spot on – the Rally Spain got off to a perfect start for Volkswagen. This evening has made everyone hungry for more Rally Spain. We are really looking forward to this unique rally, with its mixture of gravel and asphalt. After this special stage on Montjuïc, I believe the fans feel exactly the same way."
And then there was …
… this particular sentence: "Ten Euros say I will win." It came from the lips of Andreas Mikkelsen before the three Volkswagen drivers went head to head on the simulator for the official World Rally Championship game "WRC 5", which has recently been released.