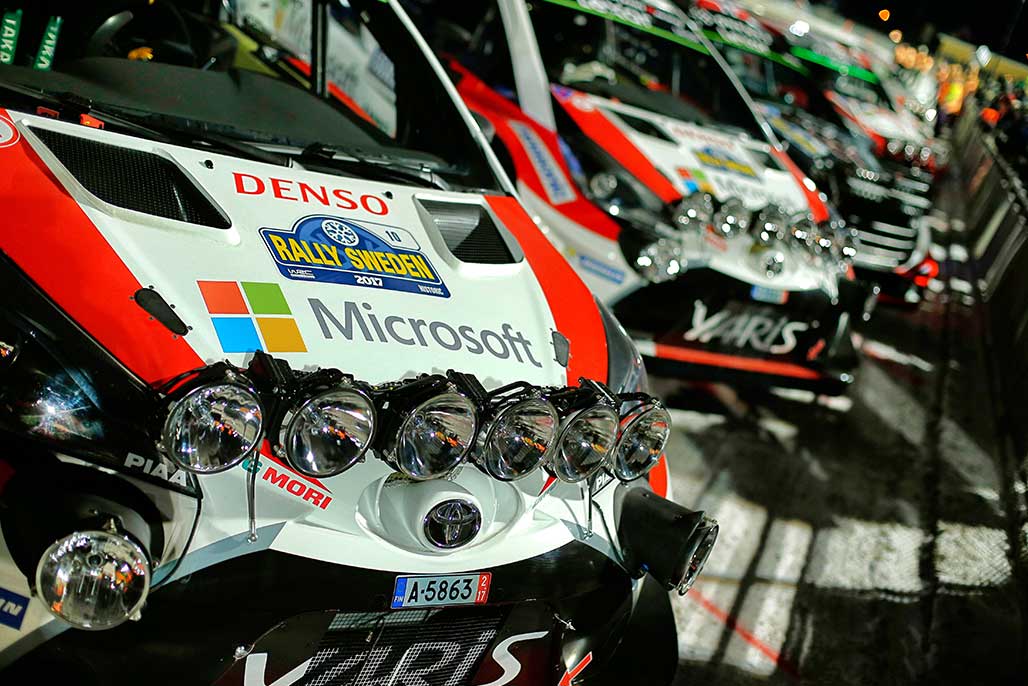 Rally Sweden got underway this evening on a short 1.9-kilometre spectator super special stage at the Karlstad trotting track, with the Toyota Yaris WRC provisionally leading the rally thanks to a fastest time from Jari-Matti Latvala. Both cars completed the day, which started with shakedown in the morning, with no problems before heading back to parc ferme for the real action tomorrow.
The Karlstad super special stage pitted drivers against each other in twos, so for the very first time the Toyota Yaris WRC experienced side-by-side racing in front of an enthusiastic crowd. Jari-Matti took a slim rally lead, while Juho Hänninen made a solid start in the top 10. Temperatures were just below zero degrees, which is expected to be the case for the remainder of the event.
Quotes:
Tom Fowler (Chief Engineer)
"The first stage is complete but we've got a long way to go and real action only begins tomorrow. For the shakedown stage this morning we had a similar situation to Monte-Carlo, in that it was important to save tyres in order to give our drivers the best choice possible during the actual rally. We're expecting a solid ice base on the stages, maybe with more snowfall in the next couple of days, so our running today was reasonably representative of that. We're happy with what we have seen today and looking forward to the considerable challenge of tomorrow: the longest day of the rally."
Jari-Matti Latvala (Driver car 10)
"We've got a big motivation after the result in Monte Carlo, which was not what we were expecting. People are asking if we can do even better now, but the season has only just started and we need to be patient. So really, we have to take thing one step at a time, and this rally is an important step. It's one of the fastest rallies, so you can really see where you are with the car and the engine in particular. The super special was great and I'm more than happy. Now I just need to hold all the horses!"
END OF DAY ONE (THURSDAY):
1 Jari-Matti Latvala/Miikka Anttila (Toyota Yaris WRC) 1m34.1s
2 Thierry Neuville/Nicolas Gilsoul (Hyundai i20 Coupe WRC) +0.6s
3 Dani Sordo/Marc Marti (Hyundai i20 Coupe WRC) +0.7s
4 Ott Tanak/Martin Jarveoja (Ford Fiesta WRC) +0.8s
5 Sebastien Ogier/Julien Ingrassia (Ford Fiesta WRC) +0.9s
6 Mads Ostberg/Ola Floene (Ford Fiesta WRC) +1.2s
7 Kris Meeke/Paul Nagle (Citroen C3 WRC) +2.0s
8 Juho Hänninen/Kaj Lindström (Toyota Yaris WRC) +2.1s
9 Elfyn Evans/Daniel Barritt (Ford Fiesta WRC) +2.1s
10 Ole Christian Veiby/Stig Rune Skjaermoen (Skoda Fabia R5) +2.4s
(Results as of 21:15 on Thursday, for the latest results please visit www.wrc.com)
Topics:
In order to generate grip on a surface that is often too slippery to stand up on, the studded tyres fitted to the Toyota Yaris WRC are fitted with 384 studs to bite into the ice and provide traction. The studs are inserted by hand, and it takes Michelin about 45 minutes to put the studs in each tyre.
What's next?
Tomorrow the drivers are straight into the action just after 8am, with much of the route going through Norway. Full snow conditions are anticipated over the course of Friday's seven stages, before the cars return to final service in Torsby at around 6pm after 145 competitive kilometres.