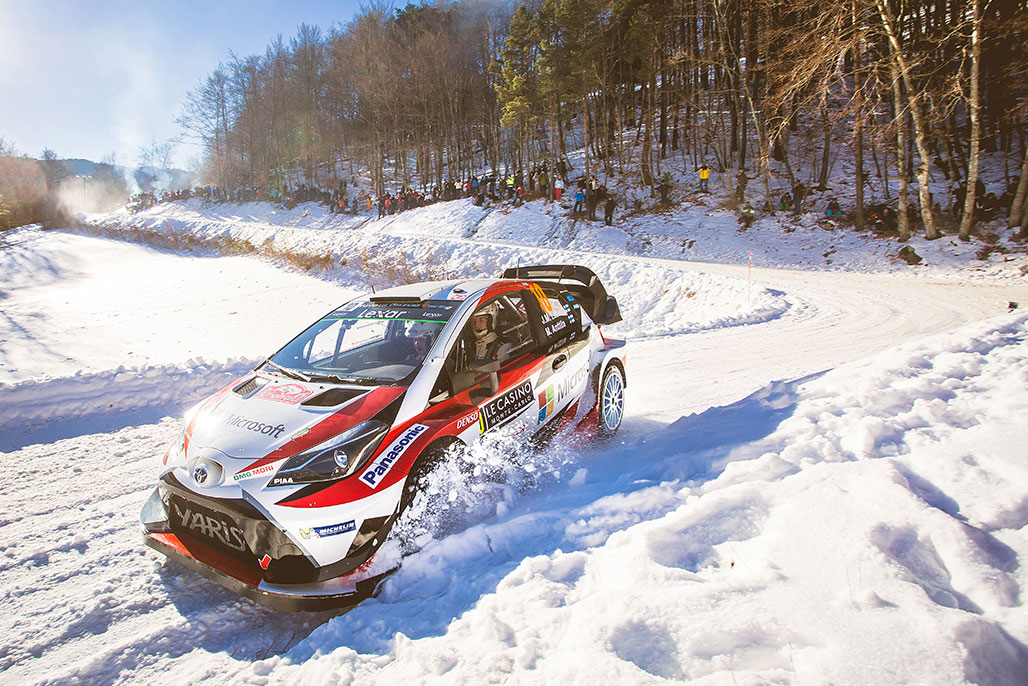 TOYOTA GAZOO Racing World Rally Team and its drivers, Jari-Matti Latvala and Juho Hänninen, are set to take on the high-speed snowy and icy stages of Rally Sweden from February 9 to 12. The team now aims to consolidate its 2017 learning programme and build on its return to FIA World Rally Championship action on Rallye Monte-Carlo last month, where Latvala and his co-driver Miikka Anttilla guided their Toyota Yaris WRC to an unexpected second place. With Toyota's commitment to the WRC for the long term, car development and team progression remain the priority this season as opposed to rapid stage performances.
Rally Sweden has been a winter event since it became a founding round of the world championship in 1973. And snow and ice are key to creating the spectacle. Metal studs inserted into the tyres punch through the ice to find grip, while drivers use the snow banks to stay on the road by 'leaning' through the corners: provided there is enough snow to do it.
In keeping with Rally Sweden tradition, a super special stage in Karlstad opens the action on the Thursday evening (February 9). The bulk of Friday's competition is based across the border in Norway with the Röjden stage actually running between both countries. Crews will demonstrate their jumping prowess on Saturday when they attempt the famous Colin's Crest on the Vargåsen stage as the rally returns to Sweden for the final two days. The event concludes with the Torsby Power Stage from 12:18 CET on Sunday ahead of the ceremonial finish at the town's airport, which doubles as the service park for the event. Almost 60 per cent of the competitive route is new for this year with 331.74 stage kilometres.
Tommi Mäkinen and Latvala are triple winners of the rally, while Toyota also has three Rally Sweden victories to its name from the past. Latvala and Hänninen prepared for Rally Sweden with total of 5 days of testing in Central Finland.
Tommi Mäkinen, Team Principal
"We've had a very busy time since Monte Carlo, with snow testing and also travelling to Japan for the TOYOTA GAZOO Racing press conference. Sweden has fewer questions for us as we have some idea where we are now in terms of performance, but maybe the expectation is more given Jari-Matti's second place. We have done a lot of testing on snow and also on gravel: this is really useful as well because the set-up for gravel is not so different than for snow. Of course, this is a very fast rally: actually even faster than Finland in many places. But we have found some high-speed roads for testing so we hope that we are quite well prepared. We have to work on reliability as we had some small problems in Monte that were troubling Jari-Matti a little bit, but in general I am quite happy with this side of things as well. We know we still have a lot to learn and the target in Sweden, which should suit our drivers well, is to make more progress."
Jari-Matti Latvala (Driver Car 10)
"I have some very nice memories of Sweden as this was my first rally win, back in 2008, but the circumstances are very different now! I did some snow testing before Christmas with the Yaris WRC and last week as well: even in that short time there have been some big improvements in the car and the whole team, which is the main aim as our target more than anything else this year is just to keep getting better. The result in Monte was a very nice surprise but I don't think it's realistic to expect the same in Sweden: we need to remember that this is still a completely new team and brand new project. So far the temperature in Sweden seems to be quite warm, so we could find conditions similar to previous years, which are never easy. I hope we get some nice minus degrees soon, as that will provide the best show for everyone."