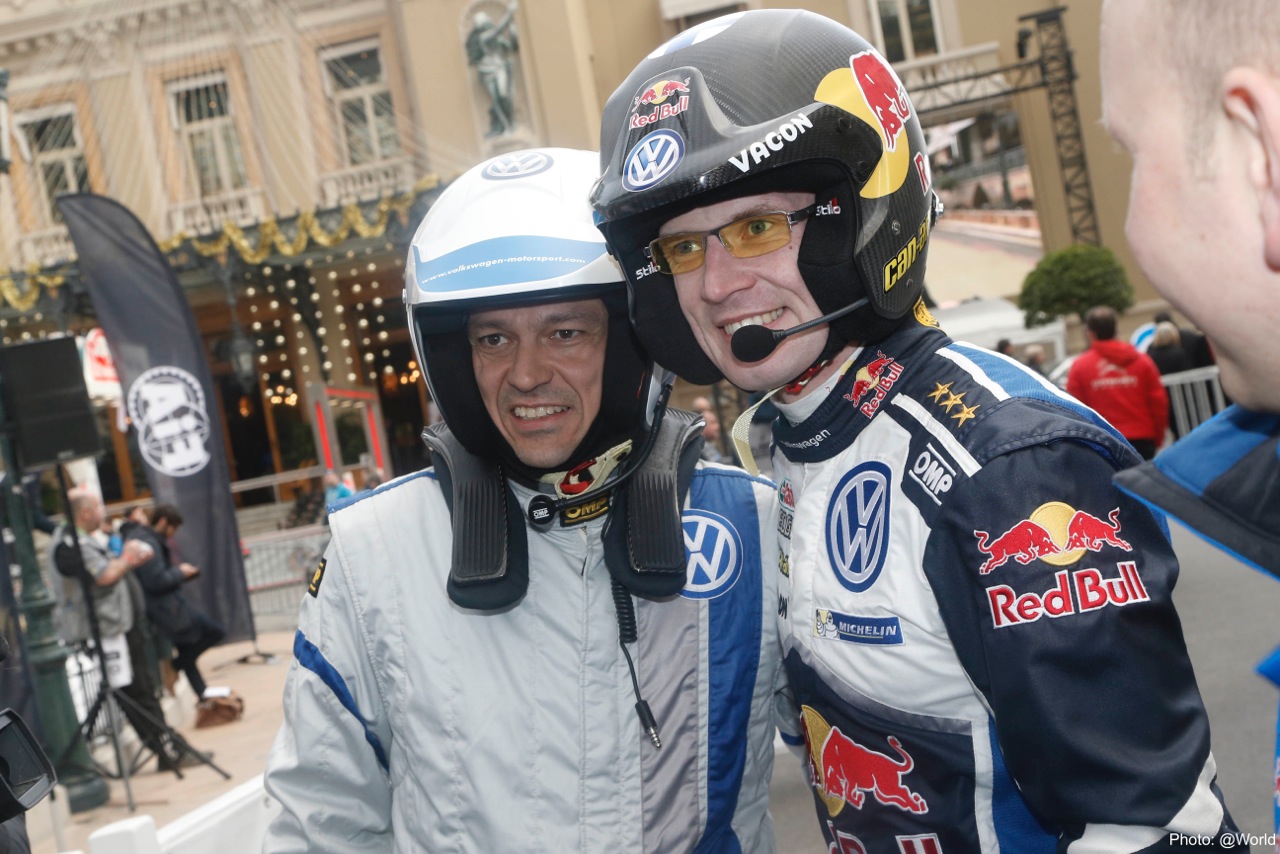 With 2016 Rallye Monte Carlo about to get underway the FIA World Rally Championship was given a spectacular send-off in the Principality's Casino Square. Among superstars of various disciplines was Finland's all-time greatest footballer Jari Litmanen, who got a taste of WRC thrills in a ride with Jari-Matti Latvala.
Hosting the former Ajax, Barcelona and Liverpool star was Neste Rally Finland Clerk of the Course Kai Tarkiainen, who followed the entertainment in high spirits. "The series promoter gave us an opportunity to bring along a well-known Finnish athlete and we wanted to offer this chance to Jari, who is so popular especially in Europe, and who faces a novel experience here in WRC circles."
To Tarkiainen the opening chords of the 2016 World Championship look promising indeed.
"There's a positive buzz around the series now. We have some promising new names and a good little bunch of best Finns, too. Citroën's "sabbatical" won't keep them away from Finland either; we may yet see them participate with as many as three cars", predicts Tarkiainen.
"We shall publish Neste Rally Finland's route in late February or early March. It will include some significant changes, which we hope to further enhance the experience for our spectators", Tarkiainen revealed.
Litmanen blown away by the ride
Jari Litmanen was calm as ever squeezing inside Latvala's Volkswagen Golf WRC, but the run around Monte Carlo's streets left him visibly excited.
Litmanen told he had once sat in a rally car beside Tommi Mäkinen in the late 1990's, but today's run still left him with a lasting impression.
"The speed is absolutely incredible and it's always great to watch a real pro doing his thing. Just as in football, success in rallying comes from lots of of little pieces falling together – and legwork plays a big part in it!", he analysed.
The football great confessed himself to be a "crazy sports fan". He said he's been following rallying for a long time and vowed he can name all Finnish world champions in chronological order. However, this is the first time he's had an opportunity to follow a WRC round on location. Litmanen also mentioned he plans to attend Finland's round of the series in the near future.
We shall see whether today's experience leads to Litmanen having a closer relationship with rallying in the future.
Press release Neste Rally Finland