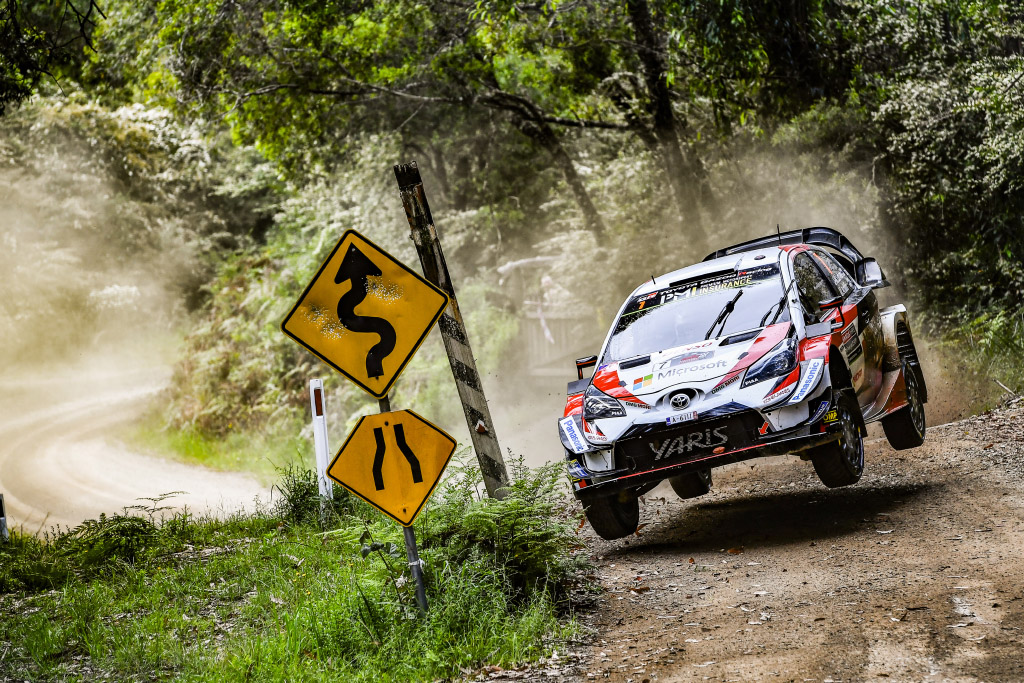 Jari-Matti Latvala, Ott Tänak and Esapekka Lappi all demonstrated the strong performance of the Toyota Yaris WRC as the final and deciding round of the 2018 FIA World Rally Championship season got underway in Australia. Latvala completed the first day of stages in third position, with Tänak and Lappi overcoming adversity to hold fifth and sixth respectively overnight: positions that help the team remain on course to clinch this year's manufacturers' title.
Courtesy of their top five positions in the drivers' standings, the Toyota trio were among the first cars on the road over Australia's dusty gravel stages. Nonetheless, they locked out the first three positions on the opening test and each set a fastest time from the first four stages. Consistently strong pace from Latvala ensured that he ended the day just 8.7 seconds away from the lead and set for a much more favourable road position for Saturday, the longest day of the rally.
On SS5, both Tänak and Lappi were caught out by a watersplash: the heavy impacts with the water caused Tänak to lose front bodywork from his car, affecting the handling, and forced Lappi to a brief halt with a misfire. Both maintained good speed thereafter however, with Tänak within 16.9 seconds of the lead with two days remaining.
Quotes:
Tommi Mäkinen (Team Principal)
"We had a very good start this morning, with all three drivers proving to be quite competitive and having a good feeling with the car. Unfortunately, Ott and Esapekka both suffered in the same watersplash: I think that maybe they were a little bit too sideways and this caused them problems. Jari-Matti was strong for most of the day and I think it is generally looking good for the team as we try to win the manufacturers' championship. We have good road positions for tomorrow and we can be confident in our performance."
Jari-Matti Latvala (Driver car 7)
"Today has mostly been very good. This morning I did some mistakes and lost a little bit of time, but in the afternoon loop in the forest stages I was really satisfied with how it went: the driving was very consistent and clean. I did lose some time on the super specials, as I had the hard tyres and I was missing some traction. Still, everything remains close and tomorrow we will have a good road position, which is going to be important."
End of day one (Friday):
1 Mads Ostberg/Torstein Eriksen (Citroen C3 WRC) 53m37.4s
2 Craig Breen/Scott Martin (Citroen C3 WRC) +6.8s
3 Jari-Matti Latvala/Miikka Anttila (Toyota Yaris WRC) +8.7s
4 Hayden Paddon/Seb Marshall (Hyundai i20 Coupe WRC) +12.5s
5 Ott Tänak/Martin Järveoja (Toyota Yaris WRC) +16.9s
6 Esapekka Lappi/Janne Ferm (Toyota Yaris WRC) +28.3s
7 Sebastien Ogier/Julien Ingrassia (Ford Fiesta WRC) +38.2s
8 Elfyn Evans/Daniel Barritt (Ford Fiesta WRC) +45.2s
9 Teemu Suninen/Mikko Markkula (Ford Fiesta WRC) +47.2s
10 Thierry Neuville/Nicolas Gilsoul (Hyundai i20 Coupe WRC) +1m11.9s
(Results as of 18:30 on Friday, for the latest results please visit www.wrc.com)
What's next?
Saturday takes place mostly to the south of Coffs Harbour, with a loop of four stages run either side of a late-morning service. The loop includes a spectator-friendly stage at the Raleigh raceway, while the Destination NSW super special on the Coffs Harbour waterfront will be be run twice more at the end of the day.