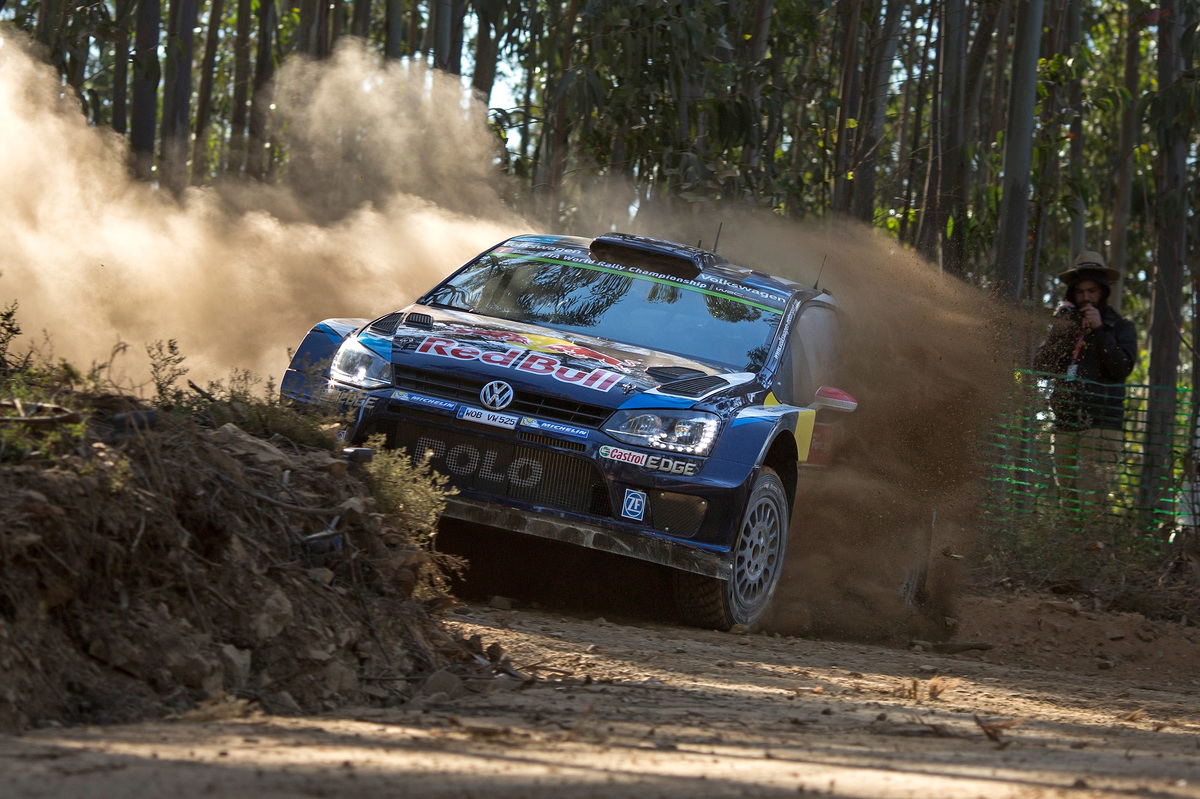 All three Volkswagen duos embroiled in four-way battle for the win
Different tyre strategies cause excitement down to the wire
Eight of 13 possible best times for the Volkswagen Polo R WRC
It's going to be a heart-stopping finale: A thrilling final spurt for the win awaits the Rally Portugal. And all three Volkswagen duos are in with a chance of getting the win in the four-way battle for victory ahead of the closing 54.65 kilometres of special stages on Sunday. The leaders in the Polo R WRC: Jari-Matti Latvala/Miikka Anttila from Finland. They've got themselves into the best position with an advantage of 9.5 seconds over their Volkswagen team-mates Sébastien Ogier/Julien Ingrassia (F/F). Kris Meeke/Paul Nagle (GB/IRL, Citroën) follow in third place with a deficit of a further 10.5 seconds, closely followed by the third Volkswagen duo. After 269.53 kilometres against the clock, Andreas Mikkelsen/Ola Fløene are in fourth, and only 1.1 seconds off a podium finish.
Once again, the dominant topic on the third day of rallying action was the tyre selection. While Ogier/Ingrassia and Latvala/Anttila opted for a mix of hard and soft Michelin competition tyres for both the morning and afternoon loops, Mikkelsen/Fløene only used the soft version in the morning. Another topic of the day was the catch-up of double world champions Ogier/Ingrassia. They made up 16.4 seconds on the leaders Latvala/Anttila, and moved up four places.
A real classic awaits the World Rally Cars on the deciding Sunday. The legendary stage "Fafe" with its spectacular leap will be driven twice – the second time it will be the closing power stage, on which bonus points are awarded to the best three duos.
Quotes, day 03 Rally Portugal
Jari-Matti Latvala, Volkswagen Polo R WRC #2
"It was a day of many positives, but also a few negatives for us. The conditions were anything but easy, it was extremely slippery on the special stages and there were some stones on the track here and there. On the first stage I lost around five seconds due to a driving error, and Kris Meeke made up a lot of time by the first service. I turned it around in the afternoon and was able to edge away from Meeke again. But my team-mate Sébastien Ogier really piled on the pressure all day and is now breathing down my neck. It will be a thrilling battle for the win tomorrow. The positive is that I'm leading the rally and still have an advantage of almost ten seconds."
Jost Capito, Volkswagen Motorsport Director
"All three Polo R WRCs are battling for the win – as Motorsport Director, you cannot ask for more. Tyre selection was not easy today. The bottom line is that both the strategies employed by our drivers were right, and all three Volkswagen drivers produced excellent performances. Sébastien Ogier's fightback was very impressive, and I am sure he will not ease off on Sunday and be content with taking second place today. However, Jari-Matti Latvala also showed today that he can manage a lead intelligently. The battle between these two will be exciting right down to the end. They will both have to stay alert though, as Kris Meeke in the Citroën and our youngster Andreas Mikkelsen are almost level within striking distance of the front two. No question: the way things stand, we are really looking forward to Sunday at the Rally Portugal."