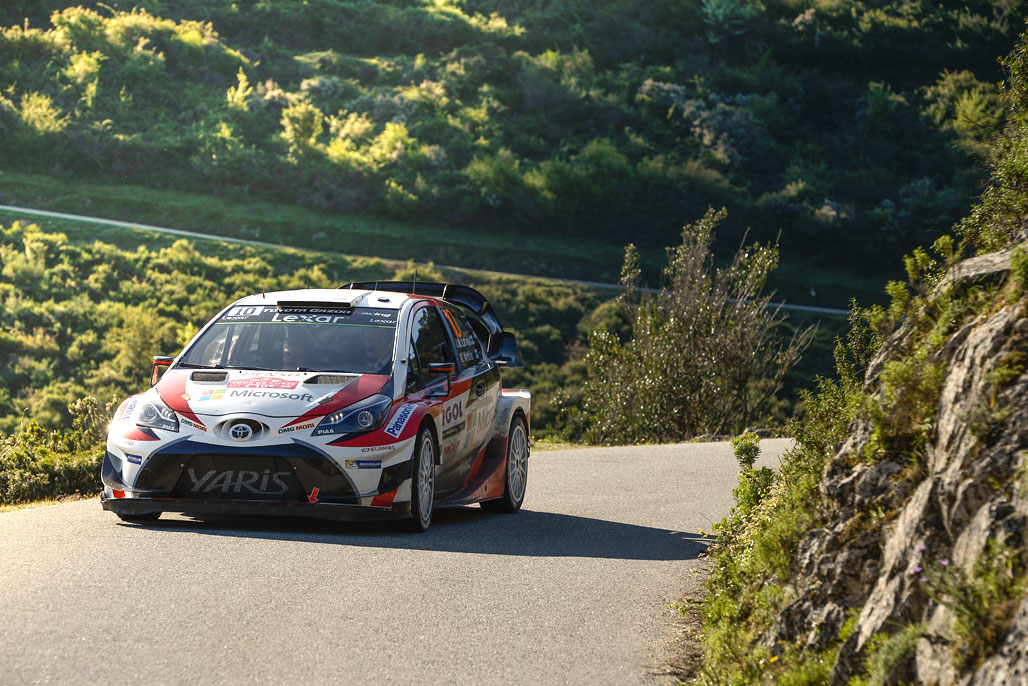 After a challenging second day in Corsica, on tighter, more twisty and narrower roads than those seen yesterday, both Toyota Yaris WRC drivers made big step forwards after changing the set-up of the car. Both showed themselves capable of setting top-two stage times on only the first pure asphalt event for the brand-new Yaris WRC.
As a result, Jari-Matti Latvala has climbed to fourth place, less than 15 seconds away from the podium with one day to go. Juho Hänninen is also back in business, having missed all of yesterday's action after hitting a bridge on the opening stage. Incredibly, despite having no experience of these stages, he set a second-fastest and a third-fastest time in the morning, making his way back up the classification. When the 48-kilometre stage was run again in the afternoon, it was the turn of Latvala to go second-fastest. Key to these performances were some changes made to the set-up of the Yaris WRC, which resulted in improved pace thanks to the teamwork that was carried out.
Quotes:
Tommi Mäkinen (Team Principal)
"It was maybe quite risky to be making changes to the set-up at this point in the rally, but we are here to test things and learn. In the morning we felt we could afford to try a few things with Juho's car, and because they worked well we did something similar to Jari-Matti's car in the afternoon. The aim was to eliminate some understeer and give the drivers more confidence, while also making sure that we were getting the best out of the front tyres in particular. By doing this we used our experience on this rally so far to improve the car, but I also need to say that the drivers and team did an absolutely fantastic job. I am very proud of their performances today on some extremely tricky stages."
Jari-Matti Latvala (Driver car 10)
"The car was actually transformed after some of the changes that we made at midday service. In the two stages this afternoon I really enjoyed driving it: I was able to push and it was a big pleasure. Obviously there was a lot of mud and dirt on the road during the second run, so we had to be careful, but we still made a very big improvement compared to the morning. On the first two stages today I didn't have a good feeling under braking in particular, but we improved this as well during service. Now I think we're in a strong position for tomorrow, so we're aiming for a solid finish."
END OF DAY TWO:
1 Thierry Neuville/Nicolas Gilsoul (Hyundai i20 Coupe WRC) 2h44m10.2s
2 Sebastien Ogier/Julien Ingrassia (Ford Fiesta WRC) +38.9s
3 Dani Sordo/Marc Marti (Hyundai i20 Coupe WRC) +57.7s
4 Jari-Matti Latvala/Miikka Anttila (Toyota Yaris WRC) +1m09.4s
5 Craig Breen/Scott Martin (Citroen C3 WRC) +1m12.2s
6 Hayden Paddon/John Kennard (Hyundai i20 Coupe WRC) +1m43.8s
7 Andreas Mikkelsen/Anders Jaeger (Skoda Fabia R5) +6m21.7s
8 Teemu Suninen/Mikko Markkula (Ford Fiesta R5) +7m29.6s
9 Stephane Sarrazin/Jacques-Julien Renucci (Skoda Fabia R5) +7m46.8s
10 Yohan Rossel/Benoit Fulcrand (Citroen DS3 R5) +9m56.5s
34 Juho Hänninen/Kaj Lindström (Toyota Yaris WRC) +35m07.8s
(Results as of 19:15 on Saturday, for the latest results please visit www.wrc.com)
Topics:
"Tarmac" and "asphalt" are both words used to describe rallies that take place on normal roads, so what is the difference? Tarmac is actually short for Tarmacadam: a road surface patented by British inventor Edgar Hooley in 1902, using a specific mix of stones and tar. As a trademark it takes a capital letter, but in modern usage it also describes any form of generic sealed surface: including asphalt (which is also known as bitumen).
What's next?
The final day of the rally tomorrow takes competitors from the north towards the south of the island, covering 64.20 kilometres over just two stages. The final stage is also the Power Stage, which offers extra championship points to the five fastest drivers. After leaving parc ferme at 07:15 in Bastia, the first car is expected over the finish ramp in Porto Vecchio at 13:30.