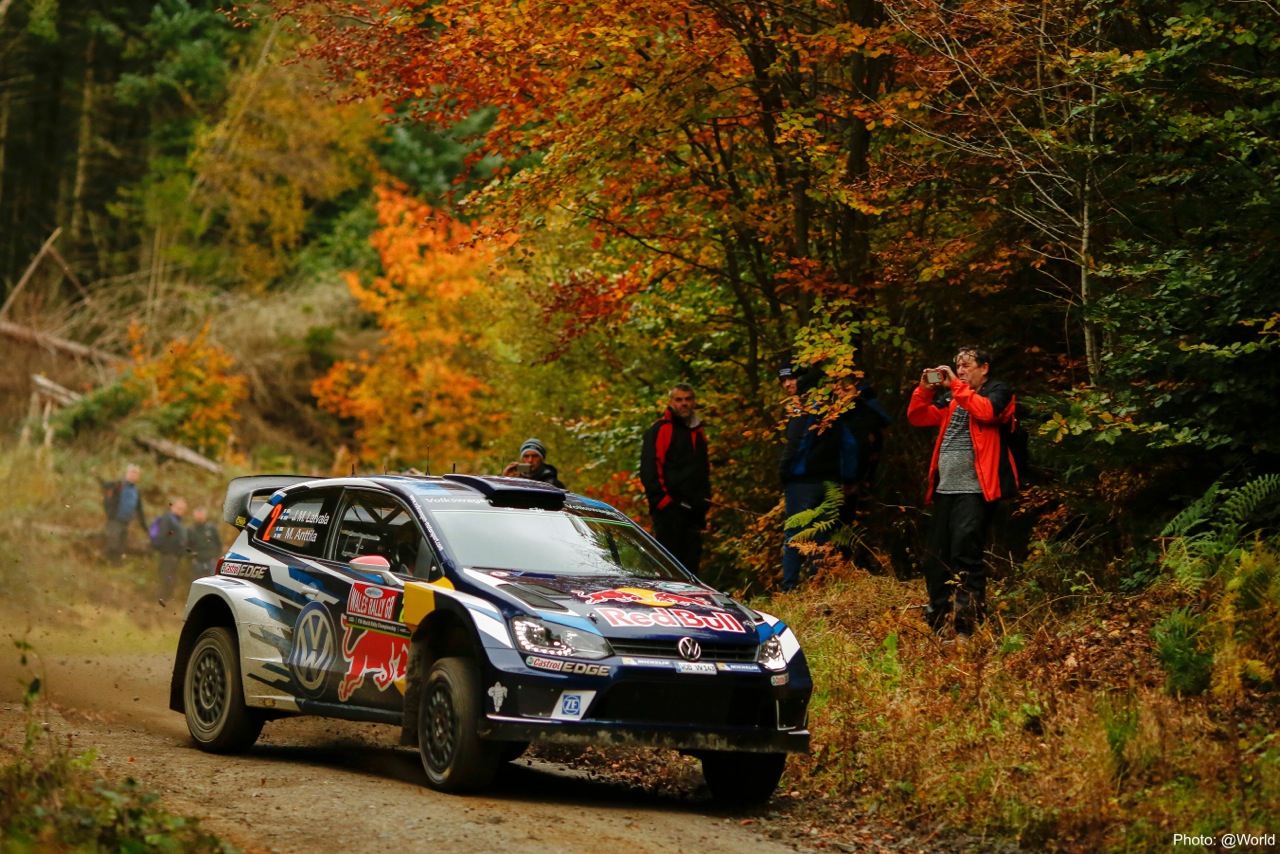 Good conditions for "free practice" at the Rally Great Britain
Ogier/Ingrassia fourth, Mikkelsen/Jæger sixth, Latvala/Anttila seventh
Volkswagen is well prepared ahead of the start of the Rally Great Britain in Wales. Champions elect* Sébastien Ogier/Julien Ingrassia (F/F) finished fourth, Andreas Mikkelsen/Anders Jæger (N/N) sixth and Jari-Matti Latvala/Miikka Anttila (FIN/FIN) seventh in the Shakedown ahead of the first all-gravel round of the FIA World Rally Championship (WRC) since July. The main focus during "free practice" was on the conditions at this classic rally: unlike in previous years, the competitors found the route to be astonishingly dry. Instead of mud and sludge, the Shakedown took place on 3.32 kilometres of damp gravel, which offered good grip.
The Rally Great Britain opens this evening with the Ceremonial Start in Colwyn Bay. The action itself kicks off on Friday with the first of 22 special stages. The WRC teams have erected their tents in the Service Park in the Welsh town of Deeside, just under an hour's drive from Manchester.
Volkswagen could add even more success to what has already been a golden October in England: should the Wolfsburg-based carmaker maintain 43 of its 62-point lead over rival Hyundai, it would be crowned world champion in the Manufacturers' Championship at the end of the Rally Great Britain.
*Subject to the official publication of the results by the FIA.
Quotes after the Shakedown at the Rally Great Britain
Jari-Matti Latvala, Volkswagen Polo R WRC #2
"It was slippery, but unproblematic – that is how I would sum up the Shakedown at the Rally Great Britain. We did three runs in total. We tried out a few things on the first and second run, and found the right set-up on the third. When it has not rained, the surface here can become very smooth, and you have to adapt to that. I think we are ready and looking forward to the Welsh forests."
Sven Smeets, Volkswagen Motorsport Director
"The Rally Great Britain has very unique challenges. The gravel transforms into mud and sludge when it rains – this is unlike anywhere else in the rallying world. This year, however, the weather is incredibly stable and there has really not been very much rain. As such, there is much more grip out on the stages than in recent years. We took full advantage of the Shakedown to adapt to these conditions. We are well prepared and looking forward to the Rally Great Britain, at which we would dearly love to wrap up the Manufacturers' Championship before the end of the season."