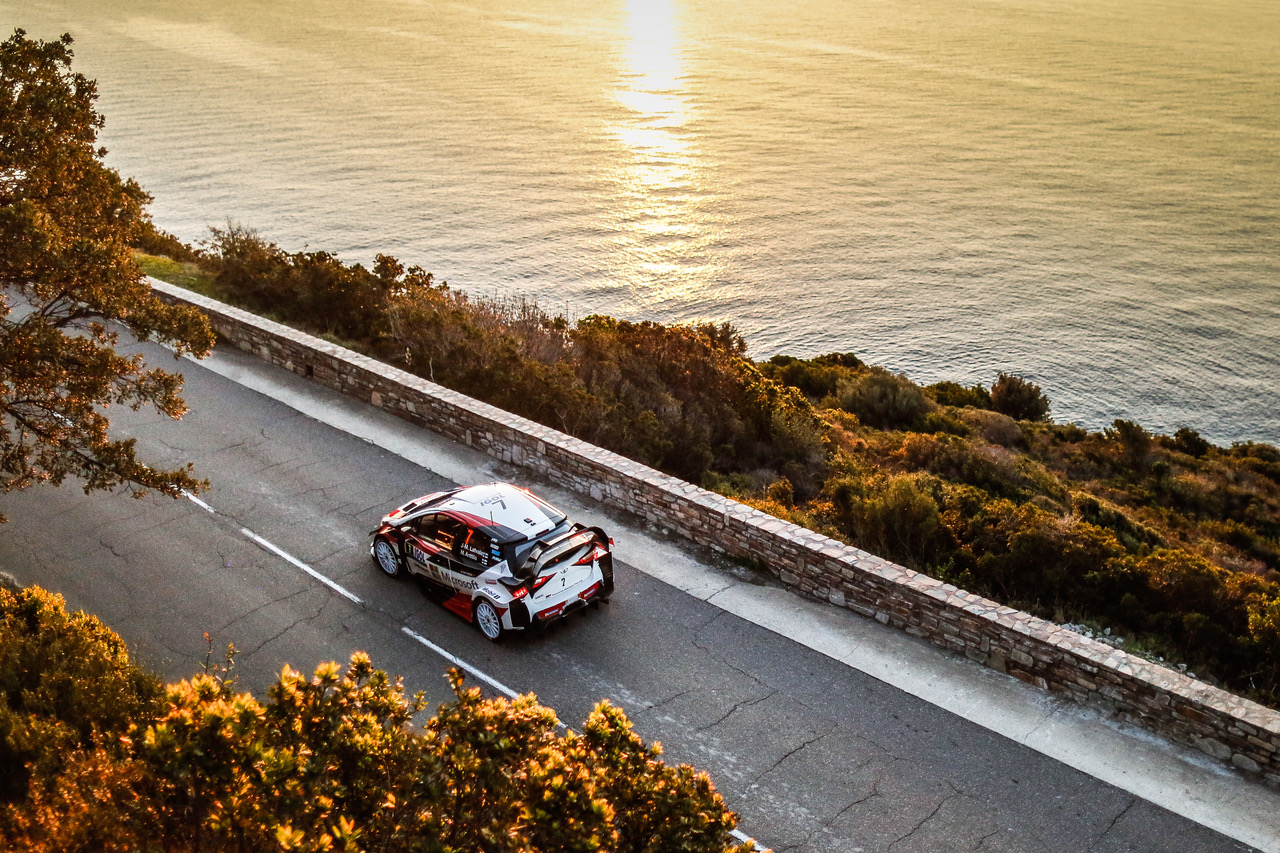 Both Ott Tänak and Esapekka Lappi are in the hunt for the Tour de Corse podium after a strong second day on the French round of the World Rally Championship. Tänak has moved into second overall, while Lappi is close behind in fourth after being quicker than anybody else across today's six stages.
Lappi was consistently quick throughout the day, proving the pace of the Yaris WRC after perfecting his setup during day one. He was never outside of the top three fastest times, and recorded his second stage win of the event on the 35.61-kilometre long SS8. Tänak was also a stage winner on SS7 – maintaining his record of winning a stage on every rally he has started for Toyota – as he kept up the pressure in the extremely close fight for second. Lappi and Tänak shared the fastest time on the day's final stage, SS10: this moved Tänak up to second place by just one tenth of a second, and Lappi up to fourth position, only 10.4s behind his team-mate. Jari-Matti Latvala was unable to complete the day after hitting a tree with the rear of the car on SS8. He returned to service, where the team set to work to try and repair the damage so that he can restart under Rally 2 rules tomorrow.
Quotes:
Tommi Mäkinen (Team Principal)
"Ott and Esapekka have both been very, very good today. Everything looks very interesting for tomorrow, with both of them in a really close fight for the podium. With a 55 kilometre stage, anything can happen. As for Jari-Matti, although he went off and had to retire for the day, he was finally happy after the changes he was able to make to the setup. He found his confidence, and I am optimistic that our guys will be able to repair the car so that he can restart tomorrow and try to use that. I know that this is the rally where you have to have the maximum confidence with the car. If you don't have it, you immediately lose a lot of time with so many corners. After just some small changes to the cars, our drivers now have that confidence and that is very good to see."
Jari-Matti Latvala (Driver car 7)
"After we made some changes in mid-day service, the car felt fantastic, so thank you to the team for that. It really gave me the confidence to push, but I maybe pushed a little bit too hard, got too sideways on a left-hand corner and hit a tree with the rear of the car. Normally I would not be smiling after going off the road, but I have some reason to be happy: Ott and Esapekka are going really quickly here, while I had been struggling, but then I found the speed. I learned what we had done wrong with the setup and why I was not fast. Unfortunately we won't be able to take the start tomorrow as the damages are more important than expected. We have now to focus on Rally Argentina and come back stronger!
End of day two (Saturday):
1 Sebastien Ogier/Julien Ingrassia (Ford Fiesta WRC) 2h43m07.7s
2 Ott Tänak/Martin Järveoja (Toyota Yaris WRC) +44.5s
3 Thierry Neuville/Nicolas Gilsoul (Hyundai i20 Coupe WRC) +44.6s
4 Esapekka Lappi/Janne Ferm (Toyota Yaris WRC) +54.9s
5 Dani Sordo/Carlos del Barrio (Hyundai i20 Coupe WRC) +1m46.7s
6 Elfyn Evans/Phil Mills (Ford Fiesta WRC) +1m49.8s
7 Andreas Mikkelsen/Anders Jaeger (Hyundai i20 Coupe WRC) +2m13.5s
8 Jan Kopecky/Pavel Dresler (Skoda Fabia R5) +8m22.9s
9 Kris Meeke/Paul Nagle (Citroen C3 WRC) +10m41.4s
10 Fabio Andolfi/Simone Scattolin (Skoda Fabia R5) +11m27.2s
18 Jari-Matti Latvala/Miikka Anttila (Toyota Yaris WRC) +22m26.1s
(Results as of 21:00 on Saturday, for the latest results please visit www.wrc.com)
What's next?
On the final day of the rally, the crews will travel west across Corsica towards the finish in Ajaccio. On the way they face two special stages. Vero-Sarrola-Carcopino is the longest test of the rally at 55.17 kilometres, and comes before the rally-ending Power Stage, the 16.25 kilometres of Pénitencier de Coti-Chiavari.
Press release TOYOTA GAZOO Racing World Rally team