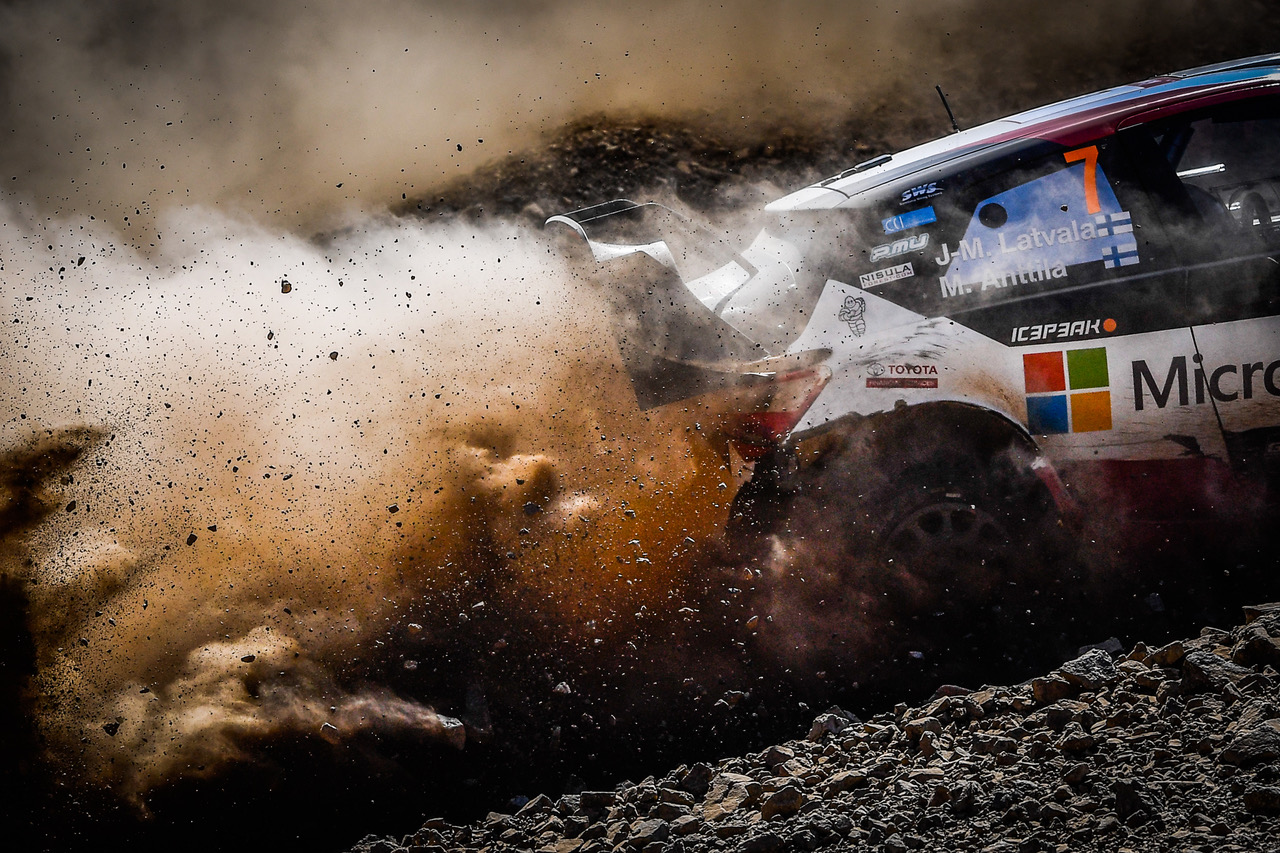 The TOYOTA GAZOO Racing World Rally Team has finished first and second on a gruelling Rally Turkey with drivers Ott Tänak and Jari-Matti Latvala. It is the first such result for the team since its return to the FIA World Rally Championship at the start of 2017, and moves the squad to the top of the manufacturers' standings. It is the third win in a row for Tänak and the Toyota Yaris WRC: the first time any driver or team has achieved such a streak since the latest era of World Rally Cars was introduced last season.
On the WRC calendar for the first time since 2010, Rally Turkey provided a considerable test to all the teams and crews, with entirely new stages over rough and rocky gravel roads that were extremely demanding for the cars and tyres. In a rally of attrition, where only five World Rally Cars completed the event without having to retire from at least one of the three legs, the approach of the Toyota team and its drivers to focus on reliability and avoiding mistakes paid dividends.
Tänak and Latvala occupied fifth and fourth positions at the end of Friday and through measured driving took over at the top of the leaderboard at the beginning of Saturday afternoon as their rivals hit problems. From there, the two drivers continued to avoid problems over the remaining stages, with Tänak winning by 22.3 seconds over Latvala with almost one minute and a half further back to the third-placed crew.
Esapekka Lappi was unable to take part in Sunday's stages after his car was too heavily damaged when he went off the road on Saturday morning. This however did not prevent Toyota claiming a maximum points haul of 43 points towards the manufacturers' championship, which it now leads by five points with three rounds remaining. Tänak, who also took three bonus points for third place on the rally-ending Power Stage, has climbed to second in the drivers' standings, just 13 away from the lead. Latvala, fourth on the Power Stage, moves up to fifth behind Lappi.
Jari-Matti Latvala (Driver car 7)
"This is a great result for the team. The main thing today was to get the one-two finish and we did it. Everything went according to plan. I tried to be clever and not do anything stupid and I had a consistent run. We are trying hard to win the manufacturers' championship so these points were very valuable, and the remainder of the season now looks very exciting. For me, it is very nice to be on the podium again. Things have started to look better since Finland. Now let's keep it going this way."
FINAL CLASSIFICATION, RALLY TURKEY
1 Ott Tänak/Martin Järveoja (Toyota Yaris WRC) 3h59m24.5s
2 Jari-Matti Latvala/Miikka Anttila (Toyota Yaris WRC) +22.3s
3 Hayden Paddon/Seb Marshall (Hyundai i20 Coupe WRC) +1m46.3s
4 Teemu Suninen/Mikko Markkula (Ford Fiesta WRC) +4m10.9s
5 Andreas Mikkelsen/Anders Jaeger (Hyundai i20 Coupe WRC) +7m11.7s
6 Henning Solberg/Ilka Minor (Skoda Fabia R5) +13m40.6s
7 Jan Kopecky/Pavel Dresler (Skoda Fabia R5) +18m25.2s
8 Simone Tempestini/Sergiu Itu (Citroen C3 R5) +19m37.1s
9 Chris Ingram/Ross Whittock (Skoda Fabia R5) +20m21.3s
10 Sebastien Ogier/Julien Ingrassia (Ford Fiesta WRC) +20m51.2s
Retired Esapekka Lappi/Janne Ferm (Toyota Yaris WRC)
What's next?
Round 11 of the 2018 season is Rally GB on October 4-7. In dry conditions these stages can be driven at fairly high speeds, but in the Welsh autumn the pace is usually tempered by mud, which can make the surfaces treacherously slippery. Fog and even ice can add to the challenge, particularly early in the morning or late in the evening.
Press release TOYOTA GAZOO Racing WRC