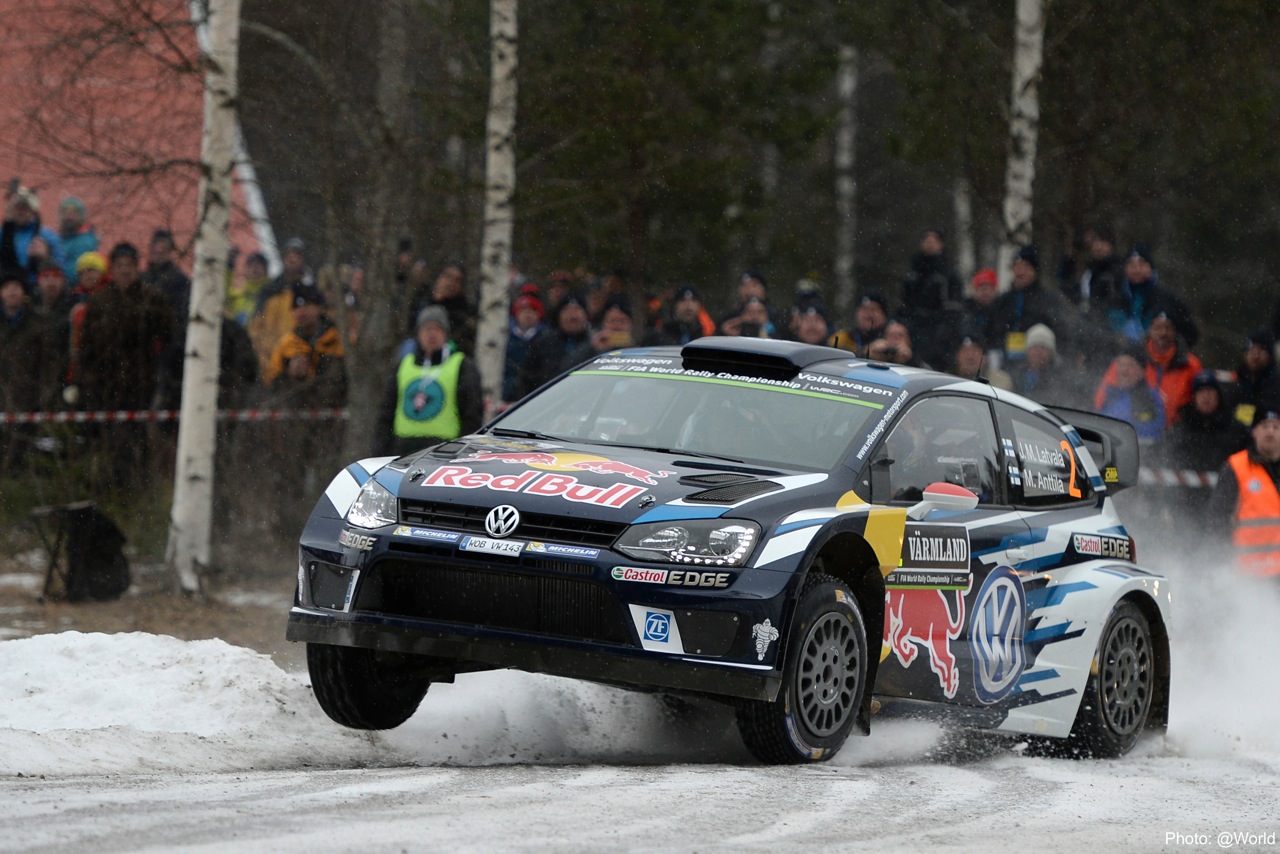 Ogier leads early on, Swedish rollercoaster for Mikkelsen, double set-back for Latvala
Six stages, 118.36 kilometres against the clock on day one of the Rally Sweden
Rally route truncated after unseasonably warm temperatures in Sweden
Tricky conditions mastered as well as possible at the Rally Sweden: Sébastien Ogier/Julien Ingrassia (F/F) lead after day one of the classic rally. With conditions extremely difficult to judge on the opening day of round two of the FIA World Rally Championship (WRC), the world rally champions of the past three years, and early leaders in this year's championship, opened a commanding lead of 26.9 seconds over Hayden Paddon/John Kennard (NZ/NZ, Hyundai), with Mads Østberg/Ola Flœne (N/N, M-Sport-Ford) a further 6.8 seconds back.
With roughly half of the total distance behind them, Andreas Mikkelsen/Anders Jæger (N/N) find themselves 42.0 seconds off the lead in sixth place. However, with just 15 seconds separating them from second place, they are still well within striking distance of the podium. While the duo currently second in the world championship dropped down the standings after some fine times on the early stages, Jari-Matti Latvala/Miikka Anttila in the third Polo R WRC were stopped in their tracks by a damaged drive shaft on the very first stage of the day. They ultimately had to retire with a broken suspension and will rejoin the race under Rally 2 regulations on Saturday.
A number of special stages at the Rally Sweden were cancelled prior to the start of the event, as a result of unusually warm weather and persistent rain in the run-up to the classic rally. Although the organisers pulled out all the stops to ensure the route of the Rally Sweden was as well prepared as possible by the start on Friday, they still had to bow down to the weather. The 118.36 kilometres of special stage completed on Friday represent about half of the total distance of the 2016 Rally Sweden.
Quotes after day one of the Rally Sweden
Jari-Matti Latvala, Volkswagen Polo R WRC #2
"About two kilometres from the end of the first stage I suffered a malfunction on the front-left drive shaft after a jump. Driving with only rear-wheel drive in these weather conditions is a very difficult undertaking, and it was impossible to avoid losing a massive amount of time. As such, the rally was basically over before it had really got going. Then we suffered suspension damage on the final stage of the afternoon. It is obviously depressing, but, as a good sportsman, all you can do is look ahead and try to attack again next time."
Jost Capito, Volkswagen Motorsport Director
"First of all, I would like to pay a huge compliment to the organisers. They really pulled out all the stops to make it possible to stage the Rally Sweden at all. Thanks to the remarkable commitment they showed, they were able to defy the unseasonably warm temperatures, which are not exactly typical here in Sweden. The conditions were not only extremely difficult for the organisers, but also for the drivers and co-drivers. After the Recce, the roads were levelled out, watered and then froze overnight. We then had heavy snowfall today – it was virtually impossible to predict what awaited the drivers and co-drivers. That only makes the performance of Sébastien Ogier and Julien Ingrassia all the better, when you consider that they had to open the route. Like their team-mates, Andreas Mikkelsen and Anders Jæger also came off the road a couple of times – but lost considerably more time in the process. Jari-Matti Latvala and Miikka Anttila were just unlucky to suffer a broken drive shaft early on, and then a broken suspension later in the day. Despite the minor problems, we are happy with this result on such a difficult day."