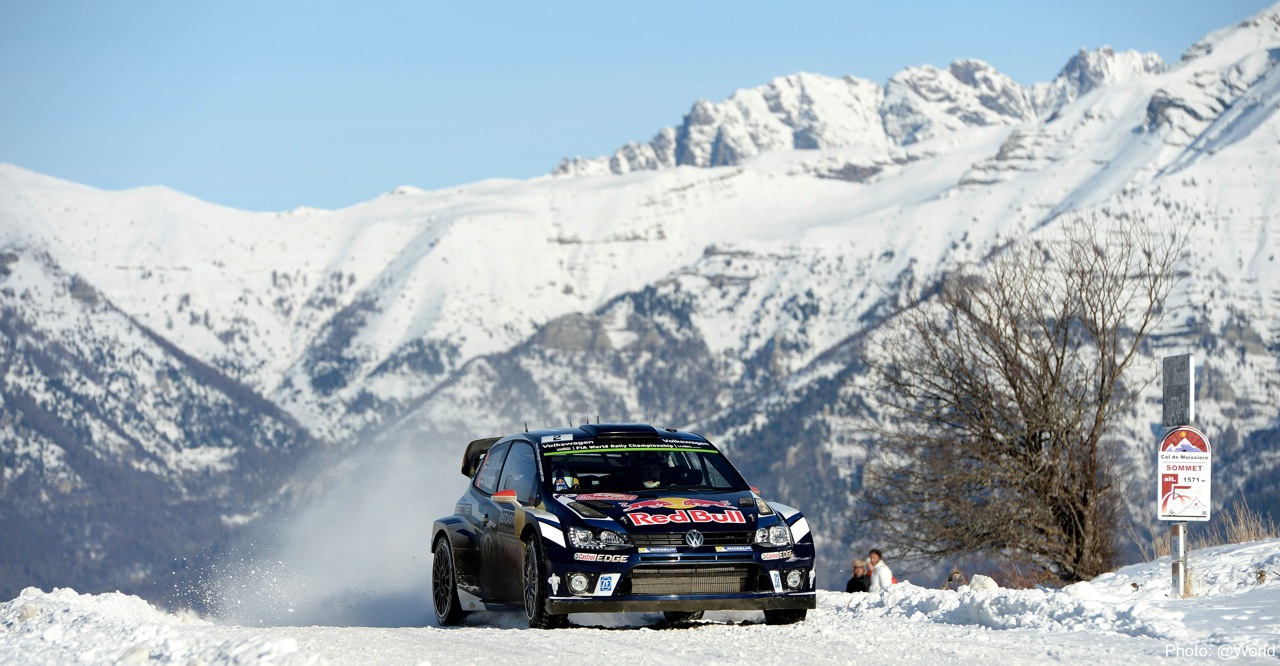 #WinterThunderland – Rally Sweden the only WRC rally on ice and snow
From youngsters to one of the hot favourites: Andreas Mikkelsen/Anders Jæger
Winners 2013–2015: Sébastien Ogier/Julien Ingrassia and Jari-Matti Latvala/Miikka Anttila
Unbeaten on this turf, and lining up with three duos hungry for victory – Volkswagen goes into the Rally Sweden (11–14 February 2016) brimming with confidence. Three-time world champions Sébastien Ogier/Julien Ingrassia (F/F), who have two Rally Sweden victories to their name, once again start as World Championship leaders. Their toughest opposition looks likely to come from their own team-mates: Andreas Mikkelsen/Anders Jæger (N/N) and Jari-Matti Latvala/Miikka Anttila (FIN/FIN). All three pairs were in contention last year, with Ogier and Ingrassia ultimately clinching victory in the closing metres in a dramatic finale. The Rally Sweden is of particular significance to Volkswagen. The maiden victory for the Polo R WRC in 2013 heralded an unprecedented success story, which continues today with 35 wins from 40 rallies. Since this rally, the top spot in the Drivers' and Co-Drivers' Championship has always been occupied by a Volkswagen duo.
"We will probably always travel to the Rally Sweden with a sense of pride and anticipation," said Volkswagen Motorsport Director Jost Capito. "The entire team will never forget the scene of our first win in the World Rally Championship. Over the past three years, we have always enjoyed outstanding rallies in Sweden – with wins for Sébastien Ogier and Jari-Matti Latvala, as well as some very special moments for Andreas Mikkelsen. These include his first podium and what was so nearly his first victory twelve months ago, for example. The rally fans will be raving about last year's drama, when three drivers all had an equal chance of winning right down to the final stage, for a long time – unless the coming Rally Sweden is even more exciting than 2015."
Drama, baby, or: the most exciting in rally history
The 2015 Rally Sweden went down in history as one of the closest of the modern day era. 4.6 seconds – the equivalent of just 162.84 metres – separated the first three going into the closing Power Stage. It does not get much more exciting than that. As such, the final 15.84 kilometres of a total 308 against the clock were left to decide who would take which step on the podium. Sébastien Ogier initially set the fastest time, thus guaranteeing a Volkswagen victory. However, the last man on the route, Andreas Mikkelsen, was still in with a shout of winning the Rally Sweden right down to the final split time – until a slight skid and the resulting spin dashed any hopes of a maiden WRC victory. It did not, however, prevent him from claiming back-to-back podiums. Mikkelsen/Fløene took about 40 seconds to get back on course and went on to finish third.
It is not uncommon for fractions of a second to make all the difference at the Rally Sweden, as was the case most recently in 2015. As such, fans have had the 2016 Rally Sweden marked red in their calendars for a long time. As has Andreas Mikkelsen, who has his sights set on nothing less than a first victory at his home rally in Sweden with new co-driver Anders Jæger.
What do you mean Värmland? – 331.21 kilometres through the #WinterThunderland
Across the ice and snow of Värmland and Dalarna at rally speed, plus the day of the Norwegians – the Rally Sweden is the only event on the WRC calendar, which is held in two countries. And there is more: the "Röjden" special stage crosses the border between Sweden and Norway. As such, the second round of the World Rally Championship is something of a home event for Mikkelsen/Jæger. The 2016 route features a total 331.21 kilometres against the clock spread over 21 special stages, including genuine classics. The rally kicks off on Thursday evening with the spectator stage on the horse racing track in Karlstad, which is identical to last year. "Torsby", "Röjden", "Kirkenær", "Fredriksberg", "Rämmen", the "Hagfors Sprint", "Lesjöfors" and the closing Power Stage "Värmullsåsen" are also unchanged from 2015. It goes without saying that the iconic "Vargåsen" stage, with its spectacular jumps of over 40 metres on "Colin's Crest", can never be left out – and is once again scheduled for Saturday in 2016.
2013, 2014, 2015 – Volkswagen unbeaten in Sweden
There are still a few rallies, at which Volkswagen is undefeated with the Polo R WRC. Sweden is one of them. The World Rally Car from Wolfsburg won only its second rally in 2013 with Sébastien Ogier/Julien Ingrassia, who went on to complete the "Nordic Grand Slam" with victory in Finland in the same year – the first time central Europeans had achieved this feat. Ogier/Ingrassia were back on the top step of the podium in 2015. Sandwiched between these two victories were Jari-Matti Latvala and Miikka Anttila, who triumphed for Volkswagen in 2014.
One of a kind: the Michelin X-Ice North offers total grip and maximum fun
At 195 millimetres, narrower than its gravel and asphalt counterparts, screwed 13.5 millimetres deep, 384 studs protruding 6.5 millimetres: the standard Michelin tyre used exclusively at the Rally Sweden is rather special. A maximum 24 of these "Sweden Spike" tyres may be used per World Rally Car. This is not a problem if the crews are greeted by dream conditions, with plenty of ice and snow – like last year. However, should only a thin layer of the slippery stuff await the competitors, the possibility of churned-up gravel forming the driving surface makes the studs a valuable commodity to be handled with care.
Quotes ahead of the Rally Sweden
Jari-Matti Latvala, Volkswagen Polo R WRC #2
"The Rally Sweden is like a home rally for me. I love driving on snow. No question, it is tougher travelling to Sweden with no points than after a good result in Monte Carlo. However, I cannot do anything about that now. The positive to come out of the situation is that I will have a better starting position. A good starting position means you have much better conditions and do not need to take as many risks. I must take advantage of that, in order to get back in the race for the title. However, it is also clear that I have two team-mates, in Sébastien Ogier and Andreas Mikkelsen, who have not only both shown that they are capable of winning in Sweden, but are also particularly motivated. Not to mention the opposition from the other teams."
Did you know …
… the "Sweden spikes" offer more grip on ice and snow than gravel tyres do on typical gravel? In Argentina, it takes an average 124.87 metres to accelerate from zero to 100 kilometres per hour. In Sweden, this figure is just 107.32 metres.
… there have only been three years since 1950, in which the Rally Sweden has not formed part of the World Rally Championship? In 1974, it was cancelled due to the energy crisis. In 1990, the weather was too mild to stage the rally. In 2009, the FIA rotation system meant that the Rally Sweden was not held as a round of the World Rally Championship.
… the longest jump over the legendary "Colin's Crest" was achieved in 2015 by Thierry Neuville (Hyundai), with a distance of 44 metres? The second longest 'flight' on that particular Saturday in February 2015: Andreas Mikkelsen with 41 metres. The organisers of the Rally Sweden present a prize for the furthest and, therefore, most courageous jump, in honour of the fearless and legendary Colin McRae.