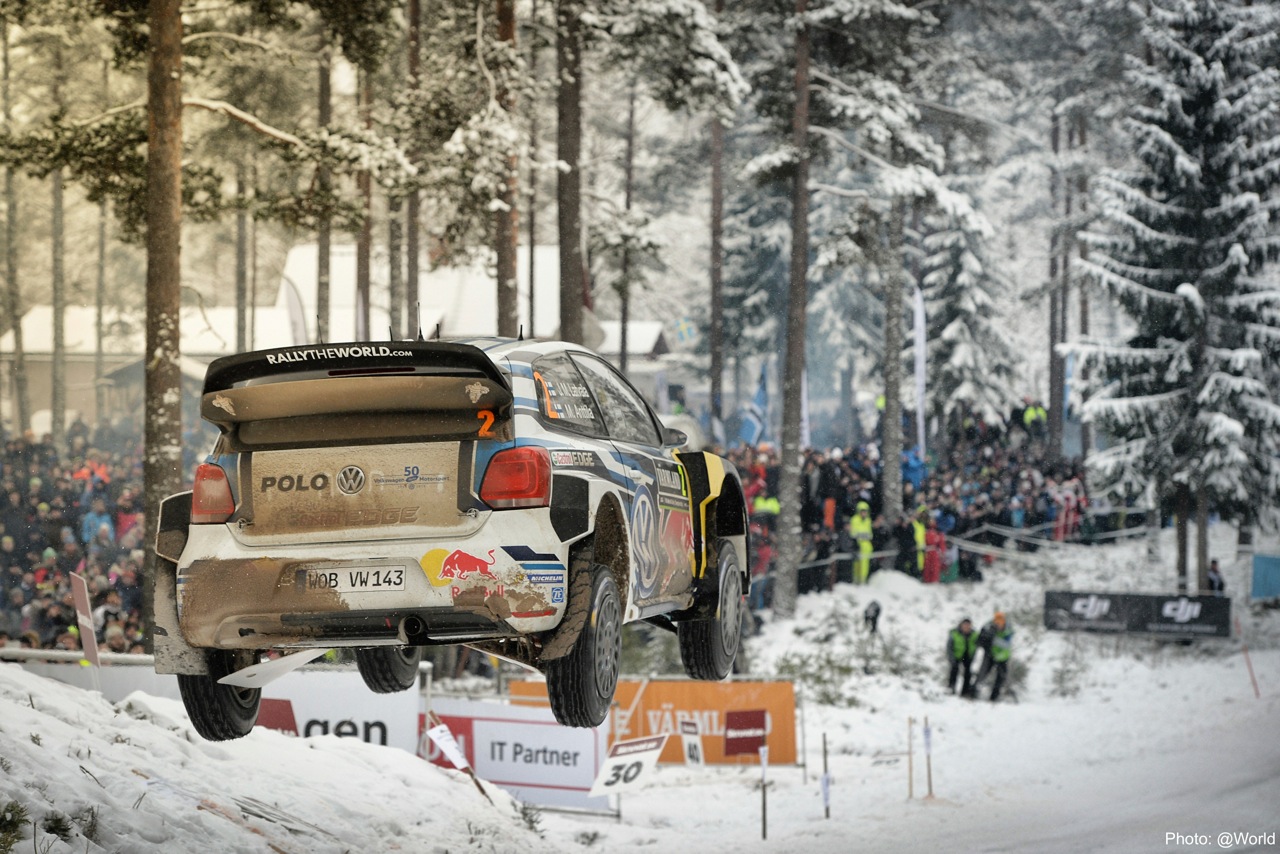 Ogier/Ingrassia lead round two of World championship with 17.1-second advantage
Mikkelsen/Jæger challenge for podium, but fall away
Willingness to take risks pays dividends: Volkswagen is within touching distance of a fourth win in a row at the Rally Sweden. Sébastien Ogier/Julien Ingrassia (F/F) overcame unfavourable route conditions to defend their lead over Hayden Paddon/John Kennard (NZ/NZ, Hyundai), ending day two with a 17.1-second advantage. Going into the final stage of the second round of the FIA World Rally Championship (WRC), Sunday's short 15.87-kilometre Power Stage, Andreas Mikkelsen/Anders Jæger (N/N) are fourth in their Polo R WRC. Their fightback from sixth place in the overall standings was curtailed by a slip-up, which sees them start the final day 25.1 seconds behind third-placed Mads Østberg/Ola Fløene (N/N, M-Sport-Ford).
Returning under Rally 2 regulations, Jari-Matti Latvala/Miikka Anttila (FIN/FIN) also produced an impressive performance. Three of five possible stage wins went to the third Polo R WRC duo. The Finnish pair benefitted, particularly in the first loop, from the very effect that made the task facing Ogier/Ingrassia so immense: with every World Rally Car that passed, the special stages became quicker and quicker, as the layer of snow was gradually swept from the racing line.
Quotes after day two of the Rally Sweden
Jari-Matti Latvala, Volkswagen Polo R WRC #2
"I had big plans for today. Unfortunately, the day began just as badly as yesterday had finished. We suffered a flat tyre on the very first special stage. After that, I at least salvaged something from day two of the rally with a few stage wins. That was important, as you ask an awful lot of yourself after a start like that. At the moment I can only keep my fingers crossed that my team-mates are successful for Volkswagen. However, the good times will return."
Jost Capito, Volkswagen Motorsport Director
"A really exciting day at the Rally Sweden, with a good result for Volkswagen in the end. And, thanks to the overnight snowfall, Sweden is a winter rally once again. Sébastien Ogier and Julien Ingrassia took their courage in both hands today and produced an impressive performance to overcome the disadvantage of having to open the route as world championships leaders. Andreas Mikkelsen and Anders Jæger could also have been rewarded more highly for their will to attack. They have, however, at least managed to climb from sixth to fourth place. Jari-Matti Latvala and Miikka Anttila showed that it is no coincidence that they have won the Rally Sweden three times in the past with some top times today."
And then there was …
… the 95th special stage in the history of the Polo R WRC, on which all three of the best times went to Volkswagen. Sébastien Ogier, Jari-Matti Latvala and Andreas Mikkelsen were the fastest on the second pass of the WRC classic Vargåsen, which featured the legendary jump Colin's Crest. The World Rally Car from Wolfsburg has a total of 522 best times from 744 special stages to its name.