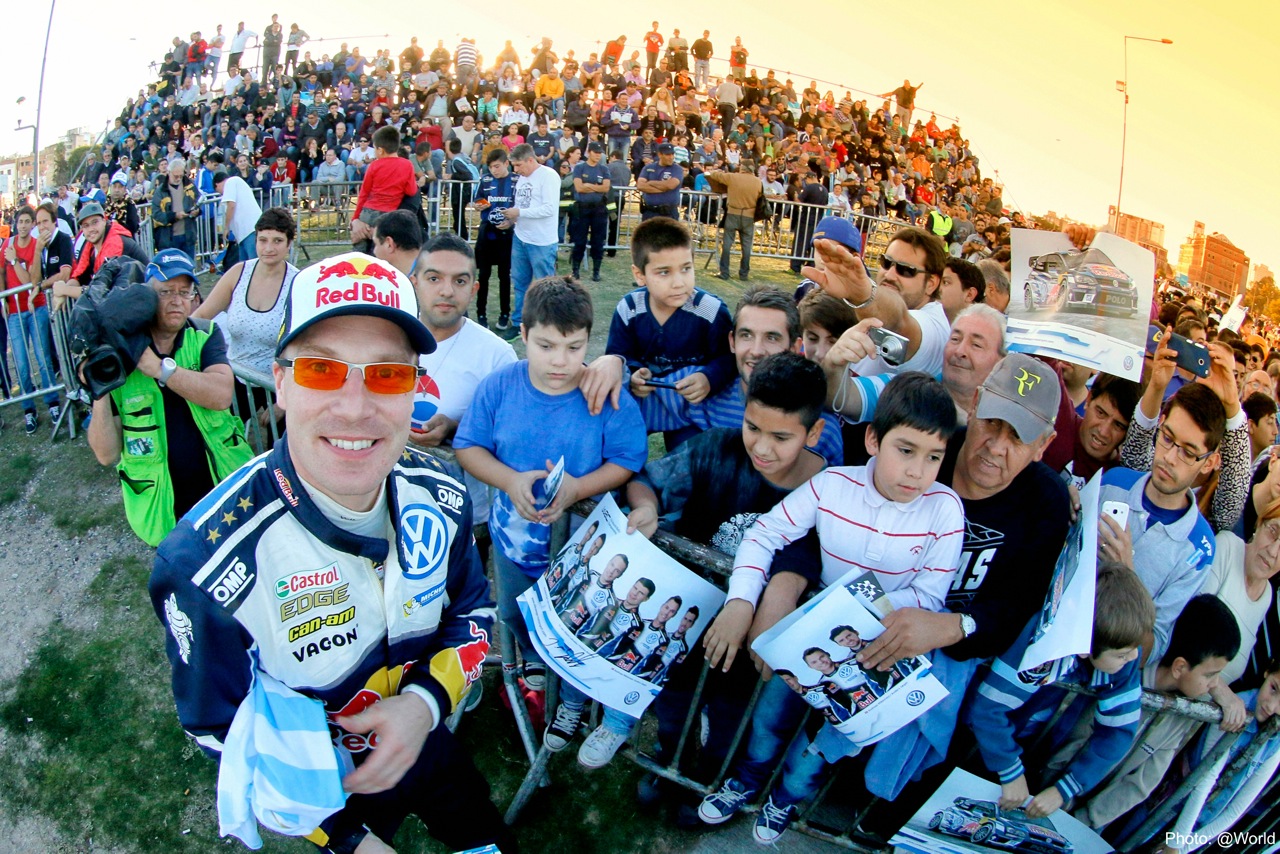 Emotional start: Volkswagen duos thrill fans in Córdoba – and vice versa
An enthralling sprint to open the Rally Argentina: Sébastien Ogier/Julien Ingrassia (F/F) made a successful and spectacular start to the Rally Argentina. Together with Dani Sordo/Marc Martí (E/E, Hyundai) they clocked the fastest time on stage one of the fourth round of the 2016 FIA World Rally Championship (WRC). The short, 1.5-kilometre special stage took the competitors through the centre of Córdoba, past the station, over the Río Suquía via the brightly-lit Puente Del Bicentinario – complete with the futuristic tower at the adjacent Centro Cívico – and back again. Thousands of passionate fans made the start an electrifying experience, enough to give one goosebumps. "It is simply fantastic how the fans get involved here," said Sébastien Ogier. Andreas Mikkelsen/Anders Jæger (N/N) and Jari-Matti Latvala/Miikka Anttila (FIN/FIN) ended the spectator stage in eleventh and twelfth place respectively. Friday is the first full day of the Rally Argentina, with a full 150.08 kilometres against the clock scheduled, starting with the first gravel stage of the rally – the 24.71-kilometre "Soconcho-Villa del Dique".
Finnish tradition takes South America by storm – Latvala helps "Cuna de Cartón" charity
Wolfsburg (22 April 2016). Volkswagen works driver Jari-Matti Latvala again followed an old Finnish tradition at the Rally Argentina: he presented a "Cuna de Cartón" – a cardboard cradle – in the service park. The starter kit for newborn children was introduced in Finland in 1938, in an attempt to reduce infant mortality rates, which were high at the time. And it proved to be successful. The idea of giving babies born into underprivileged families a safer and better start to life has also proven to be a success story in North and South America for some years now. Jari-Matti Latvala had previously done his bit for the charity at the Rally Mexico, where he presented such a box. The content ranges from the cardboard cradle itself to care products, clothes, toys and soft toys.