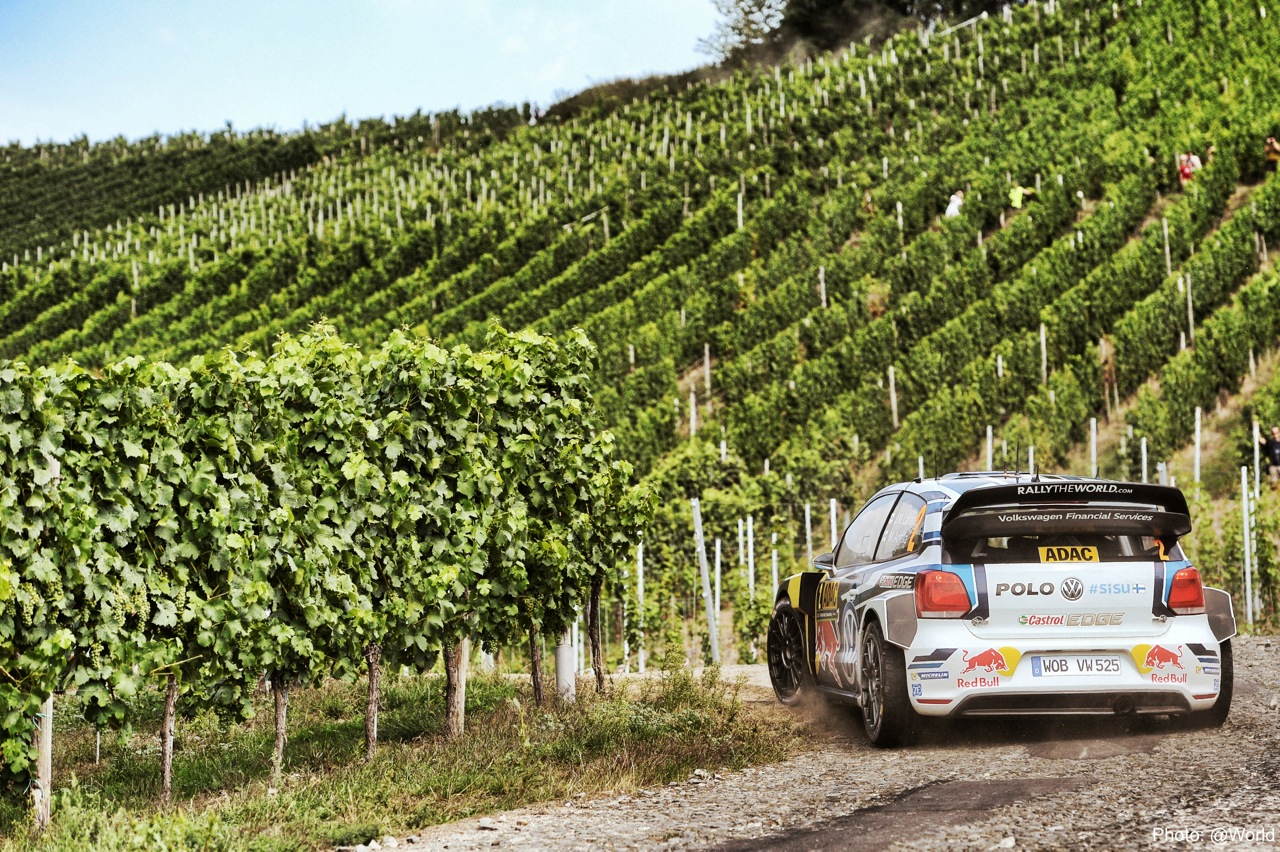 Volkswagen Polo R WRC remains undefeated on all 17 special stages so far
Ogier vs. Latvala for the lead, Mikkelsen in third place
Wolfsburg (22 August 2015). Another successful leg of the "Beast" – Volkswagen continued where it left off yesterday, dominating the manufacturer's home round of the FIA World Rally Championship (WRC) and extending its lead with all three Polo R WRCs at the top of the overall standings. Sébastien Ogier/Julien Ingrassia (F/F), Jari-Matti Latvala/Miikka Anttila (FIN/FIN) and Andreas Mikkelsen/Ola Fløene (N/N) ensured they kept a clean sheet after two of the three days of the Rally Germany, 17 of 21 special stages and 307.09 of 374.43 kilometres against the clock. The Polo R WRC has won every single stage of the Rally Germany so far. The event has often thrown up all kinds of drama, particularly thanks to the iconic "Panzerplatte" stage, which featured five times on Saturday alone. However, the Volkswagen drivers and co-drivers managed to stay clear of any drama this time round. Instead, Ogier/Ingrassia extended their lead over team-mates Latvala/Anttila to 33.8 seconds, winning 13 out of the 17 stages. Mikkelsen/Fløene are third a further 1:13.7 minutes back.
A further four stages, with a total distance of 67.34 kilometres, are scheduled for the final Sunday of the Rally Germany, before the winner is crowned at the Porta Nigra in Trier. The Rally Germany is the only round of the World Rally Championship that Volkswagen has not won since joining the series with the Polo R WRC in January 2013.
Jari-Matti Latvala, Volkswagen Polo R WRC #2
"Today, I must be happy with second place. There is no debating that. I tried to attack on 'Panzerplatte', but was not rewarded for my efforts. I just wasn't quite at my best today. My team-mate Sébastien Ogier produced a very impressive display and thoroughly deserves what is now a comfortable lead. Despite this, I am not unhappy with second place at this stage. For me, tomorrow is all about maintaining my lead over my team-mate Andreas Mikkelsen and thus extending my lead over him in the overall standings."
Jost Capito, Volkswagen Motorsport Director
"We have achieved a lot at our home rally in Germany, but have not won anything yet. The team, the drivers and the co-drivers have done a flawless job so far, and everyone at Volkswagen is proud of this performance. Tomorrow it is all about converting this belief into victory. However comes out on top come the finish will, as always, have done so according to the principle 'may the best man win'. However, as at every other rally in the World Championship, the goal is for all three Polo R WRCs to finish. If we manage that, nothing ought to stand in the way of our first victory at the Rally Germany."
And then there was …
… an extra "shot" of motivation from VfL Wolfsburg. Members of the football club paid world rally champions Volkswagen a visit on Saturday evening. Head coach Dieter Hecking, sporting director Klaus Allofs, and players Christian Träsch and Maximilian Arnold travelled to Trier immediately after their 1:1 draw at 1. FC Cologne on Saturday afternoon. They arrived in time to experience the evening service and will stick around to enjoy Sunday's special stages. Hecking, Allofs and Co. did, however, just miss out on one highlight – the acclaimed concert by "Revolverheld" in front of 40,000 fans on the Volkswagen Stage, which was located on the "Panzerplatte" stage.