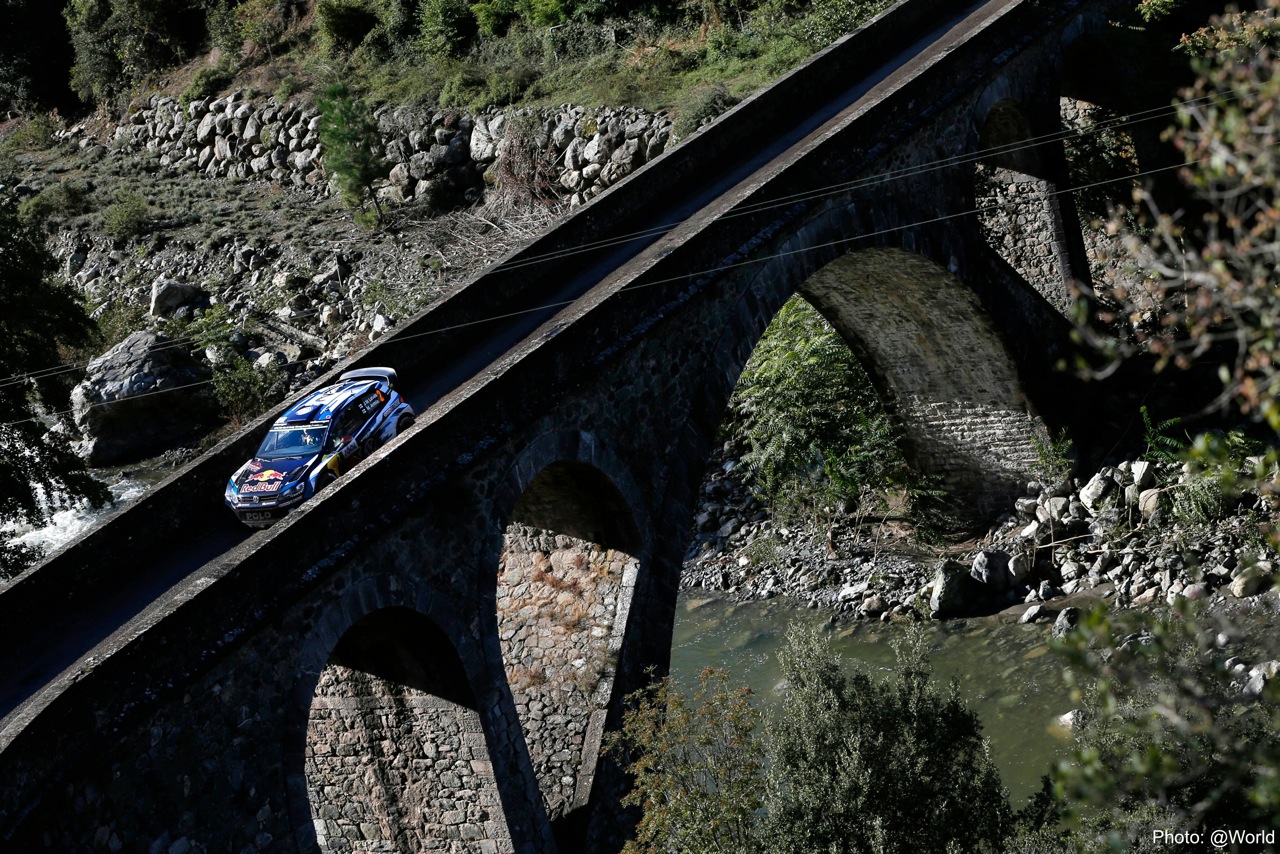 Latvala/Anttila and Mikkelsen/Fløene fight back successfully – first and third
Rally France shortened again – just two special stages on Saturday
Ogier/Ingrassia suffer further set-back
Wolfsburg (03 October 2015). Two Polo R WRCs are storming to the head of the field: Volkswagen has moved into first and third place on day two of the Rally France. Jari-Matti Latvala/Miikka Anttila (FIN/FIN) made up a good 25 seconds on the only two special stages to be run on Saturday – and climbed two positions in the process. The duo currently second in the FIA World Rally Championship (WRC) leapfrogged over Elfyn Evans/Daniel Barritt (GB/GB, M-Sport-Ford) to take a narrow lead of just two seconds. Andreas Mikkelsen and Ola Fløene (N/N) also gained almost 16 seconds over the course of the day's 84.89 kilometres against the clock. Their Polo has improved from seventh place to third.
Sébastien Ogier/Julien Ingrassia (F/F) were denied the opportunity to produce a similarly impressive fightback on Saturday. After the defending champions and champions elect* had lost roughly 1.40 minutes due to a slow puncture on Friday, they were then handed a ten-minute penalty as a result of a problem shifting gear on the way to Parc Fermé, which required them to change the gearbox after the scheduled service late on Friday evening. Returning under Rally 2 regulations, they hit back by winning the final stage, which, at 48.46 kilometres, was the longest of the day.
The rally on Corsica was again shortened by one stage on day two. This means the competitors have so far completed four special stages, totalling 150.44 kilometres, over the course of the first two days. A further three special stages and 94.61 kilometres against the clock are scheduled for Sunday, before the eleventh round of the season reaches its conclusion in Ajaccio.
* Subject to the official publication of the results by the FIA.
Quotes after day two of the Rally France
Jari-Matti Latvala, Volkswagen Polo R WRC #2
"I was very happy with today's first stage. I knew that I had to take a few more risks than I did yesterday if I was to have a say in the battle for the podium. It was more difficult than yesterday, because the mud on the road made it even more slippery. Despite this I pushed hard, found a good rhythm and took some time out of Elfyn Evans. The afternoon stage also went well for me, although I unfortunately had problems switching gear 15 kilometres in. That meant I made up less time than would otherwise have been possible, but I still lead going into the final day. We still have another 100 kilometres ahead of us, and I am looking forward to every one of them."
Jost Capito, Volkswagen Motorsport Director
"The rally on Corsica is proving to be a tough nut to crack for the drivers and co-drivers. I take my hat off to the two impressive fightbacks from Jari-Matti Latvala/ Miikka Anttila and Andreas Mikkelsen/Ola Fløene. They hit back today, and anything is still possible between now and the finish tomorrow. The fact that we are currently first and third at the Rally France, thanks to their efforts, is far from a matter of course – the conditions are extremely demanding and the route note crews are also playing a key role. They have also done a fantastic job for the last two days. Unfortunately Sébastien Ogier and Julien Ingrassia suffered another set-back after yesterday's service. Their gearbox had to be replaced due to problems changing gear – and the resulting ten-minute penalty means they no longer have a chance of getting a positive result at their home rally. Instead, they are using the opportunity to test a few things for the coming asphalt rallies. All in all, Volkswagen got the maximum out of Saturday."
And then there was …
… Jean-Luc. He was crowned the friendliest policeman at the Rally France by the Volkswagen team's official photographer. The law enforcement officer did initially block Bodo Kräling's route to the "Francardo-Sermano" special stage and, in doing so, threatened to put the day's work of the photographer at risk. However, he then showed a more understanding side to his nature. After what felt like 100 apologies, he actually made the photographer's job easier after the special stage by giving Kräling an express lift back to his car in the policeman's patrol car …