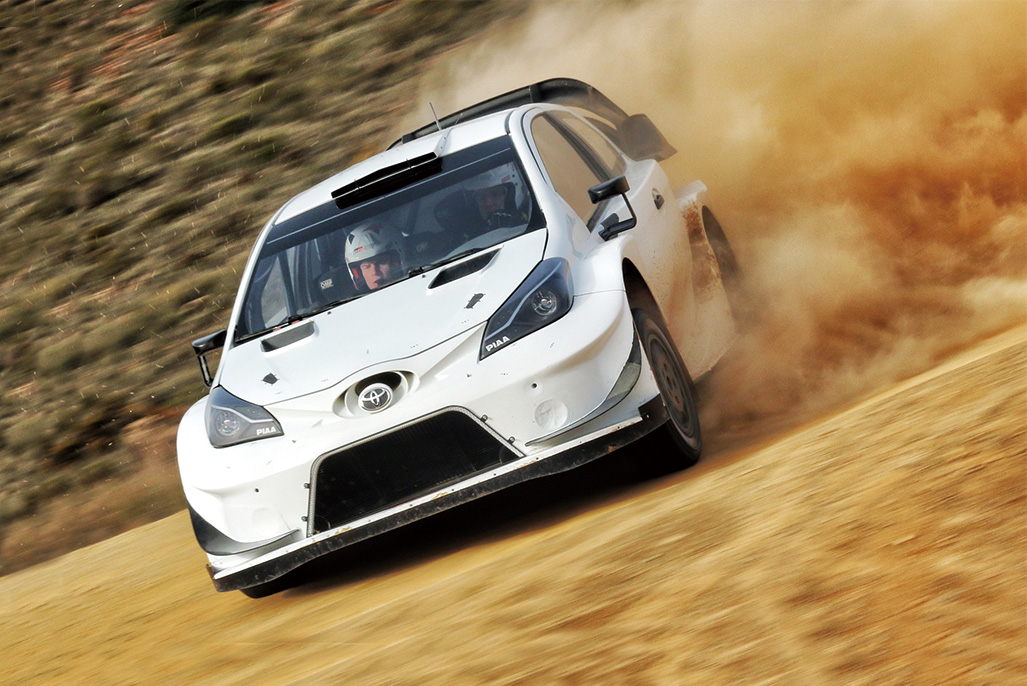 TOYOTA GAZOO Racing World Rally Team and its drivers, Jari-Matti Latvala and Juho Hänninen, will turn to the gravel of Rally Mexico from March 9 to 12. After Latvala and his co-driver Miikka Anttilla delivered the first victory for Toyota in the FIA World Rally Championship since 1999 last time out on Rally Sweden, the team is in an upbeat mood as it looks to build on a positive opening to the debut season for the Toyota Yaris WRC. However, as Mexico offers a third different challenge in as many events, learning and car development will continue to be the priority.
Rally Mexico has been part of the WRC calendar since 2004, and is the first true gravel round of the year. It is known in particular for ambient temperatures in the region of 30°C and a route that peaks at 2,737m above sea level, starving engines of air and cutting power by as much as 20 per cent.
The rally will have an extra-special beginning this year thanks to a new stage in Mexico City on Thursday night, with a big crowd expected to pack the world-famous Zócalo square for two runs over a 1.57-kilometre test. Friday's stages begin with the longest of the rally, the 54.9-kilometre El Chocolate, and end with more crowd-pleasing tests in the streets (and tunnels) of Guanajuato and the Autódromo de León racing circuit, which is visited again on Saturday evening before a street stage in León itself. The Derramadero Power Stage will conclude the action from 12:18 (GMT-6) on Sunday ahead of the finish ceremony in León close to the service area.
Latvala won Rally Mexico for the first time last year, while Hänninen has just one previous start there, back in 2011. They have prepared for Mexico by testing on gravel in Spain. As championship leader, Latvala will run first on the road on the opening leg, with the second and third legs to be run in reverse rally order among the leading cars.
Quotes:
Tommi Mäkinen (Team Principal)
"The majority of our testing has been on gravel, so we can be reasonably confident of this surface as we head for Mexico, but there is one question mark: the combination of high altitude and high temperatures. Last year we tested on gravel in Spain with ambient temperatures of up to 40 degrees and the engineers have also done a lot of work on the engine mapping for altitude, but until you experience these things together for real, you never know. Since the victory in Sweden it has been incredible, but we are professionals so we keep our feet firmly on the ground. We know that difficult moments can happen even more easily than happy moments, which is why we are working harder than ever. The best news is that rallying seems really competitive at the moment with all the manufacturers in contention and setting fastest times: this is great for the sport as a whole I think."
Jari-Matti Latvala (Driver car 10)
"I have some very happy memories of Mexico after I won last year, but I also know some of the reasons behind it. I started with a good road position, towards the back, and I took advantage of the cleaner roads to take a big lead – while the people at the front were really struggling. So this year for me, it's going to be the other way round! In these circumstances, you have to take away what you can and I would be really happy with a place in the top five. Nothing has changed for me since Sweden, but I think this emphasises the importance of just trying to do your best wherever you can and staying consistent. If you do that, you can maybe be in a good championship position at the end of the year, even though that was not really our objective for only the first season. There's always a great atmosphere in Mexico: the fans called me 'La Bala' – which means 'the bullet' – last time, so I hope not to disappoint them this year!"