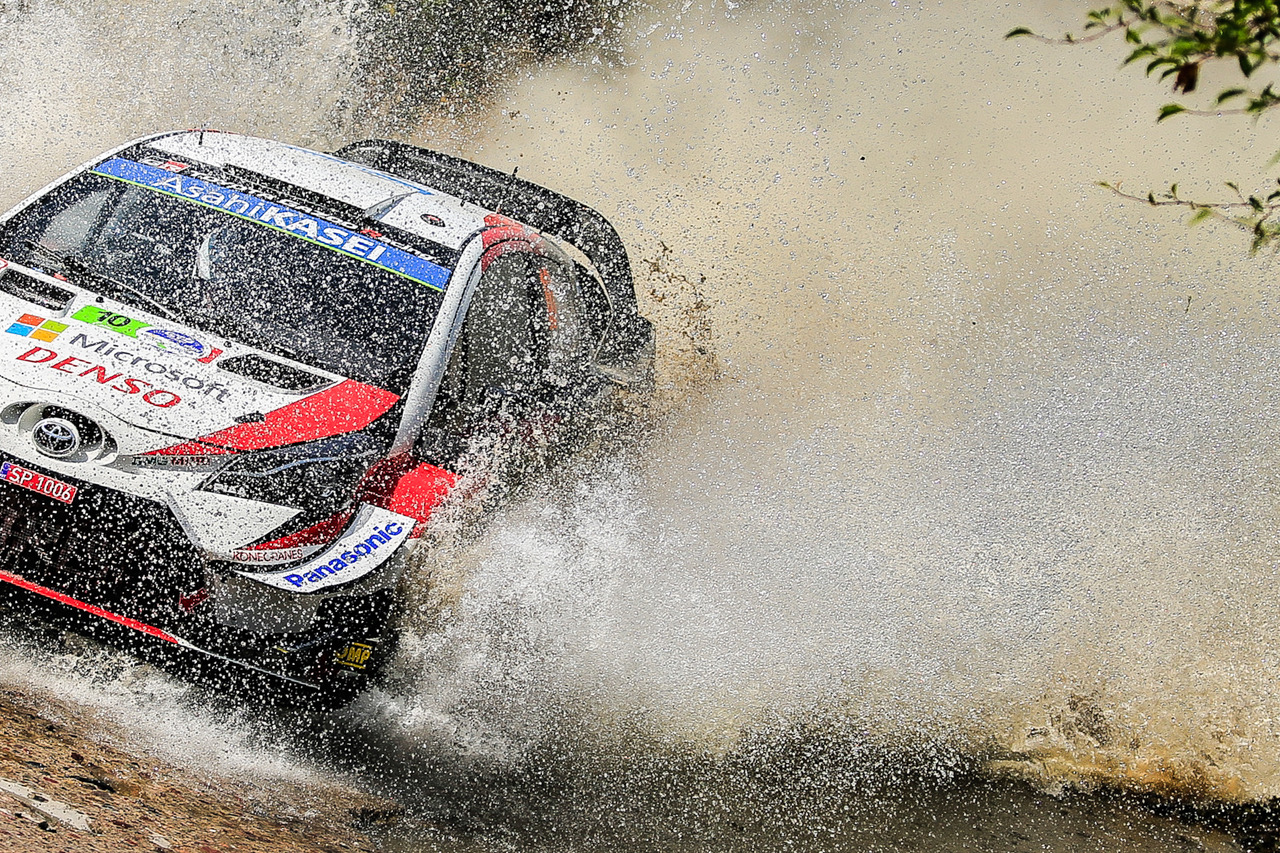 The TOYOTA GAZOO Racing World Rally Team has two cars in the top four positions following the first full day of Rally Mexico's highly-demanding gravel stages. Kris Meeke is in third overall, just ahead of team-mate Ott Tänak. Jari-Matti Latvala was in a top-four place before having to retire near the end of the day, but will restart tomorrow.
Meeke enjoyed a strong first day of competition on gravel in the Yaris WRC, gradually moving up the leaderboard as others hit difficulties in the high altitude and hot temperatures. He ended the day within 6.3 seconds of second place.
Running first on the road on a Friday as championship leader for the first time in his WRC career, Tänak was faced with having to sweep the stages clear of loose gravel for those behind. He managed the situation well however, with an impressive stage win on SS7 and another on SS9 helping him to climb to fourth overall and gain an improved road position for tomorrow.
Latvala was also moving up the overall standings during the day before an electrical issue prevented him from taking part in the two runs over a super special that ended the day. He will restart tomorrow morning with a points finish still within his sights.
Jari-Matti Latvala (Driver car 10)
"I started too cautiously in the first stage this morning but then I started to get the rhythm and the car was working really well. It was getting better during the afternoon and we were up to fourth place. Unfortunately, the alternator stopped charging. We managed to do two more stages and the road section but we couldn't do the last two super specials. It is frustrating for this to happen, but this is how things go in motorsport sometimes. We just need to look forward and keep fighting for the rest of the weekend."
End of day two (Friday):
1 Sebastien Ogier/Julien Ingrassia (Citroën C3 WRC) 1h18m33.8s
2 Elfyn Evans/Scott Martin (Ford Fiesta WRC) +14.8s
3 Kris Meeke/Seb Marshall (Toyota Yaris WRC) +21.1s
4 Ott Tänak/Martin Järveoja (Toyota Yaris WRC) +37.1s
5 Esapekka Lappi/Janne Ferm (Citroën C3 WRC) +39.1s
6 Thierry Neuville/Nicolas Gilsoul (Hyundai i20 Coupe WRC) +1m00.7s
7 Marco Bulacia Wilkinson/Fabian Cretu (Skoda Fabia R5) +5m16.1s
8 Benito Guerra/Jaime Zapata (Skoda Fabia R5) +5m25.9s
9 Alberto Heller/Jose Diaz (Ford Fiesta R5) +6m31.5s
10 Ricardo Trivino/Marc Marti (Skoda Fabia R5) +9m07.2s
12 Jari-Matti Latvala/Miikka Anttila (Toyota Yaris WRC) +14m28.2s
(Results as of 21:30 on Friday, for the latest results please visit www.wrc.com)
What's next?
Saturday features a loop of three stages – Guanujuatito, Otates and El Brinco – each run twice either side of mid-day service. The day ends with two more passes of the Autodromo super special and a further blast around the León street stage.
Key stage: El Brinco, SS12 & SS15 (8.13 kilometres)
Miikka Anttila (Co-driver car 10): "This year there is a completely new end to this stage, on a road made especially for the rally. As a result, it will probably collapse quite badly and big ruts will form, so it's going to be a challenging end to the loop of mountain stages. The finish is quite spectacular with a jump at the flying finish."