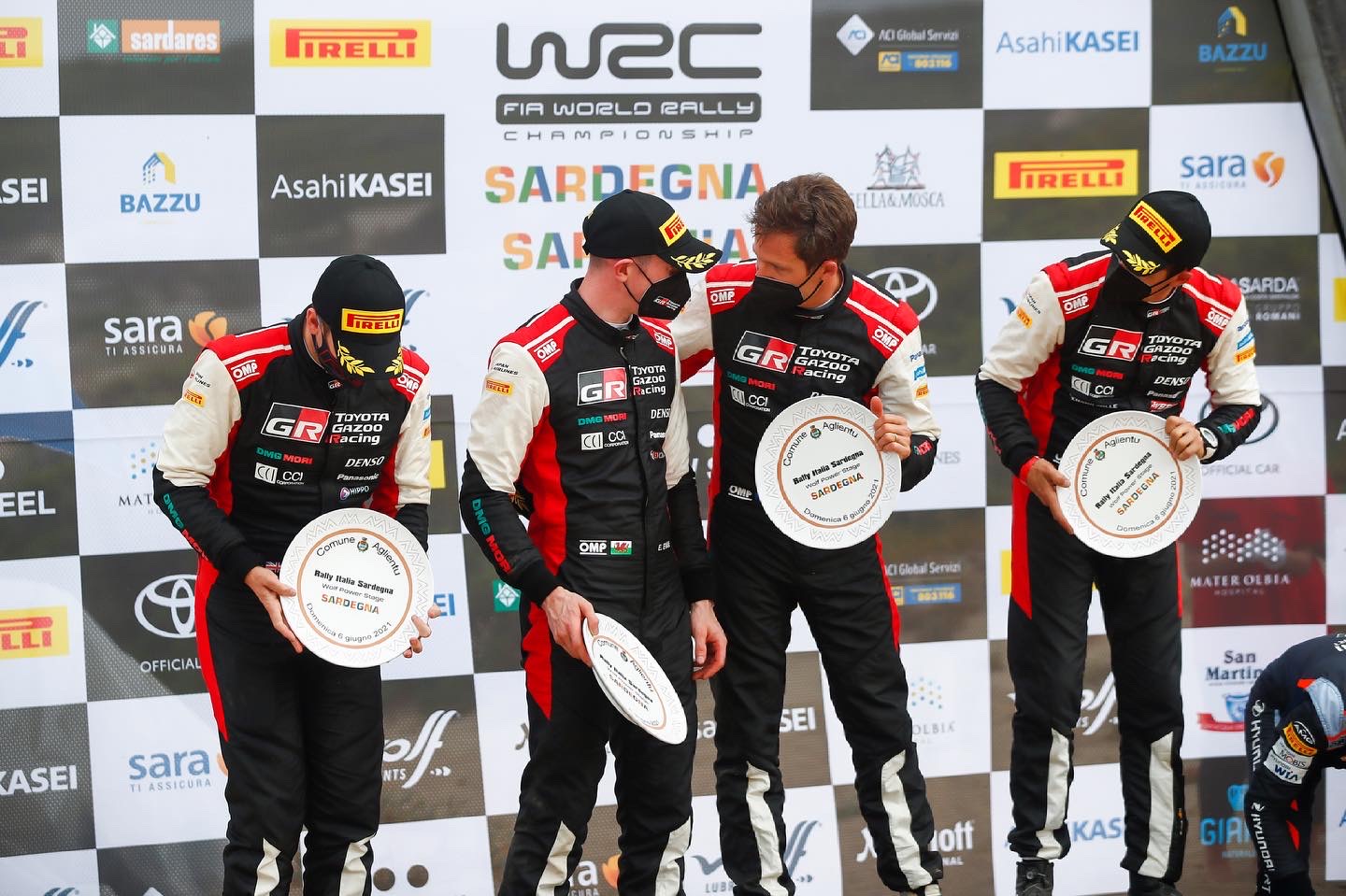 The TOYOTA GAZOO Racing World Rally Team has claimed an amazing one-two finish on Rally Italia Sardegna, with Sébastien Ogier scoring his third victory from five events so far this season and Elfyn Evans taking second to complete a remarkable result that extends the team's advantage in the championship.
The team's maiden Sardinia win came after a fast and reliable performance from the Toyota Yaris WRC and its drivers, who were able to overcome their disadvantageous positions at the head of the road order on Friday. Ogier was particularly impressive opening the road on Friday, ending the day in third before climbing into the rally lead on Saturday, when Evans also improved his confidence and speed to rise to second.
Ogier and co-driver Julien Ingrassia safely managed their advantage through the final day's four stages to clinch their fourth Sardinia victory and first since 2015.
Evans, co-driven by Scott Martin, started the final day with a strong stage win in SS17 to increase his advantage over third place, and was also fastest in SS19. In the final stage he was slowed after water entered the car in a watersplash, but the buffer he had built earlier meant his second place was secured.
With two bonus points for the fourth fastest time in the Power Stage, Ogier now leads the championship by 11 points over Evans, who is in turn 18 points ahead of the driver in third.
Taking three bonus points for the third-best time in the Power Stage was Kalle Rovanperä, who together with co-driver Jonne Halttunen had been forced to stop by a technical issue on Friday while running in second position. With the help of their additional points, Toyota now has a 49-point lead in the manufuacturers' standings.
Three Toyota Yaris WRC crews finished inside the top four, with TGR WRC Challenge Program driver Takamoto Katsuta repeating the personal-best finish of fourth he recorded on the previous round in Portugal to continue his recent progress. On the final day Katsuta took a steady approach to secure the result while his co-driver Dan Barritt was feeling unwell as a result of dehydration due to the heat in Sardinia. Barritt was checked and released by doctors after the finish.
 Quotes:
Jari-Matti Latvala (Team Principal)
"This is a fantastic result for our team. We came here to Sardinia knowing that it would not be an easy rally for us, that we would not necessarily be able to win, but in the end we are celebrating a one-two. It was not a perfect weekend because of the problem that Kalle unfortunately had on the first day and we need to learn from this to be stronger in the future, but otherwise the three other cars were working really well on these tough stages. Overall we had performance, we had reliability and we had consistency. It's very good news for the championship, but we know the competition is getting tougher all the time so we need to keep working if we want to have more results like this."
PROVISIONAL FINAL CLASSIFICATION, RALLY ITALIA SARDEGNA
1 Sébastien Ogier/Julien Ingrassia (Toyota Yaris WRC) 3h19m26.4s
2 Elfyn Evans/Scott Martin (Toyota Yaris WRC) +46.0s
3 Thierry Neuville/Martijn Wydaeghe (Hyundai i20 Coupe WRC) +1m05.2s
4 Takamoto Katsuta/Dan Barritt (Toyota Yaris WRC) +6m11.2s
5 Jari Huttunen/Mikko Lukka (Hyundai i20 R5) +9m31.7s
6 Mads Østberg/Torstein Eriksen (Citroën C3 Rally2) +9m39.2s
7 Yohan Rossel/Alexandre Coria (Citroën C3 Rally2) +10m37.7s
8 Pepe López/Diego Vallejo (Škoda Fabia Rally2 evo) +11m03.7s
9 Jan Solans/Rodrigo Sanjuan de Eusebio (Citroën C3 Rally2) +11m26.3s
10 Marco Bulacia/Marcelo Der Ohannesian (Škoda Fabia Rally2 evo) +11m34.6s
25 Kalle Rovanperä/Jonne Halttunen (Toyota Yaris WRC) +54m18.8s
(Results as of 15:00 on Sunday, for the latest results please visit www.wrc.com)
What's next?
The iconic Safari Rally Kenya returns to the WRC calendar for the first time in almost 20 years on June 24-27. With a reputation for gruelling conditions, the African gravel event promises to provide an all-new challenge for the current crop of drivers.
Press release TOYOTA GAZOO Racing WRT