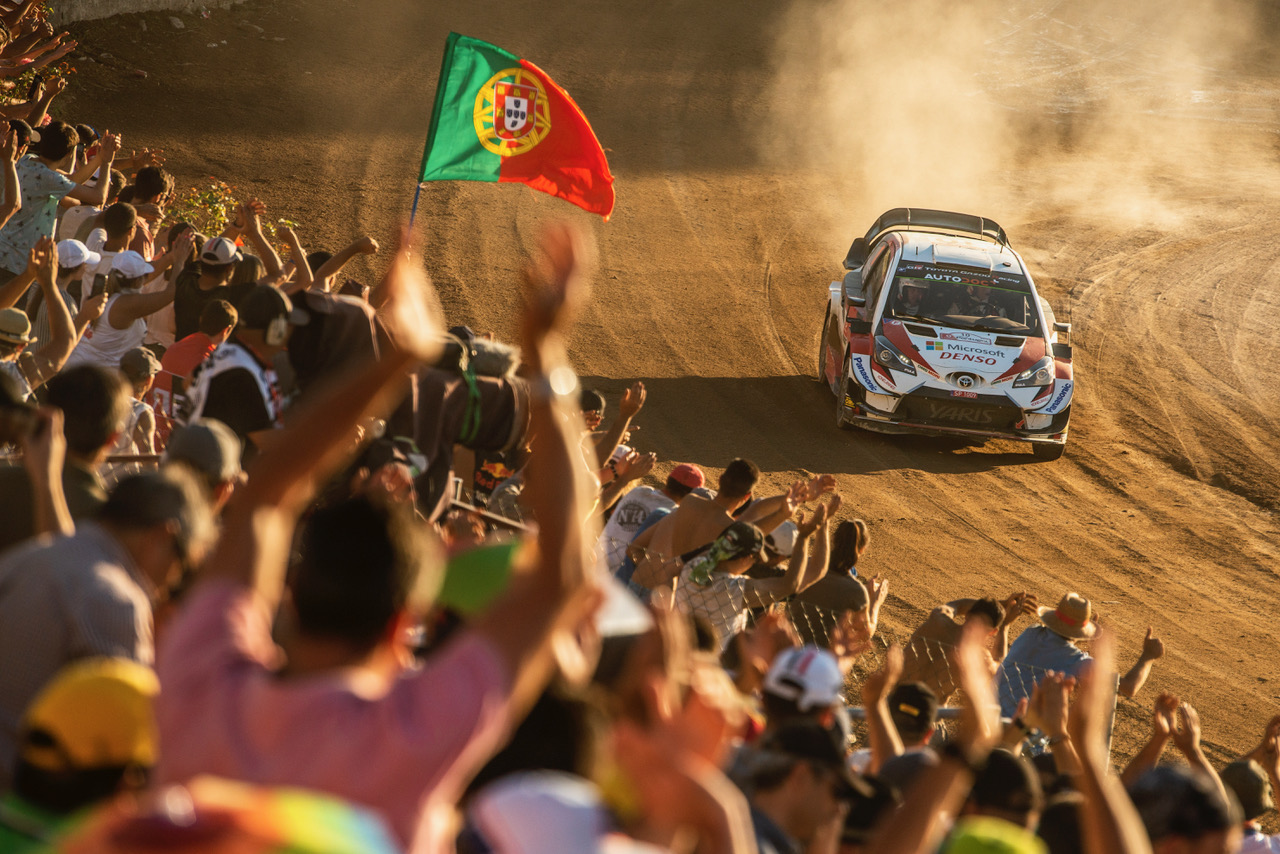 TOYOTA GAZOO Racing World Rally Team occupies first, second and third positions on Rally de Portugal after a fantastic first day of stages for the team. Ott Tänak leads the way, followed by his team-mates Jari-Matti Latvala and Kris Meeke.
Following the ceremonial start in Coimbra last evening, the first day was focused mainly on the area around Arganil, which was part of the rally for the first time since 2001. On the dry gravel stages in temperatures well above 30 degrees, running at the front of the road order was in theory a disadvantage, but Tänak set a strong pace from the start despite running second on the road. He was second fastest on the first stage, more than 10 seconds quicker than his championship rivals around him, and then won SS2 and SS3 as he swept into the lead. Latvala and Meeke also enjoyed strong mornings to move up to second and third respectively heading into the mid-day tyre fitting zone.
In the afternoon, all three drivers continued to set competitive times and avoided major issues. Tänak was able to increase his lead, ending the day 17.3 seconds ahead of Latvala. Meeke is 5.5s further back, holding off two other drivers close behind. The Toyota trio's performance ensures they will have the most favourable road positions for the longest day of the rally on Saturday.
Quotes:
Tommi Mäkinen (Team Principal)
"It's been a really good day for our team, but it wasn't easy. I think it was a harder day than people expected. The conditions were tough and we could see that many others had problems. So far though, everything is going well for us. Our car is performing well and the drivers have good confidence, and they're all doing a really good job to manage everything in these conditions. But there really is a long way still to go. I think tomorrow will be very difficult for everyone, with such long stages. We are in the best position, but our rivals are not so far behind and we need to stay on top of our game."
Jari-Matti Latvala (Driver car 10)
"Generally, I'm happy about today. The car was going fantastically, it was really enjoyable to drive. I was pleased with my driving this morning, and the speed was good this afternoon as well. I was just struggling with the tyre wear a little in these temperatures: It has never been as hot as this when I've been doing this rally in northern Portugal. That together with an aggressive driving style is not a good combination. So that's going to be our focus tonight, to try and make it a bit easier to manage tomorrow. We're in a good position, and now we need to try and defend it."
END OF DAY ONE (FRIDAY):
1 Ott Tänak/Martin Järveoja (Toyota Yaris WRC) 1h03m26.7s
2 Jari-Matti Latvala/Miikka Anttila (Toyota Yaris WRC) +17.3s
3 Kris Meeke/Seb Marshall (Toyota Yaris WRC) +22.8s
4 Thierry Neuville/Nicolas Gilsoul (Hyundai i20 Coupe WRC) +24.2s
5 Sebastien Ogier/Julien Ingrassia (Citroën C3 WRC) +25.8s
6 Teemu Suninen/Marko Salminen (Ford Fiesta WRC) +1m15.7s
7 Gus Greensmith/Elliott Edmondson (Ford Fiesta WRC) +1m22.1s
8 Esapekka Lappi/Janne Ferm (Citroën C3 WRC) +1m23.7s
9 Ole Christian Veiby/Jonas Andersson (Volkswagen Polo GTI R5) +3m45.2s
10 Jan Kopecky/Pavel Dresler (Skoda Fabia R5 Evo) +3m49.3s
What's next?
Tomorrow, the rally heads north-east from the service park in Matosinhos into the Cabreira mountain range. The Vieira do Minho and Cabeceiras de Basto tests are followed by Amarante, the longest stage of the rally. All three stages are run twice, totalling 160.7 kilometres.
Key stage: Amarante (SS10 & SS13, 37.60 kilometres)
Miikka Anttila (Co-driver car 10): "This is a very demanding stage. Really, it's divided into five parts, alternating between gravel and small asphalt sections. It's hard for the crews, for the cars and for the tyres. But in a way I like it, because of the challenge. Being such a long stage, at the end of the loop, and in these high temperatures, it's going to be tough."
Press release TOYOTA GAZOO Racing WRT