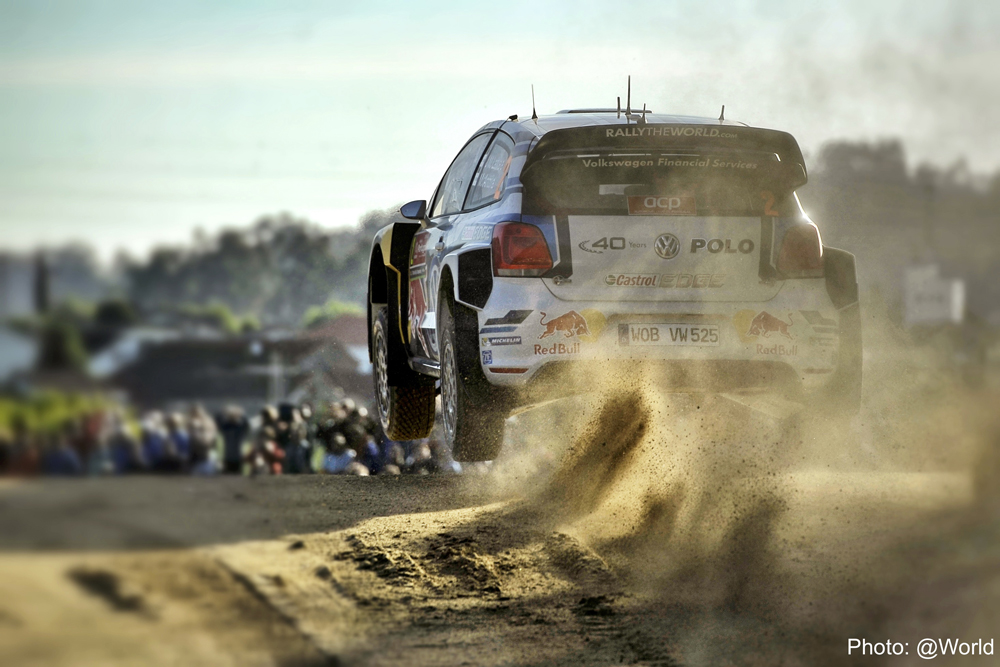 Latvala/Anttila lead the Rally Portugal after the first third of the distance
Third place for Mikkelsen/Fløene on debut in second generation Polo R WRC
Ogier/Ingrassia in sixth are also in reach of a podium finish
Seven drivers within 30 seconds of each other – a thrilling battle between all four manufacturers in the FIA World Rally Championship (WRC) has developed in Portugal. At the front: Jari-Matti Latvala/Miikka Anttila (FIN/FIN) in the Polo R WRC. After 104.45 of a total of 324.18 kilometres of special stages, they lead the Rally Portugal with an advantage of 11.1-seconds over Kris Meeke/Paul Nagle (GB/IRL, Citroën). Just a further 4.9 seconds behind that are their Volkswagen team-mates Andreas Mikkelsen/Ola Fløene (N/N), in third place on their debut in the second generation Polo R WRC. Double world champions Sébastien Ogier/Julien Ingrassia (F/F), the third Volkswagen duo, are also in reach of the podium – in sixth place with a deficit of 25.9 seconds to Latvala/Anttila.
Friday at the Rally Portugal was characterised by slippery gravel tracks and plenty of loose sand – including clouds of dust. With each World Rally Car that took to the stages, the chances of best times increased. Since they lead the table in the world championship, Ogier/Ingrassia had the honour of taking to the stages first, Mikkelsen/Fløene were third to take to the track and Latvala/Anttila were ninth.
Saturday, with 165.08 kilometres of special stages, sees the longest day of the Rally Portugal, which is being held in the north of the country for the first time since 2001. The tyre selection will play a crucial role. With the quantity of soft and hard Michelin competition tyres available, the trick is to economise cleverly. The Volkswagen drivers opted for soft tyres on Friday morning, and a combination of soft and hard tyres in the afternoon.
Quotes, day 02 Rally Portugal
Jari-Matti Latvala, Volkswagen Polo R WRC #2
"Overall it was a very good day for us at the Rally Portugal. I was a bit slower on the opening stages, but found a better rhythm as the stages went on and went on the attack more and more. On the third stage of the day I seized the lead and kept on extending it. The conditions weren't easy, it was very sandy and there were lots of stones on the track. No doubt the starting position helped us today. Naturally we want to see more of the same tomorrow and the next day."
Jost Capito, Volkswagen Motorsport Director
"Seven drivers fighting for the podium – you can't ask for more excitement from a WRC rally. All three Volkswagen drivers did a great job today and got the best result the conditions allowed. Sébastien Ogier was a bit unlucky with the tyre damage, but fought back spectacularly in the afternoon. Andreas Mikkelsen has a strong pace on his debut in the new Polo R WRC and is also in with a chance of finishing on the podium, and maybe even winning the rally. However, it is Jari-Matti Latvala who has given himself the best position for the coming days, after making ideal use of his late starting position. We are extremely happy with the current state of play and are looking forward to the coming days. The different tyre selections made by the top teams is very interesting. The final result on Sunday will show who made the best decision today in terms of the win. It's exciting."