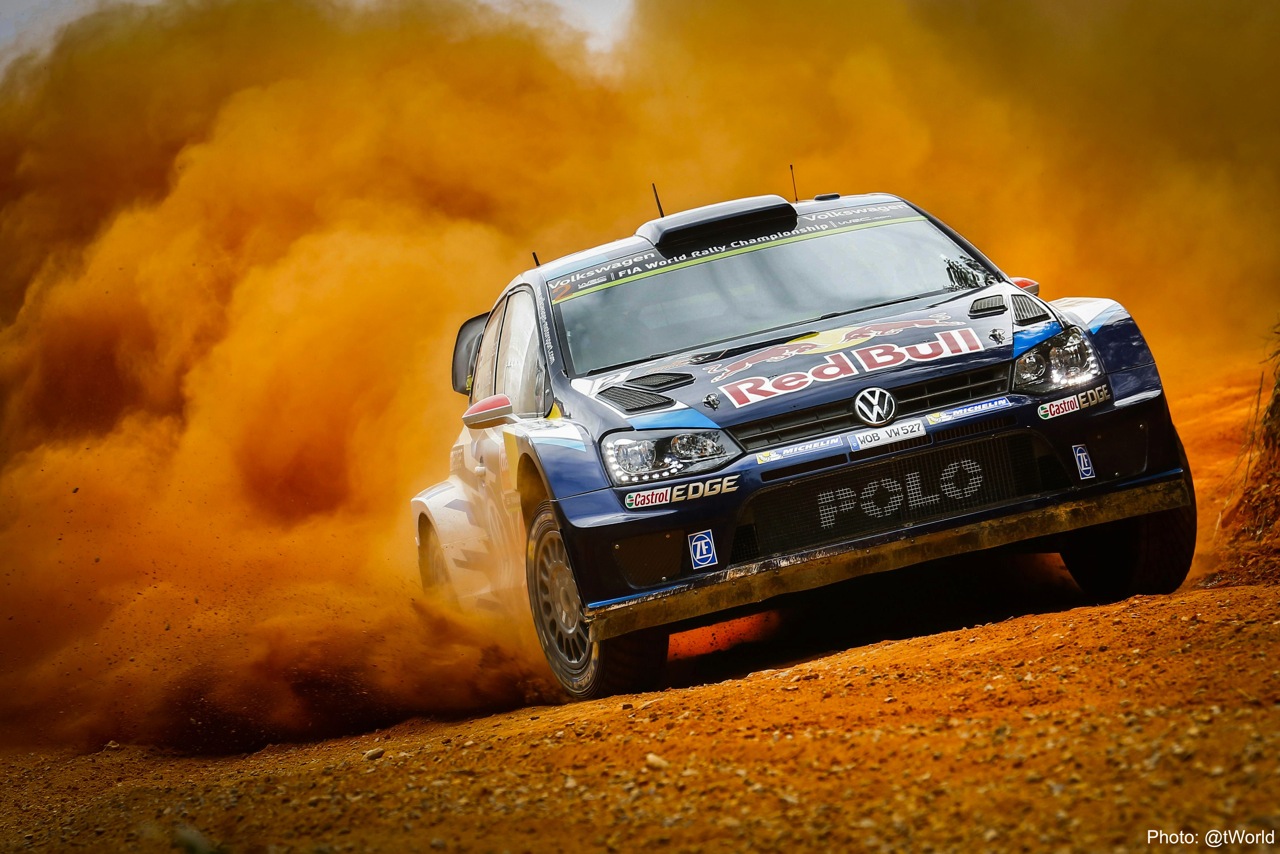 1, 2, 3 … Fastest times in Shakedown for Ogier, Mikkelsen and Latvala
Impressive start in Coffs Harbour, on Australia's east coast
Media marathon Down Under ahead of round ten of the World Rally Championship
Wolfsburg (10 September 2015). Perfect start to the Rally Australia for Volkswagen: before the real action gets underway on Friday, with the first 125.12 of 311.36 kilometres against the clock, Sébastien Ogier/Julien Ingrassia (F/F), Andreas Mikkelsen/Ola Fløene (N/N) and Jari-Matti Latvala/Miikka Anttila (FIN/FIN) enjoyed the ideal preparation for the very specific conditions they will face Down Under. The Shakedown – the equivalent of "free practice" in the FIA World Rally Championship (WRC) – saw the Volkswagen trio clock the three fastest times in extremely dusty conditions on the 4.98-kilometre stage. Thursday afternoon's ceremonial start, in front of thousands of fans in the centre of Coffs Harbour, marked the official opening of the tenth rally of the season.
Ahead of the Rally Australia, Sébastien Ogier, Andreas Mikkelsen and Jari-Matti Latvala had endured a real media marathon: Ogier gave many interviews in Sydney, appeared on two TV programmes and watched a Sydney Swans match in the Australian Football League (AFL). Mikkelsen was given a lesson in how to ride the waves by Australian surf star Courtney Hancock, while Latvala visited Volkswagen Singapore and the "Polo Rally Weekend" in Kuala Lumpur.
Volkswagen could wrap up all three titles in the 2015 World Rally Championship at the Rally Australia. To do so, Ogier/Ingrassia must maintain the lead they currently hold over their team-mates – the same goes for Volkswagen and their rivals Hyundai, Citroën and M-Sport-Ford. With a host of theoretical outcomes that would result in a successful title defence, there is one simple formula: victory for Sébastien Ogier/Julien Ingrassia Down Under would seal the titles in the Driver, Co-Driver and Manufacturer competitions.
Quotes after the Shakedown at the Rally Australia
Jari-Matti Latvala, Volkswagen Polo R WRC #2
"We used today's Shakedown to do a bit of testing for the special conditions we will face here in Australia, as we did not have the opportunity to do this before the rally. This meant we were able to try out a few things with the set-up over the course of the five runs. I was happy with the time I set in the end. There is quite a thick layer of dust on the road, which certainly does not make life any easier – particularly for the first cars out on the route. All in all, I am happy with the morning's work. It is always nice to be in Australia, and I am looking forward to finally getting going after this afternoon's ceremonial start, and to the first special stages tomorrow."
Jost Capito, Volkswagen Motorsport Director
"The Rally Australia is always a bit special. The special stages cannot be compared to any others in the World Rally Championship. The entire circus has to make a long journey, but it is an extremely positive culture shock when you get here. The people are always very friendly and relaxed here. No question about it: we like the Rally Australia. However, the 2015 event could earn a special place in our hearts, as we could successfully defend the title in all three competitions – if we do a good job. I can tell you now: everyone in the team is as determined as ever and excited about the opportunity to achieve our goal here."