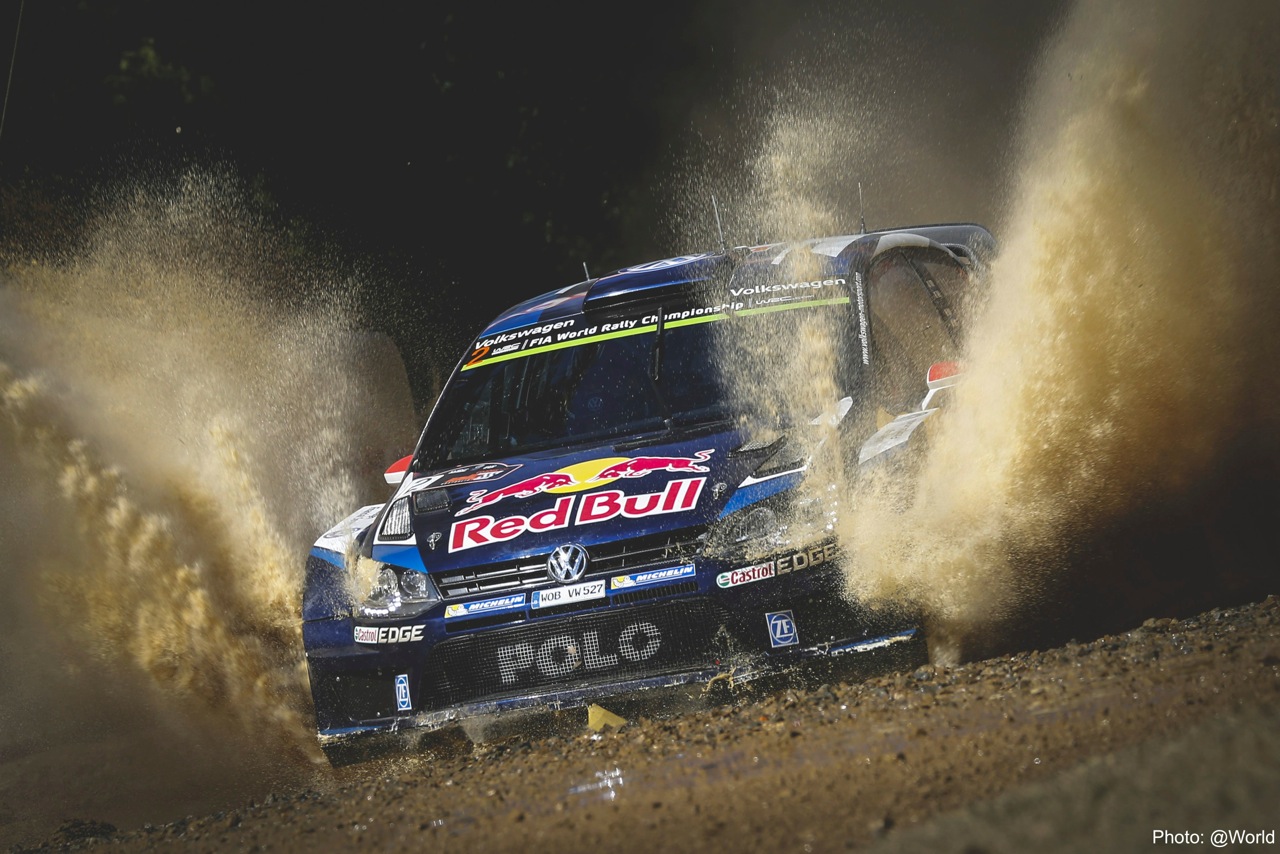 Ogier/Ingrassia win the Rally Australia, ahead of Latvala/Anttila, fourth place for Mikkelsen/Fløene
Volkswagen duo retains world titles in Drivers' and Co-Drivers' competitions
Third WRC Manufacturers title in succession for Volkswagen
Wolfsburg (13 September 2015). Three in one – Volkswagen claimed a triumphant success in the FIA World Rally Championship (WRC). Sébastien Ogier/Julien Ingrassia (F/F) won the Rally Australia, ahead of team-mates Jari-Matti Latvala/Miikka Anttila (FIN/FIN), to secure their third World Championship title in a row in the Drivers' and Co-Drivers' competitions. Andreas Mikkelsen/Ola Fløene (N/N) finished fourth to complete the fantastic team result. The triumph Down Under also saw Volkswagen wrap up a third back-to-back Manufacturers' Championship with rallies still to come. So great is their advantage in the overall standings that neither Ogier/Ingrassia nor Volkswagen can be caught in the remaining quarter of season.
 Champagne shower Down Under – Volkswagen makes history again
 An outstanding result, passionate celebrations and great emotion. World Championship titles successfully defended after just three quarters of the season – overall victory in the Drivers', Co-Drivers' and Manufacturers' competitions mean Volkswagen has again made rallying history, and the team's achievements were celebrated in style in Australia. No other manufacturer had ever managed to wrap up all three World Championships at the pinnacle of rallying so early in the season. The Volkswagen drivers have won nine of the ten rallies so far this season. Either Sébastien Ogier or Jari-Matti Latvala, who line-up together for Volkswagen in the Manufacturers' Championship, were victorious at the rallies in Monte Carlo, Sweden, Mexico, Portugal, Italy, Poland, Finland, Germany and Australia. Over the course of the ten rallies, the Polo R WRC has claimed a total of 19 podium finishes, thanks also to the efforts of Andreas Mikkelsen.
Three title trebles: Volkswagen's motorsport fairy tale continues
The next chapter in a motorsport fairy tale: for the third time in a row, all three titles in the FIA World Rally Championship (WRC) go to Wolfsburg. As such, the Polo R WRC remains undefeated. When Volkswagen's World Rally Car made its debut in 2013, it surprised many by winning the title in the Drivers', Co-Drivers' and Manufacturers' Championships at the first attempt. In 2014, Ogier, Ingrassia and Volkswagen backed up this triumph by successfully defending their titles. The second generation of the Polo R WRC has now continued the success story in 2015. Before Volkswagen, only four manufacturers had managed to win the Manufacturers' Championship three times in a row: Lancia, Subaru, Peugeot and Volkswagen's current rival Citroën.
Real thriller: the Rally Australia and 'Volkswagen Sunday'
Sébastien Ogier/Julien Ingrassia went into the final 68.76 kilometres of the Rally Australia just two car lengths ahead of Kris Meeke/Paul Nagle (GB/IRL, Citroën), who were second overnight. Over the course of the final day's five special stages, they extended this lead to 32.6 seconds. Their Volkswagen team-mates Jari-Matti Latvala/Miikka Anttila started Sunday 2.6 seconds off the lead, and eventually came home 12.3 seconds behind Ogier/Ingrassia.
Mikkelsen/Fløene ultimately went unrewarded for their impressive fightback. Like team-mates Latvala/Anttila, they kept Kris Meeke and Paul Nagle out of the podium places on all of the final day's stages, but eventually had to settle for fourth place overall. A late arrival at a time check earned the Norwegians a ten-second penalty. In the end, they came up just 5.9 seconds short of their seventh podium of the season, finishing behind Meeke/Nagle.
86 per cent win rate – Polo R WRC the most successful car in WRC history
31 wins from 36 rallies – with a win rate of 86 per cent, the Volkswagen Polo is by far the most successful model of car in the history of the World Rally Championship, ranking ahead of such legendary cars as the Lancia Stratos and Delta, Audi quattro, Ford Focus, Peugeot 206 and the Subaru Impreza. Volkswagen also reached more milestones with the Polo R WRC: since January 2013, 467 of a possible 668 stage wins have gone to the 318-hp four-wheel drive powerhouse. In 2013 and 2014, the Polo won twelve rallies in a row across the two seasons to set a WRC record for the longest winning run in the history of the series. The twelve victories in 2014 also saw Volkswagen set the benchmark for the number of race wins in one season – a record that only Volkswagen itself can equal in 2015.
"Wedding Bells" the icing on the cake – Power Stage points for Ogier, Latvala and Mikkelsen
Bonus points are awarded for the first three places in the closing Power Stage – and every one of these additional points went to the Volkswagen drivers and co-drivers. Sébastien Ogier and Julien Ingrassia clocked the fastest time, ahead of team-mates Jari-Matti Latvala/Miikka Anttila and Andreas Mikkelsen/Ola Fløene. This marked the 61st, 62nd and 63rd time in 30 Power Stages that Volkswagen had picked up points.
Quotes after day three of the Rally Australia
Jari-Matti Latvala, Volkswagen Polo R WRC #2
"Winning all three titles here make this a fantastic day for the Volkswagen team. I am really happy to have done my bit towards this great success. I tried everything again today and kept on pushing right to the final stage, even with a cracked windscreen. Unfortunately we came up just short and I will have to settle for second place today. On the other hand, I have extended my advantage over third place in the overall standings. Congratulations to my team-mate Sébastien Ogier. He deservedly won the rally and is also a deserved world champion."
Jost Capito, Volkswagen Motorsport Director
"What a fantastic rally. What a dream result. And what a great achievement to have wrapped up all three titles so early in the season. The Volkswagen team excelled itself today. Our drivers and co-drivers had to pull out all the stops in order to finish on the podium here in Australia. Like the team behind them, they did a flawless job. You cannot be more proud of the entire team than I am today. It is always more difficult to defend a title than it is to win it for the first time. Defending it for a second time is an even greater challenge. The fact that our mechanics, engineers, drivers, co-drivers, physios and doctors, chefs and organisers have once again achieved superlative results and secured the WRC titles earlier in the season than ever before shows just what an extraordinary team we have. Everyone, without exception, is extremely motivated, and nobody ever takes success for granted. However, we certainly know how to celebrate – as we will prove today."
And, last but not least, there was also …
… a light-hearted wink. When the Volkswagen team took to the podium to celebrate its Manufacturers' title, it did so not only adorned in blue World Champion t-shirts, but also, rather appropriately, sporting white Smurf hats. The eye-catching attire was also a reference to the colourful Volkswagen team apparel provided by partner Salomon, which has earned great plaudits from all sides since the start of the year.