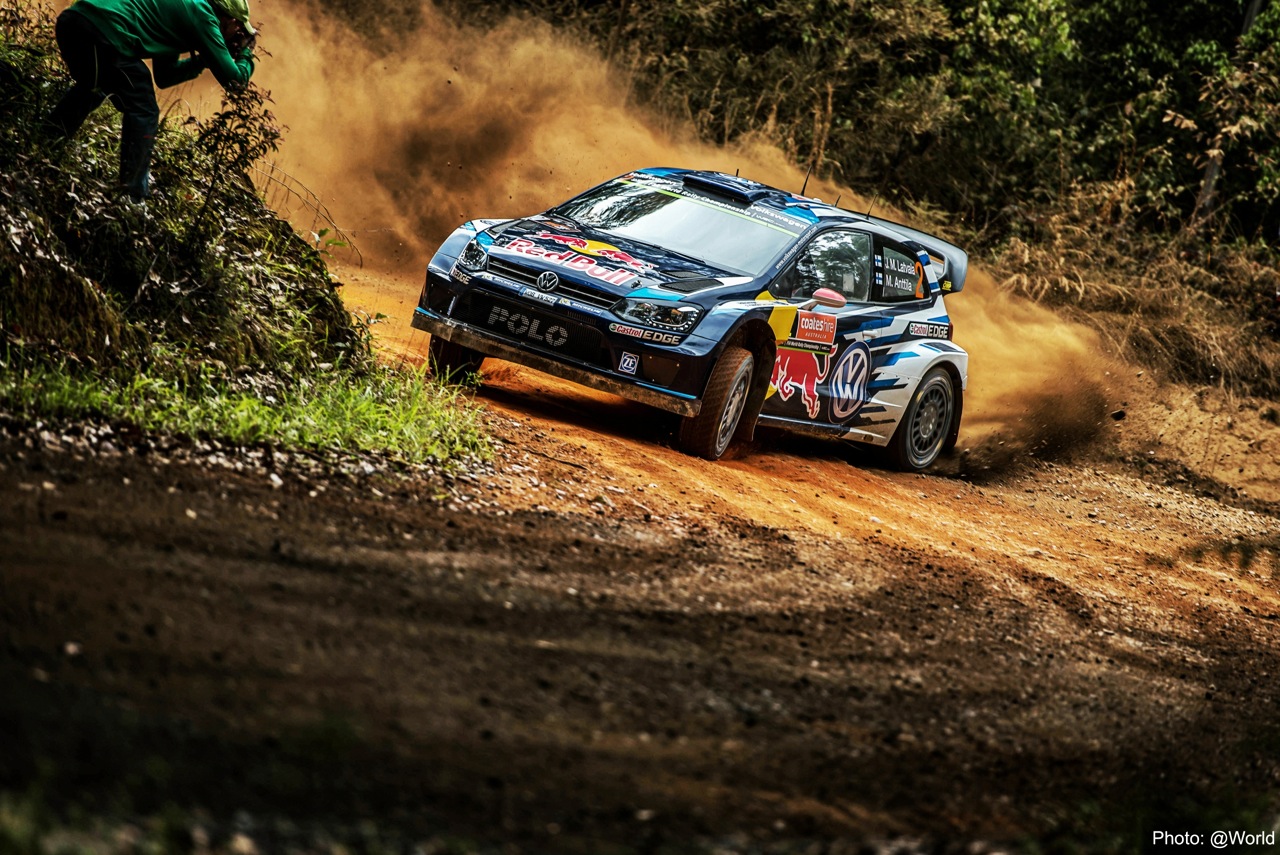 Latvala/Anttila hold slender lead at round ten of the World Rally Championship
Third and fourth: Ogier/Ingrassia and Mikkelsen/Fløene on course for the podium after day one
Herculean task mastered: first, second and third in World Championship defy conditions
Wolfsburg (11 September 2015). A slender lead, gained on the final metres of the day: Jari-Matti Latvala/Miikka Anttila (FIN/FIN) lead the Rally Australia after the first of three days. They – like their Volkswagen team-mates Sébastien Ogier/Julien Ingrassia (F/F) in third and Andreas Mikkelsen/Ola Fløene (N/N) in fourth – successfully mastered a truly Herculean task. As the leading three crews in the FIA World Rally Championship (WRC), the three Polo R WRC duos had the honour of opening the road. A task that is both a blessing and a curse: for vast stretches of the day's opening 125.11 kilometres of special stage, they did their rivals behind them the favour of sweeping the gravel roads free of the loose gravel, thus making the route faster for their opponents. However, the final stage of the day did see the Volkswagen drivers benefit from the dust they whipped up, which made visibility awkward for a number of the duos behind them. Latvala/Anttila go into Saturday with a slender lead of just two seconds over Kris Meeke/Paul Nagle (GB/IRL, Citroën), with team-mates Ogier/Ingrassia a further 2.6 seconds back. They are followed by Mikkelsen/Fløene, who trail the leading duo by just 12.9 seconds.
 The Rally Australia developed into a real thriller on day one. Hyundai, Citroën and Volkswagen all held the lead at various times. After the first third of the rally, the three manufacturers are involved in a tight battle, with just 15.9 seconds separating them in the first five places.
The competitors will face a number of big challenges on Saturday: they must take on the iconic Australian stage "Nambucca" – at 50.80 kilometres, the longest on the rally – not once, but twice. When they return to "Valla" on the second loop, they will do so in the dark.
Jari-Matti Latvala, Volkswagen Polo R WRC #2
"A good opening day of the rally! The priority in the morning was to restrict the amount of tyre wear. The grip levels were surprisingly high, although the dust on the surface did make it slippery at first. That meant the tyre wear was also quite high with the soft tyres. Furthermore, the first cars onto the route had to sweep the roads clean, which had a negative effect on the times. I was able to claw back the deficit in the afternoon. We are obviously in a good position, but we still have some challenges ahead of us. The two runs of 'Nambucca' see us take on the longest stages of the rally tomorrow."
Jost Capito, Volkswagen Motorsport Director
"Respect to our drivers. All three did an outstanding job today. Opening the route here, and particularly the first three special stages, was no easy challenge. It was difficult to set top times on the loose gravel and, to make matters worse, they acted as road sweepers for the opposition behind them. That is the dubious honour you get as World Championship leaders, and we are happy to take on this challenge. The role actually suited us over the final few kilometres of the day, as the increasing amount of dust in the air hindered visibility for the drivers behind us. All in all, we are very happy with the standings. Our goal of wrapping up all three World Championship titles here in Australia is currently within touching distance. However, this is only an interim result. We must continue to work meticulously as a team, in order to achieve our goal. We are looking forward to it."