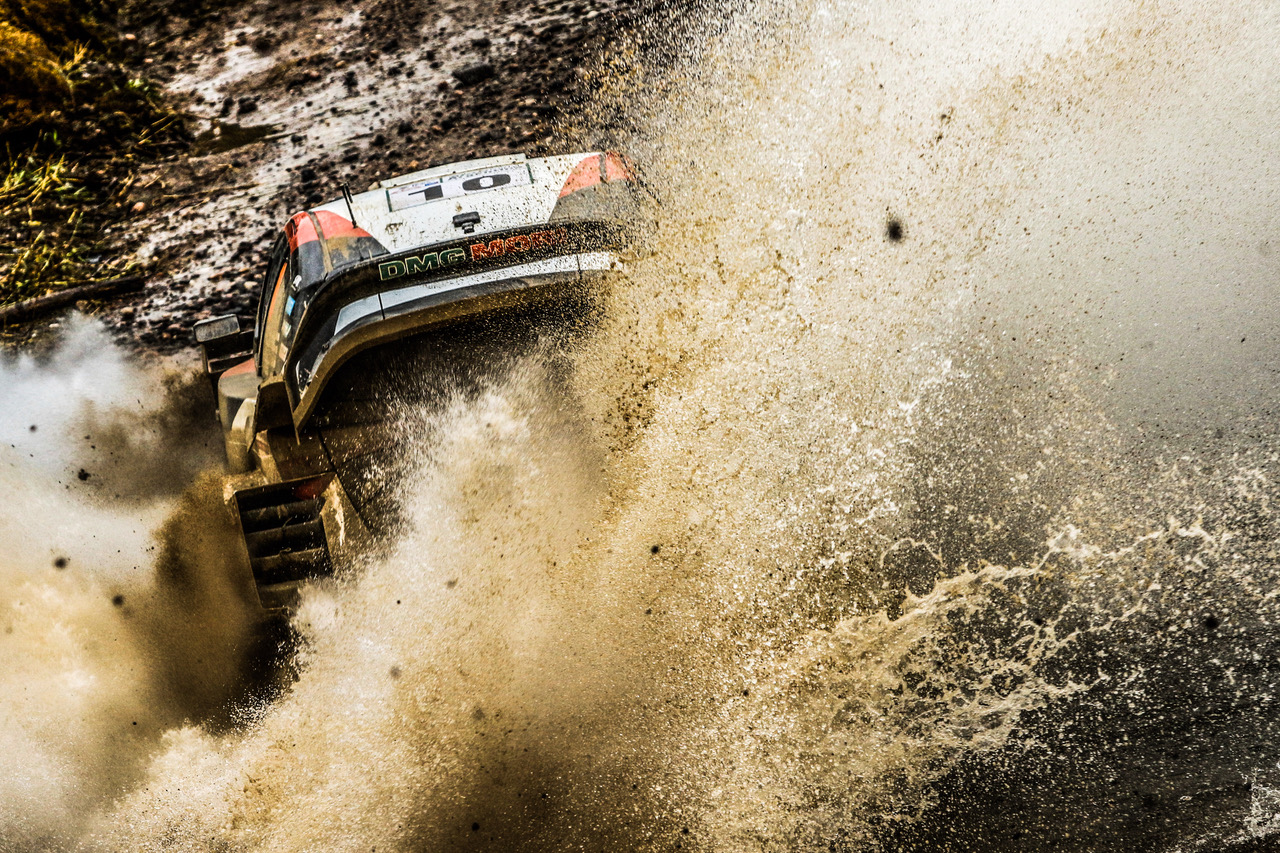 TOYOTA GAZOO Racing World Rally Team driver Kris Meeke is fighting for a podium position as Rally Argentina heads into its final day. Team-mate Ott Tänak took two stage wins during the morning as he chased down the leader, but he had to retire during the afternoon. Jari-Matti Latvala also set some good times as he rounded out the day in sixth place.
Beginning the day in third position, Tänak moved up to second on the day's first test before he went quickest on each of the next two stages. That brought the tally of stage wins for the Toyota Yaris WRC since its 2017 debut to 200, making it the first of the latest-generation World Rally Cars to reach the figure. He ended the morning loop only 6.4 seconds from the lead, but stopped on SS14 after he had started to lose battery voltage prior to the stage. The team is preparing the car to restart on the final day from ninth position overall.
Meeke lost time with some issues at the end of the morning loop, but moved up to third place during the afternoon. He is 17.5s away from second place, but only 2.8s ahead of fourth. Driving stages that he missed when he retired from last year's event, Latvala posted the second fastest time on SS14 and ended the day sixth, 16.3s away from fifth.
Jari-Matti Latvala (Driver car 10)
"I was satisfied with how the morning went. I hadn't done this group of stages for two years and some sections were completely new, but I enjoyed them. I knew I could improve doing them for the second time, so I was really confident going into the afternoon. The first two stages went well. On the last one, the engine took on some water in a watersplash, but I managed to get it restarted. Then I did a mistake myself, so in all we lost five or six seconds in our fight for fifth place, but I want to keep fighting tomorrow and let's see what we can do."
End of day three (Saturday):
1 Thierry Neuville/Nicolas Gilsoul (Hyundai i20 Coupe WRC) 2h37m23.6s
2 Andreas Mikkelsen/Anders Jaeger-Amland (Hyundai i20 Coupe WRC) +45.7s
3 Kris Meeke/Seb Marshall (Toyota Yaris WRC) +1m03.2s
4 Sebastien Ogier/Julien Ingrassia (Citroën C3 WRC) +1m06.0s
5 Dani Sordo/Carlos del Barrio (Hyundai i20 Coupe WRC) +1m12.0s
6 Jari-Matti Latvala/Miikka Anttila (Toyota Yaris WRC) +1m28.3s
7 Teemu Suninen/Marko Salminen (Ford Fiesta WRC) +3m48.4s
8 Mads Ostberg/Torstein Eriksen (Citroën C3 WRC) +12m04.5s
9 Ott Tänak/Martin Järveoja (Toyota Yaris WRC) +14m04.3s
10 Pedro Heller/Marc Marti (Ford Fiesta R5) +16m18.2s
(Results as of 18:00 on Saturday, for the latest results please visit www.wrc.com)
What's next?
The final day of Rally Argentina takes the event up into the Traslasierra mountains for the last three stages. The day opens with the famous El Cóndor stage, which will later be run for a second time as the rally-ending Power Stage following another classic test, Mina Clavero – Giulio Cesare.
Key stage: Copina – El Cóndor (SS16 & SS18, 16.43 kilometres)
Martin Järveoja (Co-driver car 8): "This is quite a legendary stage here in Argentina. We're running it in the uphill direction, just as last year. That makes it quite a slow and technical stage, but it's an incredible place to finish the rally with the huge crowds at the top."
Press release TOYOTA GAZOO Racing WRT