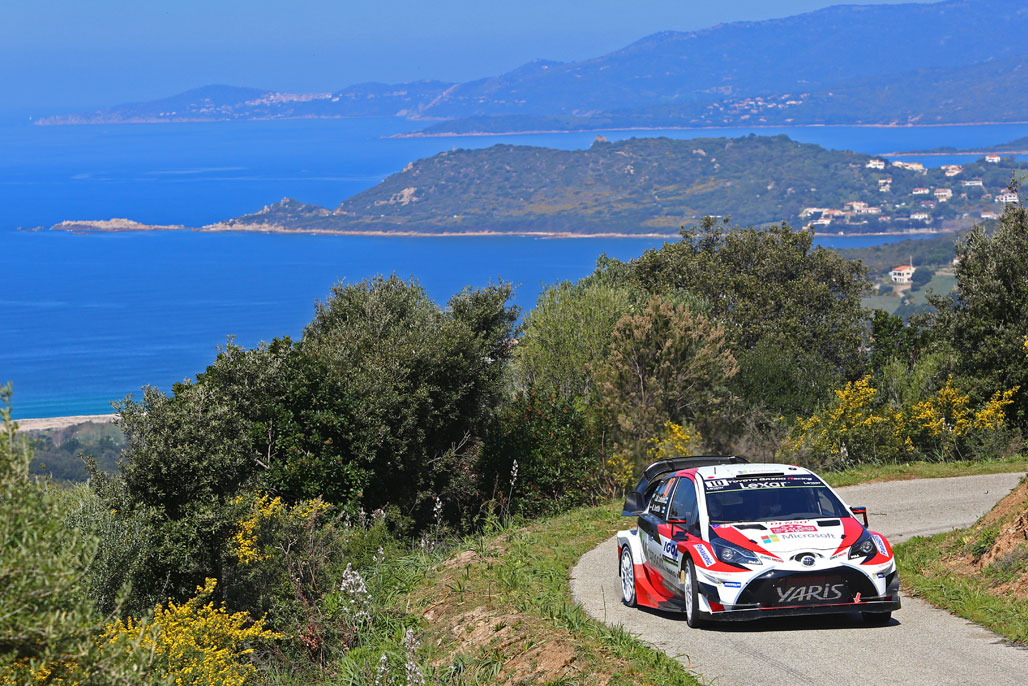 A consistent performance from Jari-Matti Latvala on the opening day of stages has netted him sixth overnight, with two days of the rally still to go. The Finn steered clear of trouble and secured seventh, fifth, sixth and fifth fastest times on the four stages that were run today, consisting of two loops of two stages with no service in between.
While it was relatively plain sailing for Latvala, Juho Hänninen experienced his fair share of drama. Towards the end of the opening stage he slid wide and hit a bridge parapet with the right-rear of the car. This subsequently started a fire as the impact broke the damper oil canister, but that was not the cause of his retirement from the day. Instead, it was because the impact also caused two punctures on the right-hand side of the car. With only one spare wheel, he was not able to go to the second stage, but the car was recovered to service with only minor damage and will restart tomorrow.
Quotes:
Tommi Mäkinen (Team Principal)
"Could be better, could be worse: we have one car in the top six but of course it was not good that Juho had this problem on the first stage. In the end, I can see some areas where we can improve, especially when the surface and grip is changing. We've been talking about this today so I think there are some changes we can make in the future to help the drivers feel a bit more confident. We have to remember that we still don't have a lot of experience on Tarmac. But there is plenty of learning we can do over the next couple of days."
Jari-Matti Latvala (Driver car 10)
"Today has been OK, but really I'm not too happy with my driving. I think I'm being a bit too cautious, especially in the places where it is damp or slippery. But I'm not so worried about it as I know that these conditions don't really suit me. Where I think I am losing time is under braking and acceleration; it's also a question of getting used to the active central differential with the extra power this year. We've had a great start to the season and so the expectation is high but it's also important to remember that we have a lot of testing and learning to do, so this is a realistic position that we are in at the moment. The car has plenty of potential, so of course we hope to improve tomorrow."
END OF DAY ONE (THURSDAY):
1 Kris Meeke/Paul Nagle (Citroen C3 WRC) 1h16m32.1s
2 Sebastien Ogier/Julien Ingrassia (Ford Fiesta WRC) +10.3s
3 Thierry Neuville/Nicolas Gilsoul (Hyundai i20 Coupe WRC) +25.8s
4 Craig Breen/Scott Martin (Citroen C3 WRC) +52.4s
5 Dani Sordo/Marc Marti (Hyundai i20 Coupe WRC) +53.8s
6 Jari-Matti Latvala/Miikka Anttila (Toyota Yaris WRC) +1m00.2s
7 Hayden Paddon/John Kennard (Hyundai i20 Coupe WRC) +1m18.8s
8 Stephane Lefebvre/Gabin Moreau (Citroen C3 WRC) +2m07.6s
9 Andreas Mikkelsen/Anders Jaeger (Skoda Fabia R5) +2m57.3s
10 Stephane Sarrazin/Jacques-Julien Renucci (Skoda Fabia R5) +16m09.4s
TBC Juho Hänninen/Kaj Lindström (Toyota Yaris WRC)
(Results as of 18:20 on Friday, for the latest results please visit www.wrc.com)
Topics:
On the 2005 Tour de Corse, nine-time World Rally Champion Sebastien Loeb achieved something that nobody else has ever done: he claimed victory by winning every single special stage of the event. His eventual winning margin was nearly two minutes. The Yaris WRC drivers might also want to take inspiration from Finland's Markku Alen: in 1983 he became the first driver from outside continental Europe to win in Corsica, showing that Finns can win on Tarmac too.
What's next?
Tomorrow's action follows the same broad pattern seen today, with four stages that are divided into two loops of two. However, this time the action starts and finishes from Bastia, and there is a service halt in between the two loops. The first and third stages of the day are the longest of the rally, at 48.71 kilometres. The first car leaves parc ferme tomorrow morning at 07:45, and will return at 18:58.