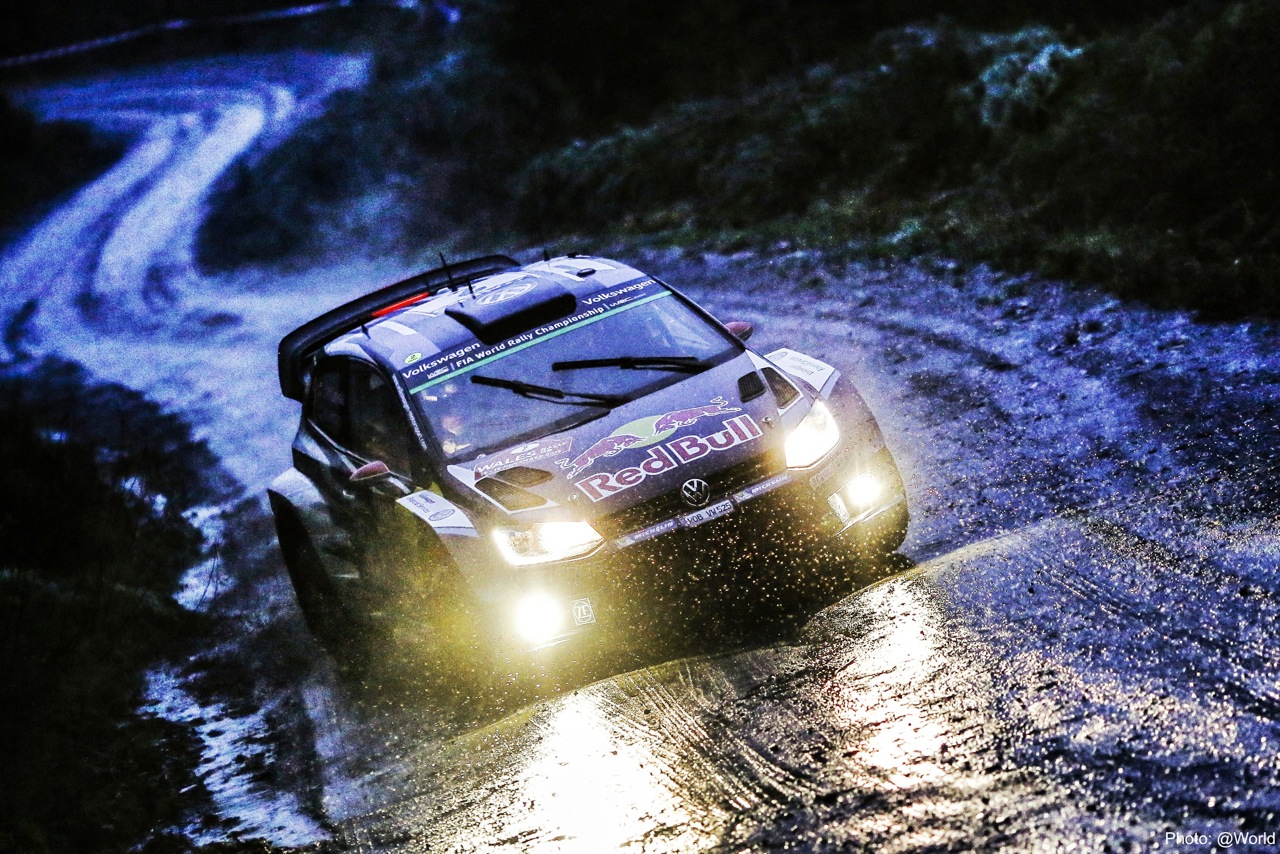 Ogier/Ingrassia extend their lead, Mikkelsen/Fløene comfortable third
Welsh endurance test: 142.31 kilometres against the clock, heavy rain and gale-force winds
Fastest, by day or by night: 500th stage win for the Polo R WRC is the icing on the cake
Volkswagen has tightened its grip on first and third place after the second of three days at the Rally Great Britain. Sébastien Ogier/Julien Ingrassia (F/F) extended their lead at the 13th and final round of the World Rally Championship (WRC). With 36.43 kilometres remaining until the season draws to a close on Sunday, they lead Kris Meeke/Paul Nagle (GB/IRL, Citroën) by 35.7 seconds. Andreas Mikkelsen/Ola Fløene (N/N) successfully battled their way through the longest day of the WRC year to remain on course for a podium finish in third place. The two Volkswagen duos won a further six stages, including the ninth stage of the day, which took the 318-hp World Rally Car from Wolfsburg's tally to exactly 500 stage wins – achieved within 713 special stages of its debut at the Rally Monte Carlo in 2013.
Day two of the Rally Great Britain was characterised by stormy weather and extremely demanding conditions out on the route. Torrential rain, gale-force winds and ever-changing grip levels demanded the utmost concentration.
Day two of the rally was over sooner than planned for Jari-Matti Latvala/Miikka Anttila (FIN/FIN) in the third Polo R WRC. Returning to action on Saturday morning, they were again forced to retire – this time due to a transmission problem. They will re-join the race again under Rally 2 regulations on Sunday.
Quotes after day two of the Rally Great Britain
Jari-Matti Latvala, Volkswagen Polo R WRC #2
"That was a bit of a repeat of yesterday's story, only this time it was not my fault. We were going well again, but this time we suffered a damaged power train after about ten kilometres of stage eight. That resulted in us losing a minute on that stage alone, and we had to retire shortly after. There was no point in continuing like that. I would like to thank my mechanics again for the job they have done on my Polo R WRC. Without them, I would not have been able to race at all today. The focus is now on tomorrow's Power Stage."