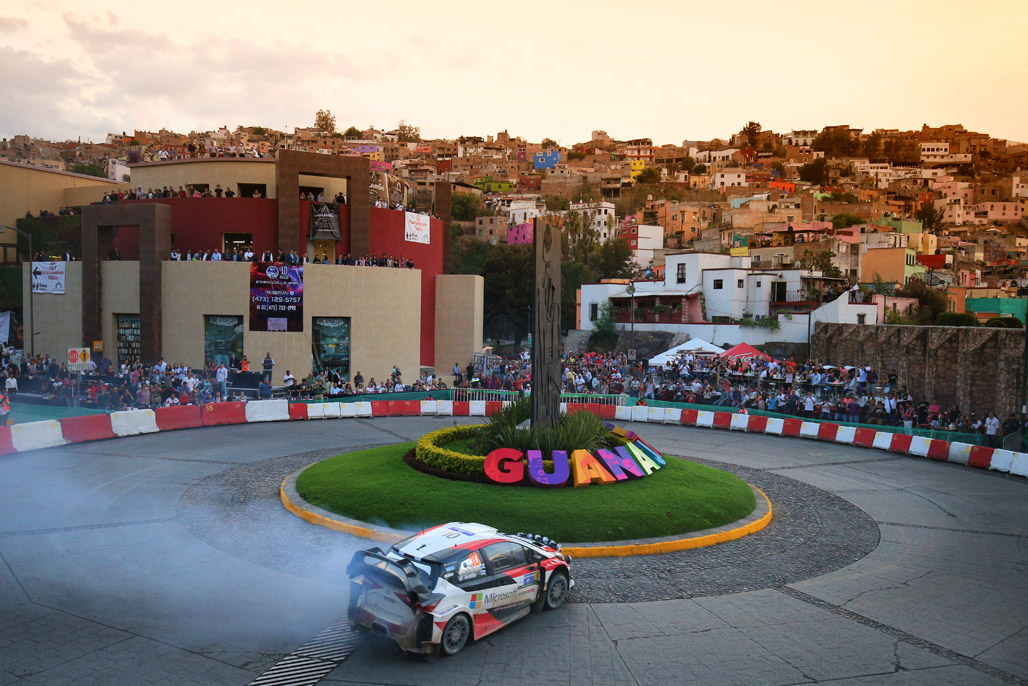 Rally Mexico presented a challenging opening day for all the competitors, with the first two proper stages cancelled following a delay in getting the cars back from Mexico City after last night's city stage in the capital. Consequently, it wasn't until late afternoon that the crews saw some action, with five stages run instead of the scheduled seven. After last night's rain, conditions today were dry and hot during the day – with some rain only in the evening.
Juho Hänninen is the leading Toyota driver overnight, in fourth place overall. As expected, championship leader Jari-Matti Latvala lost time by running first on the road today. Nonetheless, he maintains a place in the top eight. The notoriously conditions in Mexico took their toll on both cars, with overheating being a particular issue. Tonight the team will work on a solution for the remainder of the rally, with the hot weather expected to continue over the weekend.
Quotes:
Tommi Mäkinen (Team principal)
"We said from the start that Mexico would be one of our biggest challenges, with the combination of heat and altitude providing a question mark. Luckily we believe we have the answer to some of the problems our drivers have been experiencing today. The main thing is that we have two cars safely back at service now after what was always going to be a very tricky day for us. Under the circumstances, both Juho and Jari-Matti have again done a fantastic job. To have a car just one place off the provisional podium after the first day in Mexico is definitely a good result and we look forward to continuing tomorrow."
Jari-Matti Latvala (Driver car 10)
"I knew that the first day in Mexico would be tough, but maybe not this tough! We've seen in the past that overheating has been a particular problem on the very long El Chocolate stage, and I had to switch the car to road mode to try and cool it down, going back to stage mode as soon as it was a safe temperature. It was a little bit the same story on the other stages as well. In any case, I knew that we would lose time being first on the road today but we're still here and looking forward to a better day tomorrow. There's always a great atmosphere in Mexico and I am really enjoying being here."
END OF DAY TWO:
1 Kris Meeke/Paul Nagle (Citroen C3 WRC) 1h01m33.8s
2 Sébastien Ogier/Julien Ingrassia (Ford Fiesta WRC) +20.9s
3 Thierry Neuville/Nicolas Gilsoul (Hyundai i20 Coupe WRC) +56.7s
4 Juho Hänninen/Kaj Lindström (Toyota Yaris WRC) +1m27.3s
5 Ott Tanak/Martin Jarveoja (Ford Fiesta WRC) +1m32.9s
6 Stephane Lefebvre/Gabin Moreau (Citroen C3 WRC) +1m52.8s
7 Hayden Paddon/John Kennard (Hyundai i20 Coupe WRC) +2m02.1s
8 Jari-Matti Latvala/Miikka Anttila (Toyota Yaris WRC) +2m.30.8s
9 Pontus Tidemand/Jonas Andersson (Skoda Fabia R5) +3m24.3s
10 Eric Camilli/Benjamin Veillas (Ford Fiesta R5) +3m59.7s
(Results as of 22:00 on Friday. For the latest results please visit www.wrc.com)
Topics:
As the first gravel event of the season, Mexico is also the first time that road-sweeping becomes a big factor on the stages. It was particularly important today for Jari-Matti, running first on the road courtesy of leading the drivers' championship after his Rally Sweden win. This meant he faced roads coated with loose gravel, which provide less grip. Those following behind benefitted from a cleaner line, offering more grip and speed.
What's next?
Tomorrow should hopefully be a less fragmented day, with nine stages on the menu totalling 157.7 competitive kilometres (the longest day of the rally in terms of distance). There are two loops of three stages starting at 08:33, with service at lunch time in León. The day finishes with two more runs over the Autódromo de León super special stage, which also concluded the action tonight.