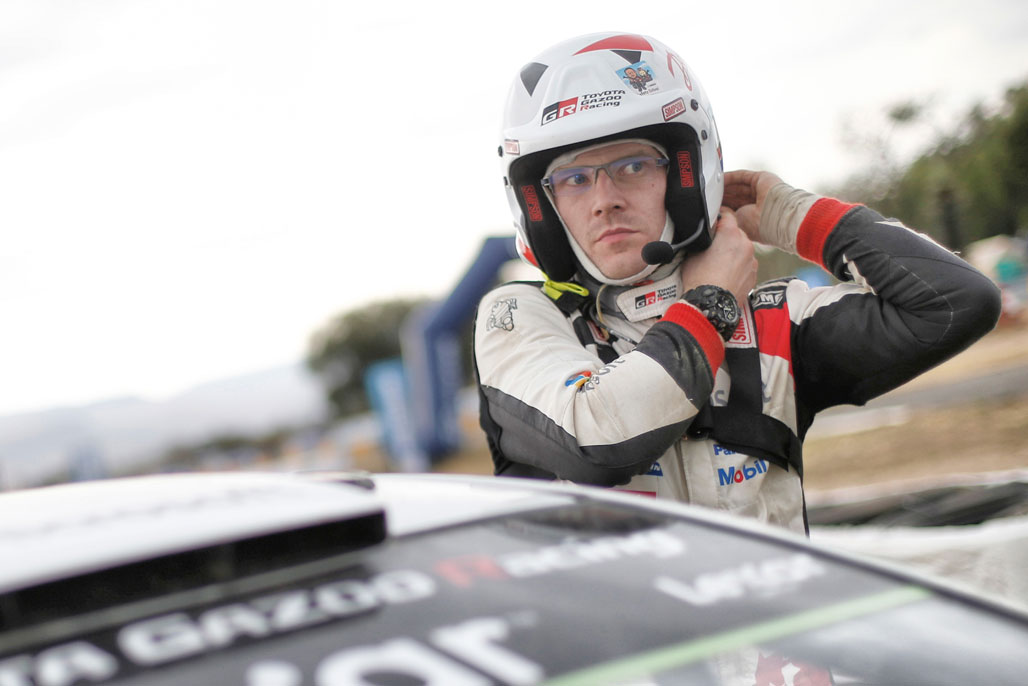 After four days of the toughest action it has faced this year, TOYOTA GAZOO Racing WRT has secured a points finish with both crews in the top 10 for the first time, who headed into the final day separated by just 0.3 seconds. Mexico combined the challenge of both heat and altitude, meaning that the team had to overcome the same overheating problems that affected most of the field on Friday. Each driver faced their own additional difficulties: Jari-Matti Latvala ran first on the road to sweep it clean for everyone else during the first day of proper stages, while Juho Hänninen was unwell throughout the event. At the end of the rally, TOYOTA GAZOO Racing is still runner-up in the manufacturers' championship, while Latvala is second in the drivers' standings and Hänninen is 11th.
The final day contained just two stages and 54.9 kilometres, but they were crucial ones as the final stage was also the Power Stage, with additional driver points on offer. Jari-Matti and Juho were both targeting results on this final stage, with Jari-Matti scoring two points thanks to a fourth-fastest time.
Quotes:
Tommi Mäkinen (Team principal)
"After the amazing moments we had in Monte-Carlo and Sweden, this rally was much more the type of situation we were expecting from this year, but it still gave us a lot of satisfaction as we scored driver points with both drivers for the first time and also had to overcome a lot of difficulties to achieve that. So we are happy with the result and also with the information we obtained on what was only our first-ever gravel rally. Well done to all our drivers, co-drivers, engineers and mechanics for getting us to the finish with both cars under very tricky circumstances. What we have learned will be very useful for the future."
Koei Saga (Team Vice-Principal)
"Despite the great result obtained in Sweden, we always expected Mexico to be more challenging due to the high temperature and altitude. After our testing, where we simulated as much as we could, we believed we were well-prepared. But the challenges we faced were even tougher than expected. We experienced a problem with overheating on Friday, then thanks to the work of our engineers and mechanics, we were able to solve it by the next morning and bring both Yaris WRC crews to the finish on Sunday, having confirmed over the rest of the rally that the solutions we found were working. These experiences and lessons made both ourselves and the car grow. In that sense, this rally was really meaningful. I feel reassured that we can be stronger when we push our limits through the toughest competitions on the roads that our customers use. And this leads to ever-better cars. Thanks again to the wonderful fans from all over the world, who I was proud to meet for myself on Rally Mexico. Your support means so much to us."
Jari-Matti Latvala (Driver car 10)
"I set myself a target of the top five, so I just missed out on that. On the other hand, I don't think that anyone could have predicted the difficulties that we all faced, so to finish sixth and score some Power Stage points as well is a real achievement, which still keeps us well-placed in both championships. The last day was actually the best day for me: we had a really good feeling with the car until we got caught out by a slippery section on the first stage, so we had a spin and lost 10 seconds. Without that, I think it could have been a really good time. All the signs of progress are there, which is the main thing. We're here to learn, and we have done a lot of that over the past four days."
PROVISIONAL FINAL RESULT, RALLY MEXICO:
1 Kris Meeke/Paul Nagle (Citroen C3 WRC) 3h22m04.6s
2 Sébastien Ogier/Julien Ingrassia (Ford Fiesta WRC) +13.8s
3 Thierry Neuville/Nicolas Gilsoul (Hyundai i20 Coupe WRC) +59.7s
4 Ott Tanak/Martin Jarveoja (Ford Fiesta WRC) +2m18.3s
5 Hayden Paddon/John Kennard (Hyundai i20 Coupe WRC) +3m32.9s
6 Jari-Matti Latvala/Miikka Anttila (Toyota Yaris WRC) +4m40.3s
7 Juho Hänninen/Kaj Lindström (Toyota Yaris WRC) +5m06.2s
8 Dani Sordo/Marc Marti (Hyundai i20 Coupe WRC) +5m22.7s
9 Elfyn Evans/Daniel Barritt (Ford Fiesta WRC) +8m41.8s
10 Pontus Tidemand/Jonas Andersson (Skoda Fabia R5) +10m51.9s
(Results as of 15:00 on Sunday, for the latest results please visit www.wrc.com)
2017 FIA WORLD RALLY CHAMPIONSHIP FOR DRIVERS AFTER ROUND THREE:
1 Sebastien Ogier 66
2 Jari-Matti Latvala 58
3 Ott Tanak 48
4 Dani Sordo 30
5 Thierry Neuville 28
6 Kris Meeke 27
7 Craig Breen 20
8 Elfyn Evans 20
9 Hayden Paddon 17
10 Stephane Lefebvre 10
11 Juho Hänninen 9
2017 FIA WORLD RALLY CHAMPIONSHIP FOR MANUFACTURERS AFTER ROUND THREE:
1 M-Sport World Rally Team 103
2 TOYOTA GAZOO Racing WRT 67
3 Hyundai Motorsport 65
4 Citroen Total Abu Dhabi World Rally Team 55
What's next?
From gravel the crews now switch to asphalt and the legendary Tour de Corse in Corsica from April 6-9: round four of the championship. This is the first traditional asphalt round of the season, noted for its twisty hairpin bends, so it's yet another reset and new art to master for TOYOTA GAZOO Racing. The weather in Corsica at this time of year can be uncertain, so the drivers will need to be prepared for anything.