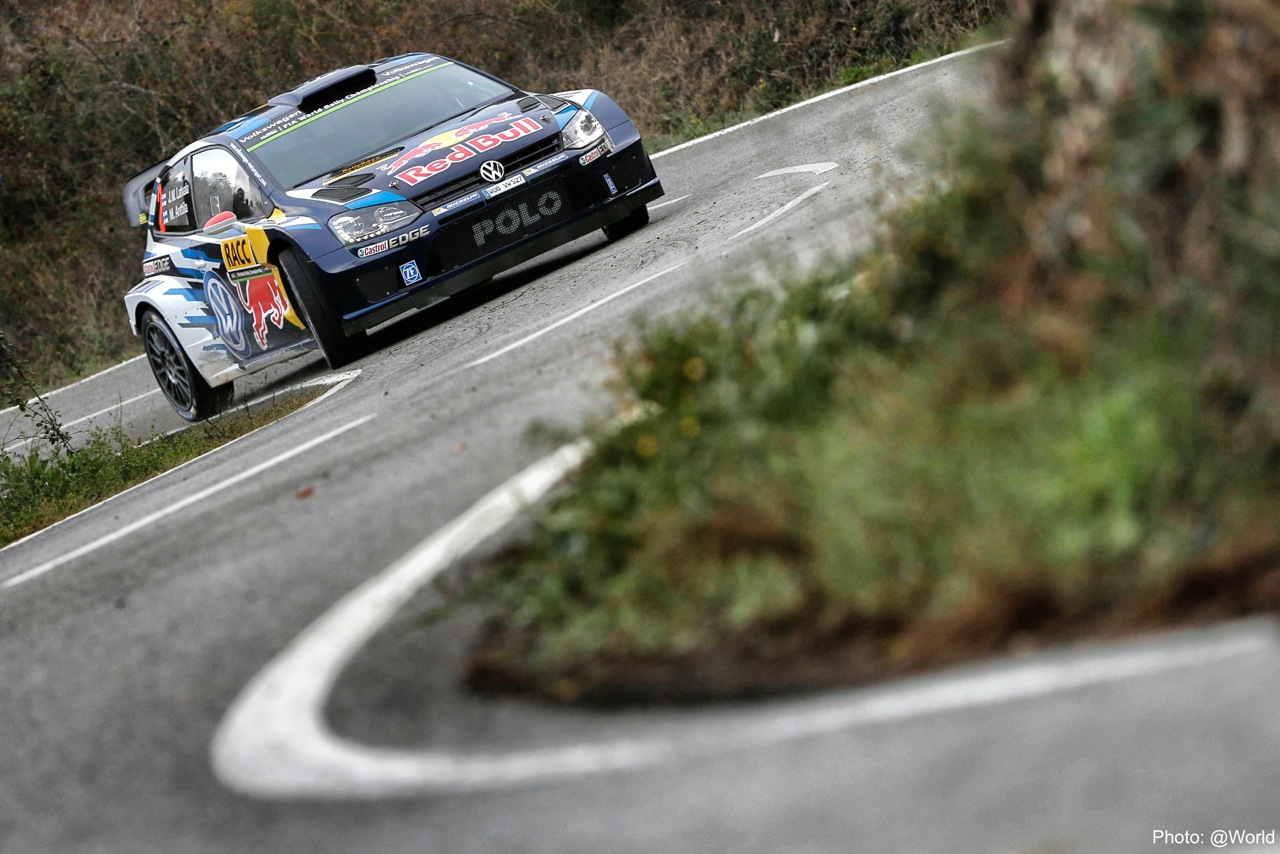 Ogier/Ingrassia lead by almost a minute at the Rally Spain
Three-way battle for second place: Latvala/Anttila vs. Mikkelsen/Fløene and Sordo/Martí
The Polo R WRC wins all eight special stages on Saturday
Up, up and away for one, a battle between team-mates for the others – but all on course for the podium: Volkswagen occupies the top three spots at the Rally Spain. Out in front: Sébastien Ogier/Julien Ingrassia (F/F), who go into the final day of the rally on Sunday with a comfortable lead of 54.0 seconds. In the fierce battle for second place, Jari-Matti Latvala/Miikka Anttila (FIN/FIN) have a minimal advantage of 2.9 seconds over team-mates Andreas Mikkelsen/Ola Fløene (N/N) in third place – although a puncture did cost them a lot of time at one point. However, the two Volkswagen duos must keep one eye on Dani Sordo/Marc Martí (E/E, Hyundai) when they tackle Sunday's final 76.4 kilometres – the Spaniards trail Mikkelsen/Fløene by just 4.5 seconds and are still within striking distance of a podium position.
After switching from gravel to asphalt, day two of the Rally Spain was held on perfect stages, akin to driving on a racetrack. All eight stage wins went to the Polo R WRC: five to Ogier, three to Latvala.
* Subject to the official publication of the results by the FIA.
Quotes after day two of the Rally Spain
Jari-Matti Latvala, Volkswagen Polo R WRC #2
"I got off lightly today – I am still second. In the morning I had problems under braking. Once I had solved them, I immediately set about trying to regain the time I lost. In doing so, I took too many risks and suffered a puncture in a right-hander, early into the twelfth stage. I could obviously say goodbye to any hopes of winning after that. Despite this, I was able to regain second place by the end of the day. I will try to defend that position through to the finish."
Jost Capito, Volkswagen Motorsport Director
"All three Volkswagen drivers performed well today, and it seems as though the Volkswagen Express is chugging along nicely. With eight wins from eight stages, we only had one slight blemish today: Jari-Matti Latvala's puncture, which he suffered after taking a few too many risks. However, even that cloud has a silver lining: we are now treated to a thrilling battle for second place, with one of those in contention being Andreas Mikkelsen, who climbed a lot of places today. At the moment, it may look as though Sébastien Ogier is disappearing into the distance. However, you can never be certain of anything in the World Rally Championship. The team has an exciting Sunday ahead of it. We are looking forward to it, especially as we have three Volkswagen drivers leading the way."