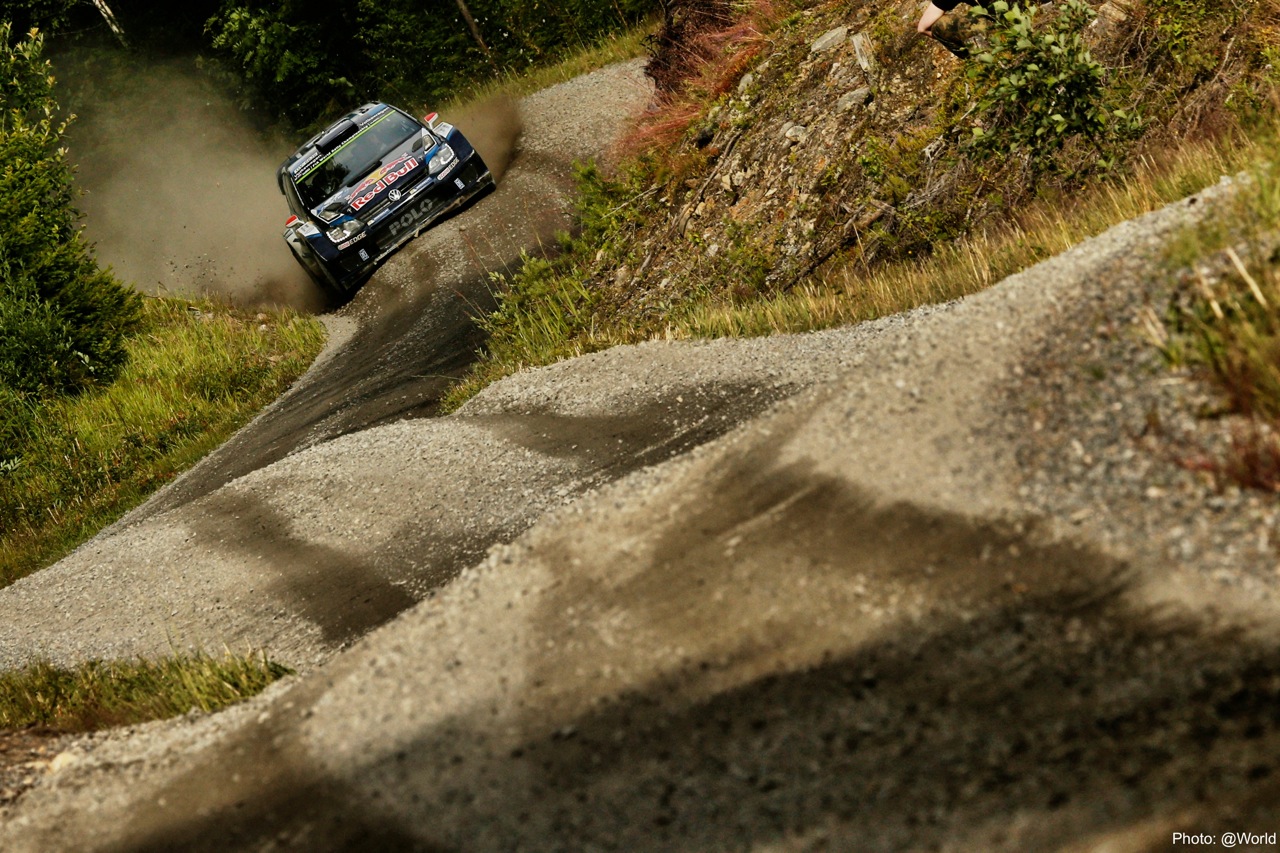 "JML" leads by 13.2 seconds after 291.74 of the 320.00 kilometres against the clock
Advantage Latvala in all-Volkswagen duel at Rally Finland
Dominant Polo R WRC: nine stage wins for Latvala/Anttila, eight for Ogier/Ingrassia
Wolfsburg (01 August 2015). 18 special stages, 17 wins for either Ogier or Latvala – the Volkswagen drivers continue to set a blistering pace at the Rally Finland. With the majority of the total distance under their belts, Jari-Matti Latvala/Miikka Anttila (FIN/FIN) lead team-mates Sébastien Ogier/Julien Ingrassia (F/F) by 13.2 seconds. As the duel between last year's runner up in the World Championship and the reigning world champion enters the closing stages, "JML" goes into Sunday's final 28.26 kilometres with a small cushion. The Saturday of the rally saw last year's winner Latvala gradually pull clear of his closest rival, courtesy of nine stage wins – including three in a row in the afternoon.
After 91.2 per cent of the Rally Finland, the 2015 race remains a genuine high-speed affair – with an average speed of 124.73 km/h. Strong rain in the afternoon had little effect on the blistering speed of the World Rally Cars. For comparison: the fastest WRC rally of all time came in 2012, when an average speed of 122.89 km/h was achieved at the same event. On Saturday, the speed on the "Jukojärvi", "Mökkiperä" and "Horkka" stages remained above the 120 km/h mark.
Quotes after day two of the Rally Finland
Jari-Matti Latvala, Volkswagen Polo R WRC #2
"As expected, today was a close battle between Sébastien and me – and we were taking no prisoners out there. I tried to drive a clean line on the stages and not to drift too much. I managed that well, and increased my lead to over 13 seconds. That was far from easy, particularly on 'Jukojärvi', due to the heavy rain. We still have to finish the rally, and we have another two challenging stages tomorrow. I will have to keep my concentration and literally bring the victory home tomorrow."
Jost Capito, Volkswagen Motorsport Director
"The duel between Latvala and Ogier is really to the taste of the fans and, of course, to the taste of Volkswagen. Jari-Matti Latvala produced a strong display today and gradually pulled clear at the top. He and Sébastien Ogier are in a class of their own here. They have clocked the fastest time on 17 of 18 special stages – that shows that they are dominating matters here. However, we still have another 30 kilometres to complete on Sunday and the whole team will have to remain error-free in order to make this impressive performance count."