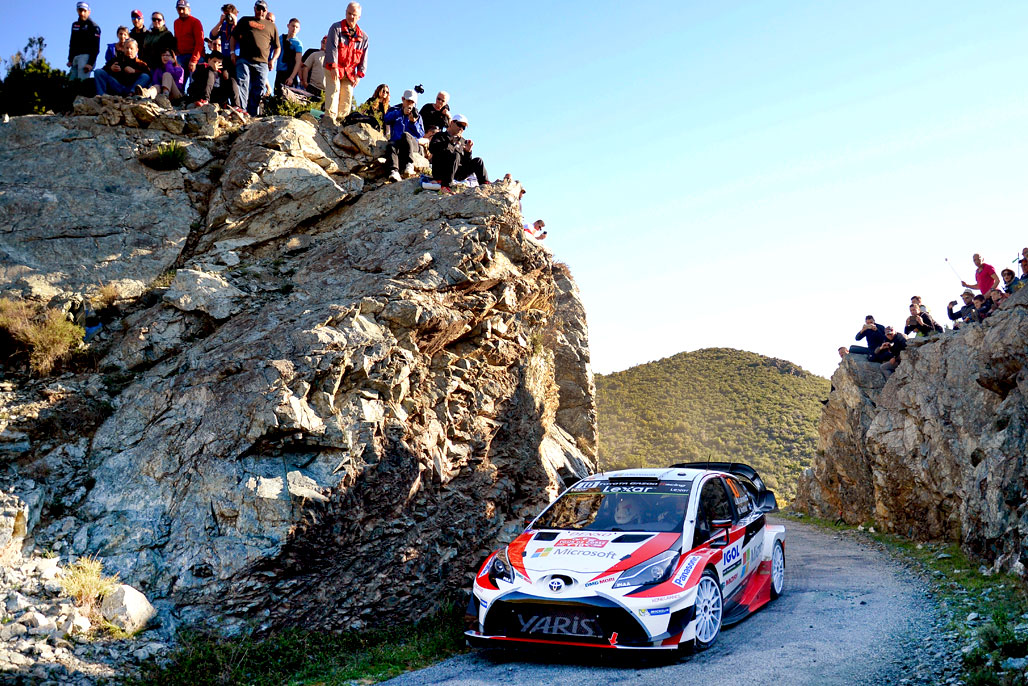 An unbelievably close finish on the Tour de Corse meant that Jari-Matti Latvala won the Power Stage and secured fourth place on the rally – by the incredible margin of 0.1 seconds, after 316.80 competitive kilometres! The Finn slipped to fifth after the first stage of the day, which was the longest of the rally, but then fought back in style.
Latvala ended the event on a high, claiming his first stage win and consolidating his second place in the championship thanks also to the five points that he earned by winning the 10.42-kilometre Power Stage. Despite setting stage times in the top two, Juho Hänninen was unlucky this morning, sliding off the road on the first stage. Nonetheless, he can be proud of his rapid performance, in which the team as a whole underlined the speed and reliability of the Yaris WRC.
Quotes:
Akio Toyoda (Team Chairman)
"I finally got to watch our team in action personally, after 17 years not competing in the World Rally Championship, fighting at the front. But one of the things that struck me most was the midday service on Saturday, when our mechanics made a number of important changes and completed the work just within the time limit, following the feedback from the drivers in the morning. Thank you to Tommi for assembling such a dedicated and professional team. The result was an improved car, and that perfectly reflects our philosophy of making ever-better cars. In Japanese we describe this as 'kaizen', which means continuous improvement. By carrying on in this way for the rest of the season, I am sure that we can continue to grow stronger. The other thing that struck me was the quantity of passionate fans, telling us 'allez Toyota!' in French – or 'come on, Toyota!' in English. As we love cars, all of us appreciate this support from the fans so much, and their enthusiasm is also an important ingredient in the recipe for making an ever-better Yaris WRC."
Tommi Mäkinen (Team Principal)
"Both the drivers said that the car felt much better after some changes we made on Saturday, although it was already promising on the first day. So this result is really a team effort, with the car being improved over the three days thanks to everyone's hard work and collaboration. Finishing this close to the podium on our first asphalt event is a fantastic achievement and actually something I never managed myself as a driver: my best result in Corsica was sixth! Another great job by Jari-Matti, who drove brilliantly on the Power Stage in particular, and also from Juho, who was able to match Jari-Matti's pace despite having nothing like the same level of experience. He can also feel proud at the end of this rally."
Jari-Matti Latvala (Driver car 10)
"The power stage was completely maximum attack: I was totally focussed on my driving. I knew that if I wanted to have fourth place I needed to have a perfect run and I nearly achieved that: there were a couple of places where we arrived too fast and had some understeer, and also one jump where we arrived completely sideways. I could see people running away, so I'm sorry if I gave them a fright, but in any case it was all under control, even though it looked spectacular! We've taken 17 points with fourth place and the Power Stage win, so this is a really fantastic result for our first rally on asphalt."
PROVISIONAL FINAL RESULT, RALLY FRANCE (TOUR DE CORSE):
1 Thierry Neuville/Nicolas Gilsoul (Hyundai i20 Coupe WRC) 3h22m53.4s
2 Sebastien Ogier/Julien Ingrassia (Ford Fiesta WRC) +54.7s
3 Dani Sordo/Marc Marti (Hyundai i20 Coupe WRC) +56.0s
4 Jari-Matti Latvala/Miikka Anttila (Toyota Yaris WRC) +1m09.6s
5 Craig Breen/Scott Martin (Citroen C3 WRC) +1m09.7s
6 Hayden Paddon/John Kennard (Hyundai i20 Coupe WRC) +2m16.3s
7 Andreas Mikkelsen/Anders Jaeger (Skoda Fabia R5) +8m10.7s
8 Teemu Suninen/Mikko Markkula (Ford Fiesta R5) +9m17.0s
9 Stephane Sarrazin/Jacques-Julien Renucci (Skoda Fabia R5) +9m23.6s
10 Yohan Rossel/Benoit Fulcrand (Citroen DS3 R5) +12m57.1s
Retired Juho Hänninen/Kaj Lindström (Toyota Yaris WRC) SS9, off road
(Results as of 18:00 on Sunday, for the latest results please visit www.wrc.com)
2017 FIA WORLD RALLY CHAMPIONSHIP FOR DRIVERS AFTER ROUND FOUR:
1 Sebastien Ogier 88
2 Jari-Matti Latvala 75
3 Thierry Neuville 54
4 Ott Tanak 48
5 Dani Sordo 47
6 Craig Breen 33
7 Kris Meeke 27
8 Hayden Paddon 25
9 Elfyn Evans 20
10 Andreas Mikkelsen 12
12 Juho Hänninen 9
2017 FIA WORLD RALLY CHAMPIONSHIP FOR MANUFACTURERS AFTER ROUND FOUR:
1 M-Sport World Rally Team 129
2 Hyundai Motorsport 105
3 TOYOTA GAZOO Racing WRT 79
4 Citroen Total Abu Dhabi World Rally Team 71
What's next?
The next round of the World Rally Championship is Rally Argentina from April 27-30. This famous rally is run entirely on gravel, which tends to be soft and muddy at this time of year. Variable weather, passionate fans, and spectacular high-altitude stages are expected on the Argentine event, based in Villa Carlos Paz close to Cordoba.